Buy Any 2 Treehouse Books and Get a Free Frisbee!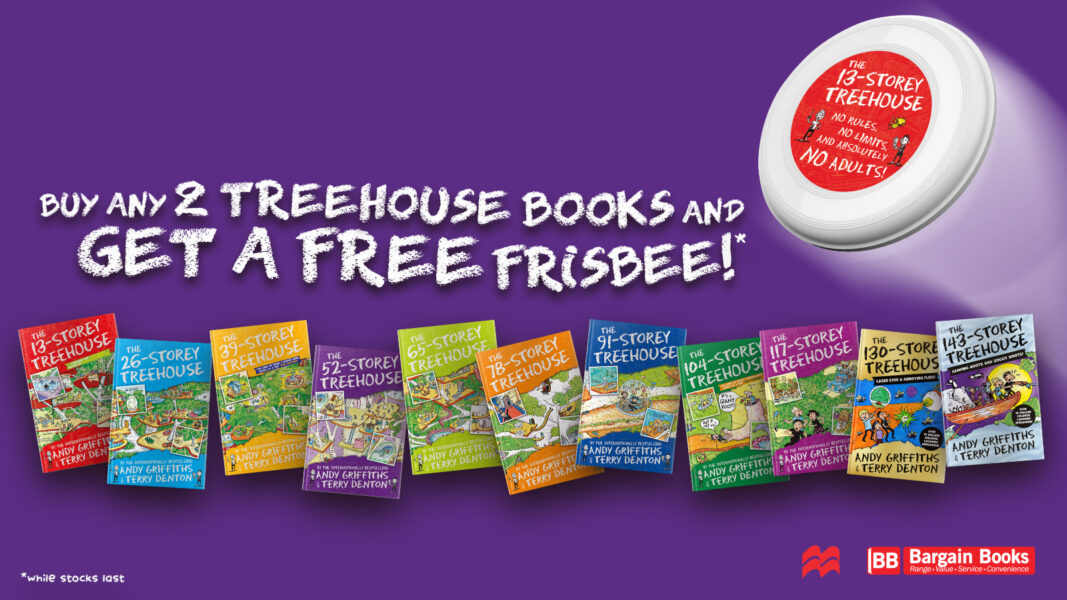 We just can't get enough of the 13-Storey Treehouse books! So it's just as well that they show no signs of slowing down.
Everybody's favourite gravity-defying, expectation-confounding, mind-blowing treehouse just keeps on adding more and more absurd and marvellous levels. Is there no limit to the manic imagination of Andy and Terry? No. No is basically the answer.
This is a series of almost limitless imagination, and it's hard to think of a single kid (or adult for that matter) who wouldn't enjoy the relentless fun and ingenious madness delivered with every instalment. Pick up any book – and don't worry if you skip a floor or two, after all, there are 143 at the moment – and you'll be immediately transported to a world where nothing makes sense and everything is powered by creativity. You might also encounter an intergalactic villain or two, any number of secret labs and zany inventions, and perhaps even a magical dragon's lair.
If you haven't yet introduced your favourite kids to the hysterical exploits of chief treehouse-itects Andy and Terry, now is an excellent time because…
When you buy any two Treehouse books at any Bargain Books branch, you'll get a free branded frisbee!
And we love frisbee almost, almost as much as we love the 13-Storey Treehouse series. So that's a winning combination right there.
Get down to your nearest Bargain Books and add a frisbee to your Treehouse collection!
In case you're not quite sold just yet, here's a little more about the most recent book:
The 143-Storey Treehouse by Andy Griffiths and Terry Denton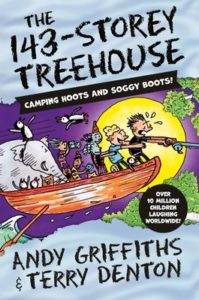 One, hundred, and, forty-three! Can you believe it? Can you even begin to imagine what that might look like? The Treehouse is back with more hilarity and boundless creativity than you could ever shake 143 sticks at.
This time around, we get the word-o-matic (which knows every word in the whole universe… 'nuff said), a cave with an actual real life dragon, a recycling centre (because a treehouse that big needs a way to deal properly with its rubbish), a graveyard (where it's always midnight), and a nice tranquil campsite (because Andy and Terry are definitely going to need a break from all this excitement). The only thing is: the little camping holiday that they have planned for themselves, probably won't end up being as chilled-out as our enterprising duo were hoping. But what ever does?
The 156-Storey Treehouse is Set For Release 10/22
Happy Reading!