Small Miracles by Anne Booth
Join us once again this month in celebrating another splendid debut novel. What kind of debut tends to get you excited? Well, as you certainly know by now, we tend to get excited about many, many of them. This time, we have been particularly drawn to one that falls on the heartwarming, full-of-charm end of the debut spectrum. We have a special appreciation for a first time author who brings a little extra warmth into the world – and we hope that you do too. To boot, this new book features a failing convent, a group of close-knit friends and a string of unlikely events set off by the lottery.
Therefore, we give you Small Miracles by Anne Booth.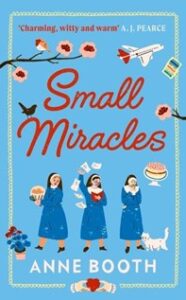 Happy coincidence, or the product of unwavering faith? That's for you to decide. Either way, some extraordinary things are about to happen.
The order of The Sisters of Saint Philomena is a convent that has fallen on decidedly hard times. The whole place is crumbling, is crying out for some much needed repairs and doesn't necessarily seem likely to be standing for much longer. But the bank account is empty, the debts are piling up and nobody is exactly clamouring to join the order. In fact, they're down to their last three nuns. Margaret, Bridgit and Cecelia call the order home… but now it seems inevitable that they must sell the place and leave behind the parish community that they have grown to love. On top of this, Margaret, the Mother Superior, is mourning the death of her close friend Sister Helen, and is struggling to adjust since having the school she used to run taken away from her. But Sister Cecelia has a plan: it's as simple as winning the new National Lottery that has just been launched.
When Cecelia's lottery ticket sets in motion a series of miraculous and unexpected happenings, things quickly begin to look up… and not just for the nuns. A ripple effect of good fortune emanates from the convent and soon a yearning travel agent, an overworked vicar, a dedicated art historian, and a depressed estate agent find the kind of love and belonging that they had given up on hoping for.
Small Miracles absolutely overflows with gentleness, empathy and wit. Incorporating several inspiring friendships, compassionate romances, an unexpected pilgrimage and a host of ticklishly enjoyable acts of random benevolence, it's one of those books with a special knack for refreshing the spirit.
About Anne Booth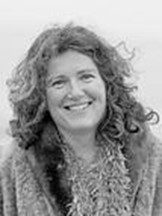 Anne Booth has published numerous children's books, has taught English in Italy, has been a university lecturer, a bookseller, a tour guide and even a dishwasher.
If you fancy checking out the books she has written for children, you can find a good list of them here.