Here are six books by local authors that cover everything from tradition and heritage, to family, sexuality and the future of the continent. Whether you fancy a tale of identity and redemption in the Cape Flats, the memoir of a rugby legend, a deep dive into multinational economic growth, or a dose of profound humanity there's something here for you. Have a look.
When the Village Sleeps by Sindiwe Magona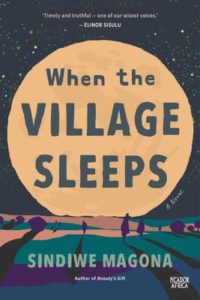 This visionary and decidedly wise novel, inspired by the proverb "it takes a village to raise a child", paints an unflinchingly truthful picture of the experiences of women in SA today.
Inspired by the true story of a young girl who deliberately maimed her own baby in order to receive a bigger grant, When The Village Sleeps urges us all to recognise the part that we play in the problems of modern life before we throw the blame around. It's a book about what decades spent within a broken society can do to the individual.
Moving between rural villages and the townships of Kwanele, and told in the voices of four generations of amaTolo women, this is a book that celebrates the manifold strengths of South African women – but it's also one that calls upon us to respect the natural world that sustains us and to take note when the global village into which our children are born is not paying enough attention.
Africa Bounces Back: Case Studies from a Resilient Continent by Victor Kgomoeswana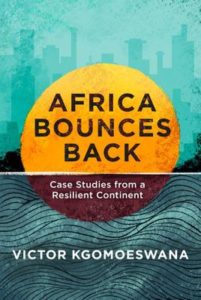 Victor Kgomoeswana regularly does interviews on the state of African business and the economy and has spent twenty five years as a specialist contributor to all forms of media. When it comes to business on this continent, he is an expert.
In Africa Bounces Back Kgomoeswana examines the global megatrends that can be specifically adapted to African markets as part of the ongoing push for economic growth. Specifically, it zeroes in on the massive disruptions that have taken place all over the world recently – from the Covid-19 calamity and the political tension in the US, to shifts in migration patterns and the rise of Nationalism in developed countries – and what these events mean in terms of multinational expansion into Africa and the emergence of new entrepreneurial efforts.
Africa Bounces Back presents us with a goldmine of Africa-relevant acumen, dissecting and digesting this rich and troubled continent's place on the world business stage.
Ougat: From A Hoe into A Housewife, and then Some by Shana Fife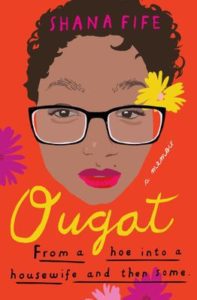 This almost uncomfortably honest and unfailingly blunt memoir follows the author as she navigates life in the Cape Flats, candidly detailing her experiences with her sexuality and mental health, drugs, motherhood, assault and depression. In doing so, it conjures an unsettling portrait of cultural conditioning and ongoing hardship.
By her late twenties, Shana Fife is already the mother of the three children, all of whom have different fathers. Her life to this point has been a matter of escaping cycles of abuse and of coming to terms with who and what she is. By her own admission, Fife has become the very thing she strove not to be, has been lured (and/or pushed) into the pitfalls she was once determined to avoid.
But, thanks to her disarming sense of humour and the freshness and power of her voice, this tale is ultimately one of triumph – a thoughtful and brash meditation on what it means to be a coloured woman and what it takes to craft meaning in one's life. The mixed messages and social pressures that have plagued Fife's life thus far are ones to which many of us will be able to relate… but Shana's voice is unlike any you've ever heard.
Listen to Your Footsteps by Kojo Baffoe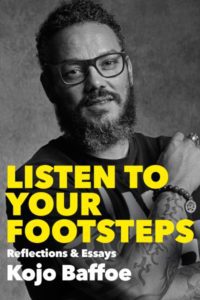 Isn't it comforting to encounter a thoughtful, critically observant meditation on masculinity – on what it means to be "a man"?
Kojo Baffoe is an interesting character. Of mixed Ghanaian and German heritage, Baffoe was raised in Lesotho and moved to SA at the age of 27. Among those who know him (and those who publish his work), he is a curious thinker and one who's able to keep hold of a wider perspective while connecting intimately with the issues of the day.
"The concept of belonging is strange. The world can see you as belonging, but more important is how you see yourself."
This book of insightful, unpretentious essays explores his sometimes conflicting, sometimes harmonious experiences of being a father, a son, a brother and a man unafraid to look within himself, to parse his experiences in the hunt for meaning. It's a book committed to mining the various states in which one finds oneself, the roles into which one is thrust, and the identities we build, without feeling the need to slap a label on them… a difficult approach to living, perhaps, but a pure one, and one we'd all do well to embrace.
I Am a Girl From Africa by Elizabeth Nyamayaro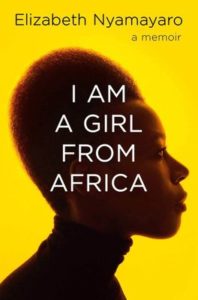 She squeezes my hand and smiles. "I am here to feed hungry children in the village, because as Africans we must uplift each other."
I don't understand what it means to uplift others, but I nod.I know that I can finally stand up. I will search for food. I will live.
Faux-humanitarian memoirs are easily come by – but this is the story of a true humanitarian, a true Ubuntu standard-bearer.
Elizabeth Nyamayaro realised her calling early on in life. She was eight when a devastating drought ravaged her Zimbabwean village. Paralysed with deadly hunger, she was saved by a United Nations aid worker who found her and offered her a bowl of warm food. This single act inspired her to give back to her community. And that inspiration carried her all the way to her position as a Senior Advisor for the UN, driving her to found one of the world's most significant gender equality movements, HeForShe.
I Am a Girl From Africa is a work of profound hope, a book that maintains an incorrigible faith in change for the better. It is the bold, lively story of a woman who fought time and again against impossible hardship in order to preserve and encourage an incredible ethos of optimism and dedication. At a time when it is all too easy to abandon the notion of innate goodness, Nyamayaro's memoir is here to help us hold on.
Happy Reading!