The Bench by Meghan, Duchess of Sussex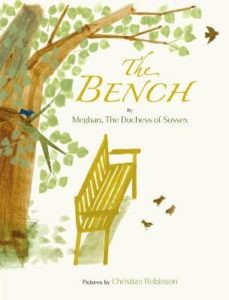 This warm and loving book of sincere verse and illustrations began as a father's day present for Prince Harry. That present was a bench – a little place of respite and connection – adorned with a little heart-felt poem.
The Bench explores those important moments of reflection and connection by capturing the bond between a father and a son. In quiet, touching vignettes, the bench sees parent and child sharing apple juice, watching the stars, figuring out shoes, waiting for a bus and taking life one moment at a time.
Accompanied by the joyful, gentle pictures of prize-winning illustrator Christian Robinson, The Bench imparts a universal feeling through read-aloud verse and relatable sentiments. It's one to cherish and pass on through the generations.
Dork Diaries: I Love Paris! By Rachel Renee Russell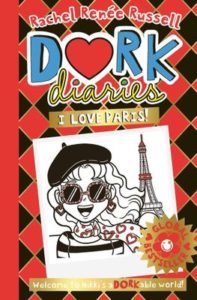 Over the course of fourteen (now fifteen) books, self-confessed dork and mishap-riddled adventurer Nikki Maxwell and her BFFs have been navigating the dramas of high school, fame and life in general. They've done bands and crushes, TV and heartbreak, disastrous birthdays and frenemy feuds… and now they're doing Paris! And things are just that much more dramatic when you're far from home… oh, and also when you're in a city famed for its romance, excitement and existential drama. What new trials and triumphs will befall Nikki and the crew as they jet off to The City of Lights?
If you're not yet into this hilarious series, it's perfect for fans of Jeff Kinney's Wimpy Kid series and Liz Pichon's Tom Gates books.
The Fowl Twins: Deny All Charges by Eoin Colfer
With the ten books that made up the fabulous original Artemis Fowl books – with their cold, cynical, criminal mastermind and cast of madcap, ingenious and compelling characters –  Colfer became a star of the young fantasy genre. Now, the younger twin brothers of Artemis, Myles and Beckett, reach the second instalment in their own tale of notoriety and inventive malfeasance.
Book two, Deny All Charges, sees the twins beset on all sides by villains, unexplained explosions and even a particularly sarcastic and unpleasant dwarf.
The Fowl jet explodes somewhere over Florida. The fact that they borrowed it without permission is really the least of their worries now. Myles, Beckett and their fairy minder Lazuli Heitz are lucky to be alive. Their parents, and the police, declare this the final straw and the twins are placed under house arrest. But those responsible for blowing up the jet are not done yet. When Myles is abducted from the house, separated from his twin, it's up to Lazuli and Bennett to find him… which will be tough without Myles' brain to guide them. Their search will pit them against foes both subterranean and subaquatic, will take them across continents and through hails of gunfire and… spit. But perhaps Beckett, without the help of his genius twin, will be able to come up with his own cunning plan. Let's hope so!
Skulduggery Pleasant #14: Dead or Alive by Derek Landy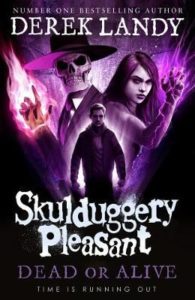 The world's greatest, best dressed and fireball-slingingest detective returns – along with necromancer Valkyrie Cain – for the penultimate adventure in this darkly humorous, ceaselessly exciting series.
The magical world is tearing itself apart in a last-ditch attempt to find the Child of the Faceless Ones: a prophesied character destined to end this age and bring back the ancient powers that once subjugated humankind. Billions of lives will be lost in the hunt… unless there is another way. Skulduggery and Valkyrie believe that they may be able to prevent this devastation by assassinating Damocles Creed – the Supreme Mage responsible for plunging Roarhaven into brutal fascism. Panicked on all fronts, the city descends into endless riots and oncoming revolutions. Against this chaotic, deadly backdrop, Valkyrie must decide what to make of her own fate. Will she sacrifice herself for the good of humanity or will she go down in history for risking everyone and everything?
The penultimate episode of the Skulduggery Pleasant series delivers one hell of a fiery punch along with a staggering clutch of cliffhangers.
Ghost Wood Song by Erica Waters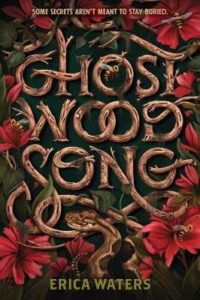 This eerie and richly evocative Young Adult debut strikes just the right balance between darkness and light. Teeming with magic, music and ghosts, and featuring a resonant, relevant queer love triangle, Ghost Wood Song is a gothic treat perfect for anyone with the proper respect for secrets.
Shady Grove inherited from her father a unique musical gift: the ability to summon ghosts from their graves with her fiddle playing. But she knows this gift also comes with a rare set of burdens. The fiddle's songs seem intent on conjuring dark, dark troubles. She has learned to be wary of it. But she has no choice but to wade into the secrets of the dead when her brother is accused of murder. Exonerating him means getting those ghosts singing. However, when communing with the dead, one does not always get to pick and choose what one hears. Clearing her brother's name will put Shady in the path of all that haunts her family.
Gorgeous atmospherics, a chilling dose of murder and an elegant mystery make Ghost Wood Song a debut you won't want to miss.
Realm Breaker by Victoria Aveyard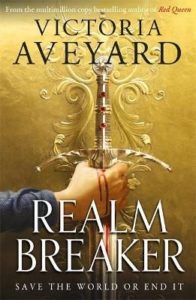 Aveyard became a sensation in the world of YA fantasy with her Red Queen series – an addictive quadrilogy credited with injecting new life into a tired genre. Now, she returns with an action-packed and utterly compelling new series.
Corayne an-Amarat passes her days in an out-of-the-way little town at the sea's edge. And even she can feel the strange, ominous darkness growing within the Ward. Not far away, a new foe gathers strength, summons a deadly army to his side. This army and this man exist for a single purpose: to decimate kingdoms, to cripple the very foundations of the world. But what this has to do with her, Corayne does not know. That is, until an immortal and a famed assassin knock at her door and tell her a tale of ancient lineages, of the magic that courses through her veins… of her role in the fate of the world.
The task she is set by these strangers is impossible but, with the future of the realm upon her shoulders, Corayne must engage this emerging destroyer of life. The fate of all that she and everyone else knows now rests in her inexperienced hands.
Epic in scale, classic but with a modern edge and led by an unforgettable cast of indomitable characters Realm Breaker bristles with Aveyard's trademark amalgam of action, intrigue and imagination.
Happy Reading!