Three diverse memoirs, two books on making life easier from prominent thinkers and one book on local current events… Here are six titles you'll want to keep an eye out for. There's something in this lot for everyone.
Noise by Daniel Kahneman
Kahneman's beloved bestseller Thinking, Fast and Slow transformed our relationships with our own thoughts by taking us on a tour of the human mind, introducing us to the two main systems that control the way we think.
Now, Kahneman is joined by Cass R. Sunstein – a celebrated scholar with considerable chops in behavioural economics and multiple branches of law – and expert strategist Olivier Sibony who, together, bring us an incisive analysis of "noise". Noise, defined here as variability in judgments that should be identical, wields considerable influence over the billions of decisions made every day all over the world. Whether it's doctors making diagnoses, judges handing down rulings or just individuals making their own choices, noise has a serious hand in it all.
Poor decisions get made for all sorts of reasons, and some of those reasons amount to little more than seemingly insignificant factors like whether we are hungry, whether it's a Friday or even what the weather is like. These small biases, because important organizations and professionals often ignore their importance, add up to a society-wide deficit in critical thinking and sound judgment.
With Noise, Kahneman and co. show us how we can avoid widespread errors in everything from medicine and economics to hiring and childcare, from creativity to government, simply by learning to remedy these noisy interferences.
Billie Eilish by Billie Eilish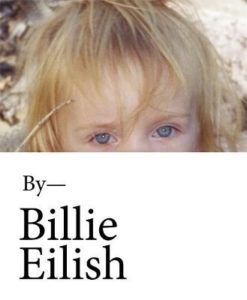 Eilish has already achieved an enormous amount – and she has done so while establishing herself as an uncompromising musician and a defiantly authentic individual.
With a fanbase that continues to grow, and records and performances that continue to attract adoration and award, Billie Eilish is one of those superstars that comes along only rarely.
With her new book, Eilish takes her audience on a visual journey through her life, providing us with intimate looks at her childhood and family life, life on tour and the making of a musical sensation.
Packed with never-before-seen photos and produced with the same visual and lyrical flair that makes her so instantly recognisable, Billie Eilish is a revealing and personal portrait of an artist intensely familiar with fame's various strains and strangenesses.
For My Country: Why I Blew the Whistle on Zuma and the Guptas by Themba Maseko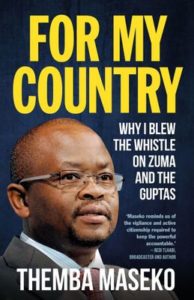 Distressingly often, a political career is derailed when a public servant refuses to kowtow to a powerful private enterprise. Maseko, a devoted civil-servant whose journey of activism and government began with the Soweto Uprising of 1976, found this out the hard way. Staunch loyalty to the ANC's founding principles and his distinguished record were not enough to save his position when he defied Zuma and the Guptas.
"In 2010, government spokesperson Themba Maseko was called to the Gupta family's Saxonwold compound and asked by Ajay Gupta to divert the government's entire advertising budget to the family's media company. When Maseko refused to do so, he was removed from his position and forced to leave the public service. In 2016, when the party called on members with evidence of wrongdoing by the Guptas to step forward, Maseko was the only one to do so. For this courageous act of whistleblowing, he was ostracised, slandered and even threatened."
For My Country is Maseko's compelling inside-look at the workings of SA government, his revelatory account of the presidencies of Mbeki and Zuma, and his private meditation on the importance of principles in life and service.
Effortless by Greg McKeown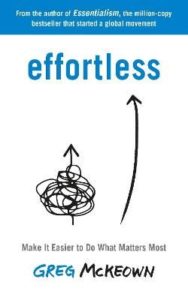 Leadership and management expert Greg McKeown's thing is this: figure out what is essential and disregard what is not and you've already taken big steps towards making everything easier for yourself.
With his previous book, Essentialism, Mckeown explained how to maximise productivity and get the most out of our time and energy not by doing more things but by doing the right things… even as the mess and interferences of work and life conspire to make this difficult.
With Effortless, he begins by pointing out a false equivalency that modern life seems only too thrilled to promulgate: that a task is either "hard and difficult" or "trivial and easy". By extolling strategies and philosophies that he has been developing for nearly a decade, McKeown moves on to point out that there is a third, better, option and that things can actually be "vital and effortless". How much better would things be if that which is most important is also that which is easiest? Well, while you find out, thanks to McKeown, you can also learn how to accomplish more with less hassle, how to "prioritise progress over perfection", and how to actually stop when you have finished. Stuff we could all do with knowing.
Remembering by Andile Gaelesiwe
As the host of Khumbul' ekhaya on SABC 1, and as an allround proponent of glamour, Gaelesiwe is adored countrywide. She is also known, though perhaps not to everyone, for being a survivor of appalling abuse.
Prompted by the death of her stepfather – who became deeply important to her not least because he proved the loving counterpoint to her monstrous biological father – Gaelesiwe delivers this courageous, fierce and often funny memoir, documenting her truth, her journey toward forgiveness and the essential lessons and experiences inspired by both the wonderful and the awful people who played a part in shaping her life.
Remembering is a glimpse behind Gaelesiwe's fabulous presenter persona, a reminder that there is a vulnerable soul within every one of us.
Just a Moment by Schalk Burger Snr. With Michael Vlismas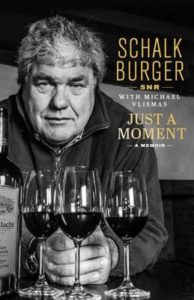 From the publisher:
"One of the greats of South African rugby shares the many layers of his colourful and eventful life. From rugby legend to businessman, wine farmer, cultural custodian, musician, father and grandfather, Schalk Burger's memoir is an intensely personal and honest journey of the triumphs and hardships that have shaped the life of a much-loved South African.
Burger is a storyteller extraordinaire and he'll have you snorting into your beer as you read about run-ins with officialdom, fisticuffs on the field, how he became the first white Springbok selected from a Coloured team, and the day Cheeky Watson asked to wash his feet.
This is a glimpse into the life and times of one of the country's most recognised figures, and told in the stories of the many lives that intersected with his. "Who am I, and how do I live? That is something this story will bring out of me."
Happy Reading!