Teen lit superstar Angie Thomas' hotly anticipated prequel to The Hate U Give is now available!
Yes, the wait may have felt long, but now at last we can return to Garden Heights for a taste of what went down before Starr's life was profoundly changed by the tragic events of The Hate You Give.
Concrete Rose, the eagle-eyed among you will have noticed, is a reference to The Rose That Grew from Concrete by Tupac Shakur. The Hate U Give is also a Tupac reference – just a little trivia for you there, as if you didn't know already.
Angie Thomas herself is now a phenomenon. A former teen rapper turned novelist and activist, Thomas has done a service to black representation in YA fiction that will be remembered and lauded for generations to come. Her writing has garnered a slew of accolades, including the Amnesty CILIP Honour and the Waterstones Children's Book Prize.
For a better idea of who she is, what she is about, how Concrete Rose came to be and what her writing has achieved, check out this recent interview with Refinery29.com… interviews with Angie Thomas are always worth a look.
Concrete Rose – R215 
"This is searing, moving, but never sentimental." ― The Irish Examiner
"A blistering, unputdownable look at black boyhood in the US, and what it means to be a man. It can be read as a standalone, but knowledge of The Hate U Give will make for a richer reading experience." ― The Bookseller
"The queen of American young adult fiction known for her galvanising stories of stymied youth, impoverished projects and institutional racism." ― The Times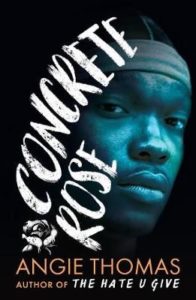 Right, as we've said, Concrete Rose takes us back to Garden Heights, seventeen years before the events of T.H.U.G., to tell the hard-hitting story of Maverick Carter (Starr's dad… or, at least, he will be). Seventeen-year-old Mav peddles dope for the King Lords in order to support his mum, who works two jobs while his dad is in prison. His life's tough, but he has everything more or less under control. That is, until he finds out that he's a father.
Suddenly he's trying to finish school, raise a little girl and sling enough dope to sustain his family. The world doesn't expect him to amount to much but, in an effort to prove that he can be more, Mav takes the one chance for a straight life that comes to him… But with a life so ruled by gang loyalty, revenge and heavy responsibility, he soon begins to buckle under the pressure. When a brutal murder further tears his world apart, he's left alone to figure out what it means to truly be a man.
Here's where Thomas' ability to construct deep-rooted divisions and loyalties, to portray ordinary communities driven to horror and despair by contemporary pressures, really comes to the fore. Concrete Rose is not to be missed.
Click here for the Concrete Rose Discussion Guide
And In Case Thomas' Previous Books Have Somehow Passed You By, Here's a Quick Look
Find Your Voice: A Guided Journal for Writing Your Truth (2020)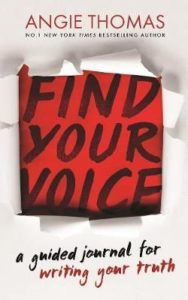 Ever the advocate of more compelling voices, Thomas draws generously from her journey from rapper to influential novelist to help you get your own ideas down on the page and bring them to fruition.
Here's what it includes, from the publisher:
"Packed full of step-by-step tips, writing prompts and exercises for:
· Discovering story ideas
· Creating memorable characters
· Realizing your setting
· Shaping your story
· Getting feedback from others
· And more!
With 24 illustrated inspirational quotes from Angie's acclaimed novels The Hate U Give and On the Come Up, and plenty of blank pages for your own words, Find Your Voice will ignite your creativity and help you bring your own unique stories to life. A must-have for aspiring writers and Angie fans."
On The Come Up (2019)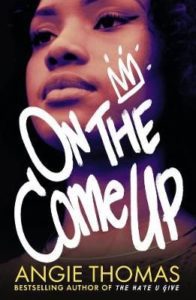 Angie Thomas' second novel is a powerful, exuberant and surprisingly tender novel about hip hop and freedom of speech… and all the odds that can cripple even the most robust and dedicated dreams.
Bri is the daughter of an underground hip hop legend. Her father tragically died just as he was about to hit it big, but Bri is determined that this will not happen to her — she will be the greatest rapper of her age. Her dream, however, is almost derailed right from the very beginning as her first song grabs all the wrong sorts of attention and she quickly finds herself at the centre of a controversy whipped up and embellished by a media intent on portraying her as something she isn't. Suddenly her family is facing homelessness and achieving her dream is no longer just a matter of want, it's a matter of survival.
With themes of multi-generational family, peer pressure, substance abuse, black lives, social justice and, of course, music, On The Come Up is, much like T.H.U.G., a novel that never shies from the real world in which many teens and impoverished families are left to figure it out for themselves.
The Hate U Give (2017)
There aren't likely to be many out there who don't know at least something about this miraculous phenomenon of a novel (the fact that there's the movie helps), but in case there are, here's the publishers blurb:
"Sixteen-year-old Starr lives in two worlds: the poor neighbourhood where she was born and raised and her posh high school in the suburbs. The uneasy balance between them is shattered when Starr is the only witness to the fatal shooting of her unarmed best friend, Khalil, by a police officer. Now what Starr says could destroy her community. It could also get her killed.
"Inspired by the Black Lives Matter movement, this is a powerful and gripping YA novel about one girl's struggle for justice."
That's a decent rundown of the plot, but what you need to know more than anything is that this a book that truly propelled social justice and black representation into a new and important spot within young adult literature. It's gut-wrenching, authentic, fact-driven and thoroughly compelling. A proper YA masterpiece.
Happy Reading!
Daniel Foyster 02/2021