Legacy of War by Wilbur Smith and David Churchill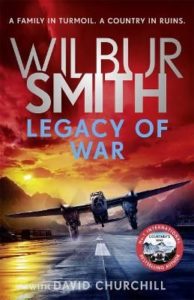 It is a testament to the enduring appeal of Smith's action-packed adventures that each new release is greeted with considerable excitement… which is why Legacy of War, the newest installment in the part of the Courtney saga set during WWII, is our April book of the month.
Following on from the gripping events of Courtney's War, Legacy of War takes place during the aftermath of WWII and moves between Europe and Kenya as it follows new threats to Saffron and Leon Courtney.
Saffron and her husband Gerhard only just managed to survive the ferocity of the war that tore Europe apart. Though the Nazi army lies in ruins and Hitler is dead, there are still those who harbour the same nefarious ambition. Gerhard's brother, Konrad, a notorious Nazi supporter, also escaped with his life… and he remains free enough to believe that power is his for the taking. It isn't long before the survival of Saffron and Gerhard is identified as a threat to Konrad's plans and the couple scarcely has time to pick up the pieces as a far-reaching, and continent-spanning, new plot threatens their lives anew.
Meanwhile, in Kenya, what remains of the colonial empire is on the brink of all out rebellion. As the violence of the situation intensifies, Leon Courtney finds himself caught not only in the battle to save his family home, but also in the conflagration that will determine the fate of the country.
As usual, Smith and his co-author weave an enthralling tale from parallel narratives, delivering an action-packed wartime adventure that keeps the thrills coming.
Previously…
Courtney's War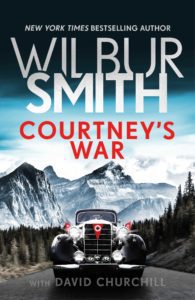 A headily dramatic wartime adventure, Courtney's War continues to follow the life of Saffron Courtney as she fights to survive the brutality of WW2 in pursuit of a love that regime and circumstance are determined to prevent.
In the 1930's, courageous and sharp-witted Saffron Courtney meets Gerhard von Meerbach, an idealistic German with whom she can see herself spending a whole lifetime. But war is engulfing Gerhard's family, and country, in a way that nobody should be called upon to bear. The two lovers are separated as war breaks out. In order to survive, Saffron and Gerhard must fight for their countries in spite of their own beliefs. Saffron risks her life in deadly missions behind enemy lines while Gerhard is forced to serve the Nazis as a fighter pilot. But his staunch opposition to the regime, and his profound hatred of the war, ultimately lead him onto treacherous ground… and his chances of being reunited with Saffron dwindle by the day.
This is a classic love story, packed with visceral thrills, that pits enduring love against the cruel machinations of chance and dominion.
War Cry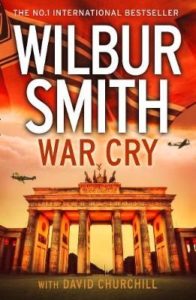 The first of Smith's books to feature beloved additions to the saga, Saffron and Gerhard, War Cry initiates the epic tale of love and war that culminates with this month's new release.
As she nears adulthood, Saffron Courtney – who, until recently has been carefully watched and protected by her father, Leon. Childhood on their Kenyan estate was idyllic… until a family tragedy forced her to confront reality. Now, ravenous for knowledge and risk, she has found her way to England where, inevitably, she is about to be engulfed by the tidal wave of conflict swiftly approaching Europe.
Gerhard von Meerbach, scion of an industrial fortune and open-hearted idealist, is closer to Saffron to the eye of the storm, but he is unaware of the extreme danger in which his principles and his friendships have placed him. Saving his own life, and keeping alive a new love, is about to cost him more than his integrity.
For a really good guide on how to properly acquaint yourself with the Courtney family – and as a way of making sure you are fully au fait with everything that's happened so far – checkout:
https://www.howtoread.me/the-courtney-series-in-order/
 Happy Reading!