Part two of our featured new releases for this month includes some real whoppers. We've got new ones from some of the world's best loved storytellers, and we've got two emotional and nerve-wracking thrillers that will strike a chord with anyone who's ever been embroiled in the trials of ordinary life – and one of those is a debut that is absolutely bound to cause a stir.
Take a look:
High Stakes by Danielle Steel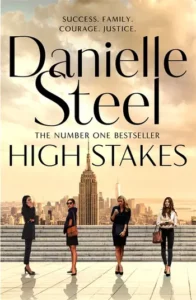 The thought-provoking new novel from perhaps the world's most favourite storyteller concerns a New York talent agency and the women who, through it, come to learn some hard lessons about success and sacrifice.
Jane Addison, being ambitious and dedicated, is thrilled to land a job with the prestigious Fletcher and Benson agency. This will be the beginning of her life proper. Hailey West, who will be Jane's boss, is dedicated too, especially to the authors she represents, but following her husband's sudden death, she is still struggling to adjust to the pressures of single motherhood. And then there's the formidable but steely head of the agency, Francine Rivers – who is battling an upheaval of her own. Even the agency's CFO, Merriweather Jones, is embattled by her strained relationship with her jealous husband.
Another agent, Allie Moore, seems to have no such troubles, until a passionate love affair with one of her star actor clients threatens everything she has built for herself. Jane will quickly realise that something is deeply unwell at the heart of the agency and, though she has little to no power, she cannot allow things to remain as they are. But she cannot know how much fallout her efforts to make things right will attract.
High Stakes is an enthralling novel about five high-powered women fighting to remain at the top of their careers without sacrificing their personal lives. Which of them has the energy left to fight for what is right?
Dream Town by David Baldacci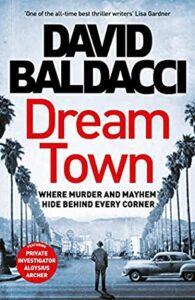 Aloysius Archer, WWII veteran and private investigator returns in another gripping Hollywood case filled with rising starlets, notorious criminals, corrupt politicians – all the glamorous and seedy elements of the best noir thrillers.
While at dinner with an actress friend on New Years Eve, Archer is approached by Eleanor Lamb, a screenwriter. She believes someone is trying to kill her. Taking the case, Archer soon pays a visit to Lamb's Malibu residence – where he immediately finds that Lamb has vanished and left a stranger's dead body behind her. Leaving the police to handle it, Archer takes off to hunt for the screenwriter. His investigation quickly leads away from the lights of Los Angeles toward Las Vegas – which is just establishing itself as a degenerate haven and a money spinner for the country's most powerful criminals. Some of them are already aware of his efforts. Quickly becoming entangled with corrupt cops, ambitious crooks, Hollywood's elite and all manner of other shady and dangerous individuals, Archer will have to himself defy death several times, and confront the deaths of numerous others as he tracks down the elusive Eleanor Lamb.
Dream Town is one of Baldacci's riveting creations yet – an atmosphere-drenched thriller that summons the classic silver-screen detectives and tragic victims of yore.
The Match by Harlen Coben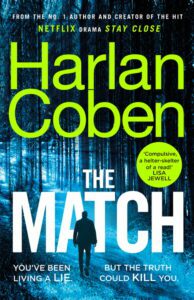 Wilde, they call him. The boy from the woods. Up until now he has lived outside of society, living a rudimentary life in the mountains of New Jersey. He's a person about whom nobody knows a thing… himself included. He has no knowledge of his parents or his origins. The mountain is all he knows. But that is all about to change.
When a DNA test identifies a positive match, he feels it is time he had some answers. But this rare database relation vanishes just as quickly as he reappeared. The trail goes cold. But Wilde is undeterred. This could be his chance to discover who he really is. His research online brings him into a community that aims to take down anonymous digital bullies. He is on to something.
And then members of this community start to die. Could their little collective be the target of a vengeful serial killer? And does Wilde have time to work it all out before becoming the next victim?
Coben, ever masterful, scores once again with this riveting and twisty new mystery.
The Interview by C. M. Ewan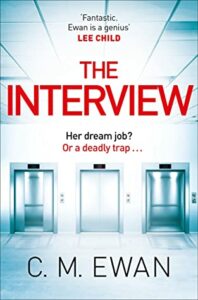 Have you ever been in one of those situations that should be ordinary but quickly warps into something horrendous? This is exactly the premise of C.M. Ewan's utterly nerve-wracking, read-in-one-horrified-sitting new novel.
You're attending an interview for the kind of job you've often dreamed of getting. It's a Friday afternoon. Nothing unusual about it. The office, more than a dozen floors above the rest of the city, is incredible. You're alone with the man interviewing you. There's no one else in the building. It doesn't take long for the interview to take a disturbing turn. You don't get scared right away. And then you do. The question, the only one you have no choice but to answer, is impossible. So what happens if you get it wrong?
Not that many thrillers actually earn the right to be called unputdownable. But this one does. And, more than that, it's unbearably tense, excruciatingly taut and completely unpredictable. If you're looking for a break from the run-of-the-mill-tale of suspense, have a go at this one.
Breaking Point by Edel Coffey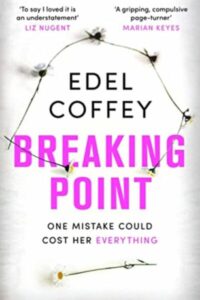 Edel Coffey, a well-known Irish journalist, really goes for it with this debut novel – an emotional thriller that sees a successful woman pitted simultaneously against work pressures, parenting, the frenzy of the media and the coldness of the courts. It's shockingly real, relentlessly unnerving and fully relatable.
Susannah is a medical professional with a career that can only get better. Her two daughters are beautiful. Her husband is successful too. She has great hair and fabulous style. Her life is controlled and just about perfect. She's envied by many. Until she isn't.
One morning – a hot, frazzled morning – her usually strict and well-oiled morning routine goes a bit wrong. She slips into autopilot, going absently through the necessary motions to get the day back on track. But in her hurry, she makes the mistake that changes everything. It takes her hours to realise that she's left her baby, Louise, in the car. And by then it's too late. Louise is gone.
In no time at all, the press has surrounded her. They are out for blood. She's put on trial – but not before the media and the public have thoroughly condemned her. Can she look to the court to show her some mercy? Is there anyone willing to empathise with her and her one, deadly mistake? What will the verdict bring?
Coffey's incredible debut might just be a contender for one of this year's best books… and it will leave no one who reads it unmoved.
Happy Reading!