Wilbur Smith's conservation-themed and action-packed series for younger readers now has its second instalment… and it's just as teeming with wildlife and danger as the first.
A deep appreciation of nature and conservation has long been a staple of Smith's work, and the Jack Courtney adventures are just the thing to bring that career-long love to a younger audience. Ideal for readers aged between 9 and 12, Cloudburst and Thunderbolt explore major themes like family, friendship and the wilder parts of the planet, all while keeping the entertainment turned up to ten.
Thunderbolt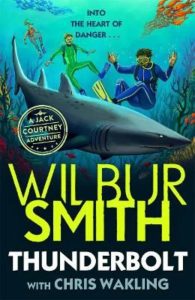 Our fourteen-year-old hero, Jack, is in Zanzibar with his friends Amelia and Xander. They spend their time in this storied country diving for lost treasure and helping Jack's mother with her important coral protection project. On their last day of diving, the three friends decide to go out even farther than before in search of a last great haul… and are lured into a trap and captured by Somali pirates for their trouble.
Jack quickly decides that they will escape through their own wits and determination: no ransom, no intervention. But things take a grim turn when the friends are taken to a training camp that produces boy-soldiers for the militia. Under the merciless rule of the camp's ruthless commander, the only chance the trio has for escape now rests at the feet of a Somali boy named Mo.
Exciting, realistic and pretty informative, the second Jack Courtney adventure keeps the dangers coming and keeps the pages turning.
Cloudburst (Book #1)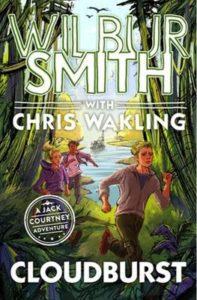 Jack Courtney is a city-boy through and through. He has lived his whole life in London, but when his parents are invited to an environmental conference in the Democratic Republic of Congo, the chance for a truly amazing summer suddenly presents itself. His parents have agreed that he and his friends, Amelia and Xander, can come along. Safari holiday!
Tragically, it isn't long before their holiday of a lifetime takes a nightmarish turn. The DRC is a notoriously dangerous country:  heavy traffic, deadly wildlife, poachers, mercenaries and now kidnappers must be contended with. Following a massive accident, the kids return to their hotel to find Jack's parents missing, replaced by a ransom note. The clock is ticking and Jack and his friends will stop at nothing to find his parents, pitting themselves against a hostile new country and all the challenges it presents.
Cloudburst is tightly plotted and brimming with vivid wildlife detail and relentless adventure. Jack is a super central character who embodies boldness and ingenuity while his friend Amelia is wise and unfailingly knowledgeable, making for a great team that testifies to the resilience and determination of young people everywhere. And it's not without its emotional impact either. Throughout this informative and unputdownable adventure, great attention is given to the plight of the DRC, its people and its nature, and to the importance of family and friends when dealing with any kind of adversity. It's a brilliant new series that's got something for kids of all persuasions.
Happy Reading