It's the Answers for Me by Khaya Dlanga & Blood Trail by Tony Park
There are two Books of the Month this month… because they are equally exciting and choosing just one of them seemed unfair (and/or impossible). Both are by beloved authors and both offer their own particular kind of enjoyment. Here's a little about them both.
It's the Answers for Me by Khaya Dlanga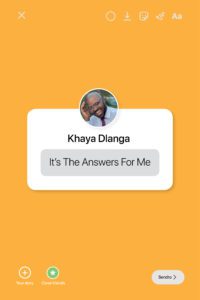 Khaya Dlanga is one of SA's most appreciated authors for good reason; able to candidly write about himself and the experiences that make up his world and ours, authenticity is a hallmark of his work.
Here, Dlanga turns that authenticity and candour upon something experienced by a great many of us over the last year: the loneliness and uncertainty of the various Covid-19 lockdowns. Craving the human connection denied by the virus, Dlanga turned toward social media. As easy as it is to decry these platforms, It's the Answers for Me proves that uplifting online communities are able to exist and thrive despite cruel and unusual adversities.
The result of ongoing Q&A relationships with his Instagram followers, his new book offers up a genuine testament to the resilience of a nation undergoing heinous hardships and the people working their way through it.
Frequently touching, often hilarious, occasionally bizarre and invariably human, this is a collection that wrings something vital from the everyday situations and peculiar travails.
Read an extract here.
Blood Trail by Tony Park
With every new thriller from perennial favourite, Tony Park, you can be sure that you're getting an exhilarating adventure that speaks to the passions of many South Africans and to the love the author feels for the continent.
This time around, we're treated to a hard-hitting amalgam of poaching, tracking, global events and personal losses.
The case begins with two missing young girls. Captain Sannie van Rensburg and many outraged locals fear that their vanishing may have something to do with the darker side of traditional medicine. At the same time, formidable tracker Mia Greenaway is investigating the almost parallel disappearance of a known poacher. When the mystery is compounded by another disappearance – that of a tourist – the two detectives are forced to unite before the tragic case becomes any more baffling. But the two do not make for an easy pair. Frequently confounded by their own personal traumas, the duo sets about tracing a bloody trail of brutality and suspicion that seems to take a sharp turn every time they're about to get hold of it.
Set, as usual, against a troubling and fantastic African backdrop, Blood Trail fuses traditional fears with novel ones as it delivers an explosive antidote to all the being stuck in doors that so many of us have recently been forced to endure.
Read an interview with Park about his new novel here
Happy Reading