Magical sweets that give you superpowers, malfunctioning time machines, rhyming aardvarks, hand-washing pandas, quick-thinking pangolins and a kitticorn (which is as lovely as it sounds)… here are some of this month's most exciting and delightful books for younger readers. Take a look.
Kitticorn by Matilda Rose & Tim Budgen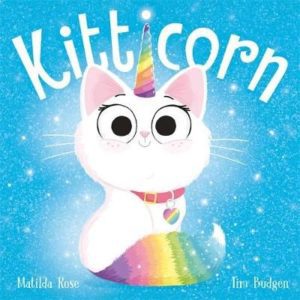 The utterly adorable Magic Pet Shop series gets another curious new addition in the form of Kitticorn. Just look at it! It's a kitten and a unicorn. Such levels of cuteness should be impossible… but clearly aren't.
Prince Miles is not exactly a fan of trying new things. He likes order and rules. And very much does not like when these things are interfered with. Enter Kitticorn – a dazzling creature that turns out to be just as daring and unpredictable as it is beautiful. Miles' routine might never be the same again… but maybe Kitticorn is just the new friend he needs to convince him that trying new things and being open to change can be magical.
Join Miles and Kitticorn as they dare to try all sorts of new adventures together.
Pangolin Plays a Prank by Avril Van Der Merwe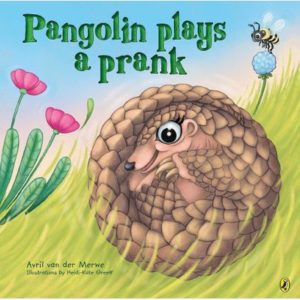 Do you love pangolins? Yes. The answer is yes. Everyone loves pangolins. They're amazing. And this particular pangolin is especially amazing… you'd have to be, in order to outsmart a lion.
One night, full from a massive dinner of crawly critters, Pangolin accidentally bumps into a hungry lion. There's no way she could ever outrun the lion – pangolins aren't what you'd call natural sprinters – so she has to come up with a quick and clever plan. With the help of Dung Beetle (who's also pretty amazing), and a bunch of friends she didn't even know she had, Pangolin outwits the lion. But just how did she manage to pull it off?
Wash Your Hands, Mr Panda by Steve Anthony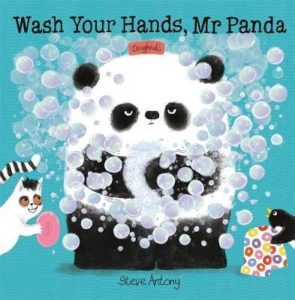 Actually, let's forget about Covid for a moment. Washing your hands is a good idea. Always and forever. And that's something that all kids need to know. It doesn't take much, after all, just some water, soap and a towel. And who's to say it can't be fun.
Using gentle humour and a light touch, and with the help of Mr Panda and his grubby friends, this bookshelf essential teaches little ones to enjoy being safe and clean. There are also bubbles. Lots of bubbles!
Oi Aardvark! By Kes Gray and Jim Field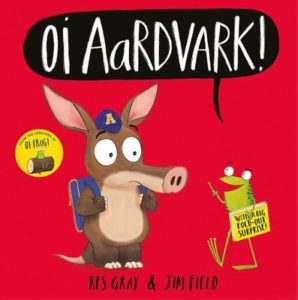 We love the Oi! books. Their bold and gorgeous art style, their always-hilarious antics, their unexpected insights. Everything about them is brilliant. And now there's an aardvark (which is something else that's also really brilliant).
Like all the books in the series Oi Aardvark! will have your little ones squealing with laughter (you can snort, if you're too grown up to squeal, we suppose) and this one uses an A-Z of crazy creatures to teach the alphabet, rhyming and phonics. You just can't go wrong with Kes Gray and Jim Field.
Al Staan jy op jou Kop deur Jaco Jacobs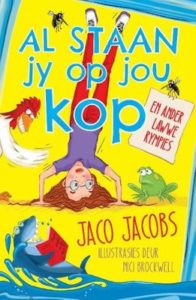 Het jy al 'n weermag Weense worsies gesien? Wat sal jy doen as jou huiswerk wegvlieg? Watter nare dinge gebeur as jy jou pizza met 'n mes en vurk eet?
Kom baljaar saam in dié prettige, holderstebolder rympieboek uit die pen van Jaco Jacobs. Jy gaan nêrens 'n lawwer rympieboek as dié een kry nie – al staan jy op jou kop!Die versameling bevat 58 rympies met illustrasies deur Nici Brockwell.
A Dinosaur Ate My Sister by Pooja Puri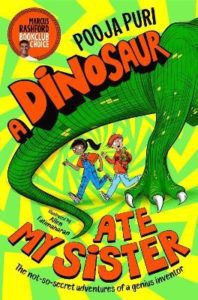 You might have the occasional trouble with your sister, but you wouldn't send her back in time to be eaten by a dinosaur, right? Well, actually Esha Verma – inimitably genius and inventor – didn't mean to… it was all her fault! Honest.
Esha, her apprentice Brocolli and Brocolli's cunning pet tortoise have come up with a plan that is well within their particular skill set. They are going to win the ultimate invention prize – the legendary Brain Trophy. It shouldn't be hard. A time machine is bound to win. Unless, that is, Esha's unbearable sister manages to hijack it and use it to fling herself back into the Cretaceous period. To bring her back to the present before she reaches a toothsome end, Esha and Brocolli are going to need help from The Office of Time… and they're also going to have to figure out what the heck is going on with those black holes!
Whacky, hilarious and terrifically inventive, the first book chosen for the Marcus Rashford Book Club is guaranteed fun for readers of all ages.
Pants on Fire by J. M. Joseph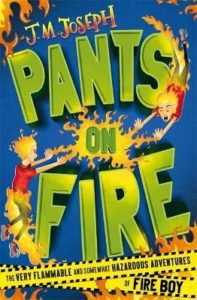 Aidan became Fire Boy by mistake. He didn't know that the sweet he was eating was filled with the juice of a magical Incan tree. It's not the kind of sweet filling you come across often, after all. But he's really getting the hang of it now. Crowds flock to see his pyrotechnic circus show. But suddenly there are shady journalists prowling around, wanting to uncover his secrets. And his cat keeps turning into a tiger – those darned magical sweets again. And the circus is threatening to leave him behind in London. If this wasn't enough, Aidan and his friends now have a supervillain to contend with and a school year to get through in one piece. Who'd have thought that being a fire-flinging superhero would involve so much hassle?!
Book two in the flammably funny Fire Boy series is a laugh riot from start to finish. If you love David Baddiel (The Parent Agency) and David Solomons (My Brother is a Superhero), you'll love Fire Boy.
Happy Reading!