The Paper Palace by Miranda Cowley Heller
Our Debut of the Month this month comes from a writer who, though never having published a novel before, comes to the game already equipped with a wealth of experience. Miranda Cowley Heller used to be Head of Drama Series at HBO, where she worked on such incredible shows as The Sopranos, Six Feet Under, Deadwood, The Wire and Big Love among others. Those are some serious drama chops. And it's more than reasonable to assume that a writer used to maintaining interest and enthrallment over the course of several seasons would be able to bring something quite special to the novel form. This is exactly what has happened with The Paper Palace.
Set over the course of 24 hours, The Paper Palace examines an authentic love triangle, explores the endless push and pull between safety and desire, and shows that nothing is ever really forgotten.
Crackling with sexual tension throughout, it's an engrossing read, intoxicating in its sensuousness and rich in its construction.
The Paper Palace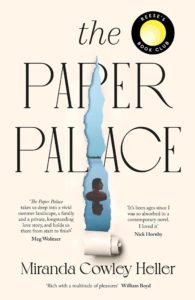 A beautifully constructed, wonderfully intelligent and beguiling novel, rich with a multitude of pleasures — William Boyd
It's glorious and gorgeous. I was absolutely immersed and gripped and I'm devastated to have finished it — Marian Keyes
For generations, Elle Bishop and her family have spent their summers at a fading summer camp in the woods of Cape Cod dubbed The Paper Palace.
As Elle heads out for a swim one August morning, she pauses to survey the happy mess left by the previous evening's gathering. But as she plunges into the cold water, it is the memory of another union that engulfs her.
That night, while her family and guests chatted typically inside, she had a sudden, passionate encounter with a man she used to know. From this one event stretches a history of fifty years as Elle takes stock of the loves, lies and secrets that have defined her life – as well as the one unutterable childhood event that changed everything. Within the next 24 hours, Elle will be compelled to choose between the life she has made with her husband Peter, and the life she once dreamed of having with Jonas, her childhood love, whose love was taken from her by the tragedy that rerouted her life.
Literary and emotional in equal measure, The Paper Palace is an urgent, many-layered novel swimming in brilliance: a book that's unfailingly eloquent in its study of the decisions, crimes, legacies and tragedies that constitute every family.
Selected for Reese Witherspoon's book club, she has this to say about it:
'I was totally immersed in the fast-paced narrative that seamlessly wove together past & present. And ALL the beautiful details in this book are enough to pull at your heartstrings… every sentence is SO vivid and luxurious you feel like you're transported to a lakeside retreat in Cape Cod with a family you have known forever. I think you will love this one!'
Happy Reading