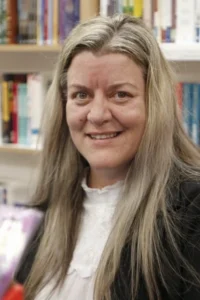 A shoutout to the Bargain Books Community From Tracy Terblanche, manager of Bargain Books Walmer Park 
I love working for Bargain Books, for we are given a huge amount of autonomy in our shops.
This is not a cooky-cutter book chain. Each store has a unique set of customers. We are encouraged to promote reading, not to merely make the bottom line or pushing profit margins. That is why any Bargain Books store is more than a box of bargain books.
You will find that our booksellers are readers, we are readers selling to readers. We love what we do.
There are three Bargain Books stores in Gqeberha, with a fourth opening soon. Each one is unique, because each caters for a unique clientele and the sellers in each are unique.