To celebrate all the super strides that are being made in the book world in terms of representation, variety, and queerness – and to treat you all to some wonderful gay stories, of course – we have put together a list of scintillating pride reads.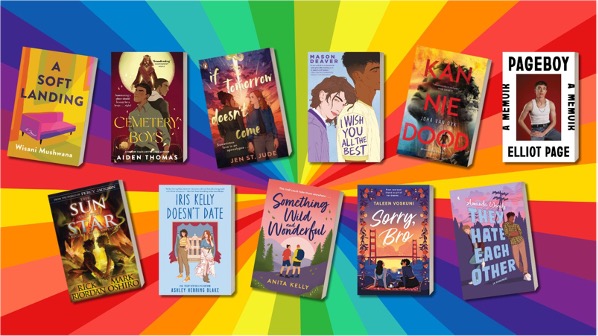 There's a bit of everything here and they're all brilliant. Take a look: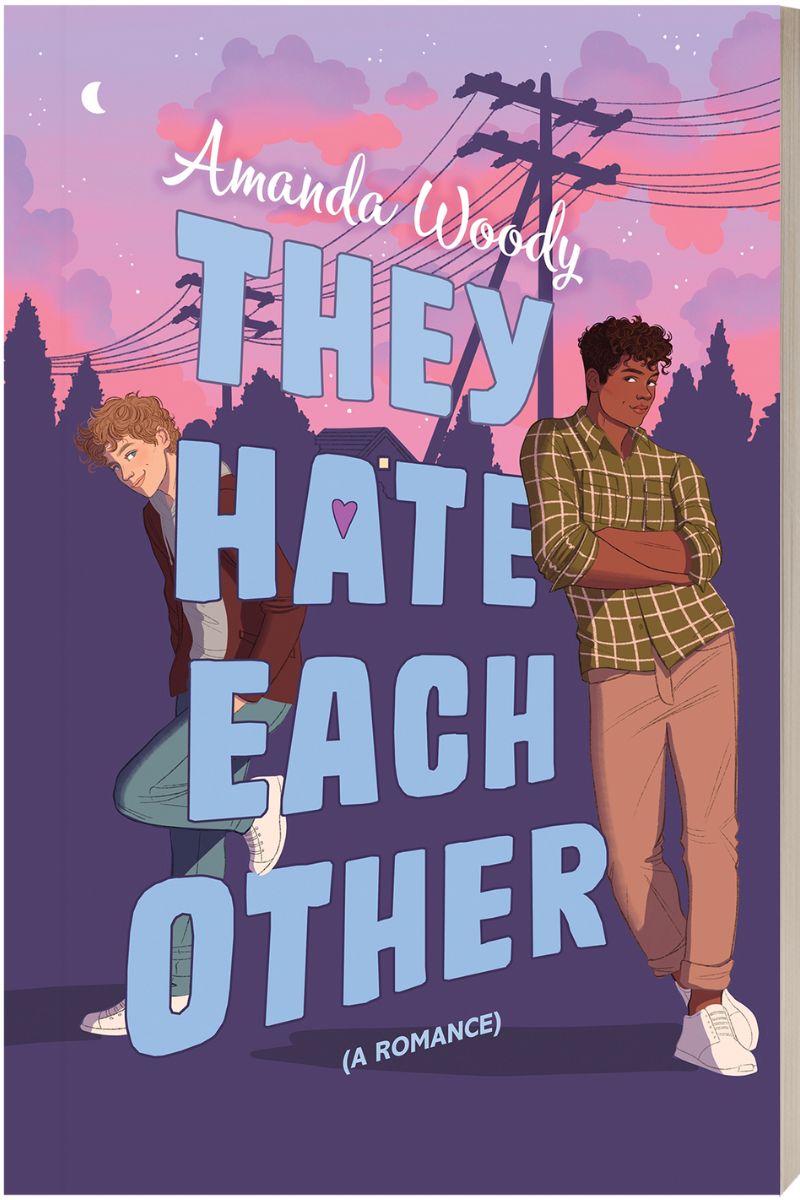 They Hate Each Other
Amanda Woody
Helpful tags: M/M Romance, Mental Health, Enemies-to-Lovers, Accidental Intimacy.
Who doesn't love an enemies-to-lovers story? It's a classic. But here, queer non-binary author Amanda Woody adds extra layers.  
Jonah and Dylan make no point of hiding their animosity. Jonah thinks Dylan is a spoiled golden boy with an uncontaminated ego. Dylan thinks Jonah's an over the top attention seeker who doesn't know when to shut up. There's nothing but hate there. Or could there be something more? Their schoolmates are sure their enmity is just a ploy to hide how incredibly into each other they are. It doesn't matter what they say or how often they say it; the whole school is convinced they belong together and it's getting to be too much. And these rumours are only inflamed when Dylan and Jonah wake up together after homecoming.
At first they're horrified. Then they realise they can twist this situation to their advantage. So they agree to fake date for just long enough to stage an explosive, public breakup and silence everyone once and for all.
It's only a charade, but soon they begin to really take notice of each other – and to feel more for each other than that relentless antagonism. And soon their plan is falling apart completely.
On top of the feisty fake-dating angle, They Hate Each Other has something very real to say about allowing oneself to be vulnerable and about the need to base one's perceptions on more than surface. Romantic, occasionally heartbreaking and surprising laden with real trauma and complexity, this is one of those times you come for the lust but stay for the truthfully depicted characters and the mutual understanding.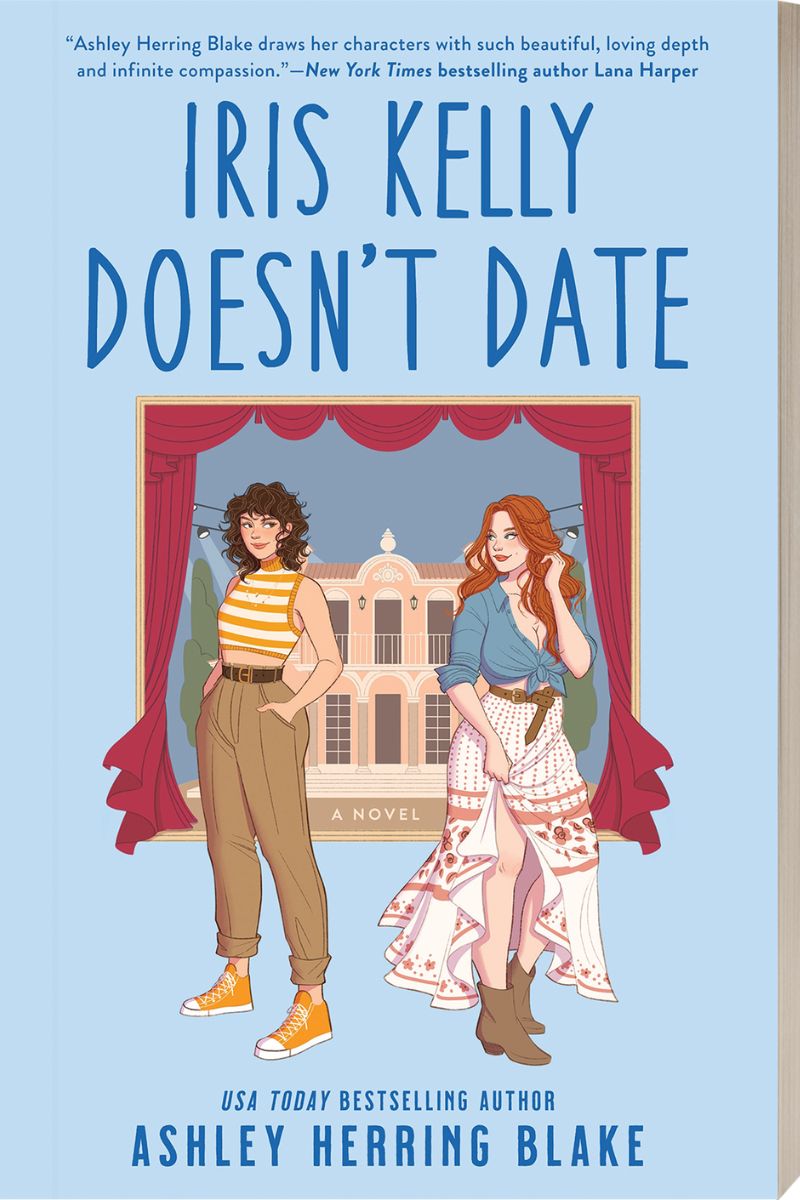 Iris Kelly Doesn't Date
Ashley Herring Blake
Helpful tags: theatre nerds, struggling writer, cynical romantics, F/F romance.
How familiar does this sound: your siblings have met the perfect partners and are just swimming around in love, your friends are all too busy with their spectacular love lives to pay you much heed, even your parents seem to be couched in perfect marital bliss… and you, well, nobody seems to notice the state you're in.
This is where Iris Kelly finds herself. Sure, she's happy for everyone and their storybook romances, she really is, but she has a problem even more major than her love lack: she's a newly minted romance novelist – and there's very little romance left in her. The irony is palpable. You see, any romantic inspiration she did have she used up completely on her debut novel. So now what?
Forget your problems, Iris says to herself, go to a bar, take your mind off things, dance to you can't remember what you're trying to forget. And that's what she does. And that's how she meets Stefania, with whom she spends the night making out and dancing – the night finally culminating in the worst one night stand of her life (possibly the worst of anyone's life… the vomiting was an especially grim development). What can Iris do but forget about it?
But that's not about to happen because when she auditions for a local play – a bit of drama to break the writers block – she runs straight into Stefania who, it turns out, is actually Stevie. And Stevie, too, has a problem. Frantically she begs Iris to play along as her girlfriend, just for the time being. Iris is astounded at first, but she soon realises that this could be just what she needs to pry herself from her creative dry patch: exactly what second novels might be made of. Soon Iris and Stevie aren't sure where their fake relationship ends and their true one, the one that's there but is not quite comfortable revealing itself, begins.
Iris is a relatable protagonist, Stevie is a compelling love interest, and Iris Kelly Doesn't Date is a substantial romance that's as comfortable with grand gesture as it is with thoughtful detail.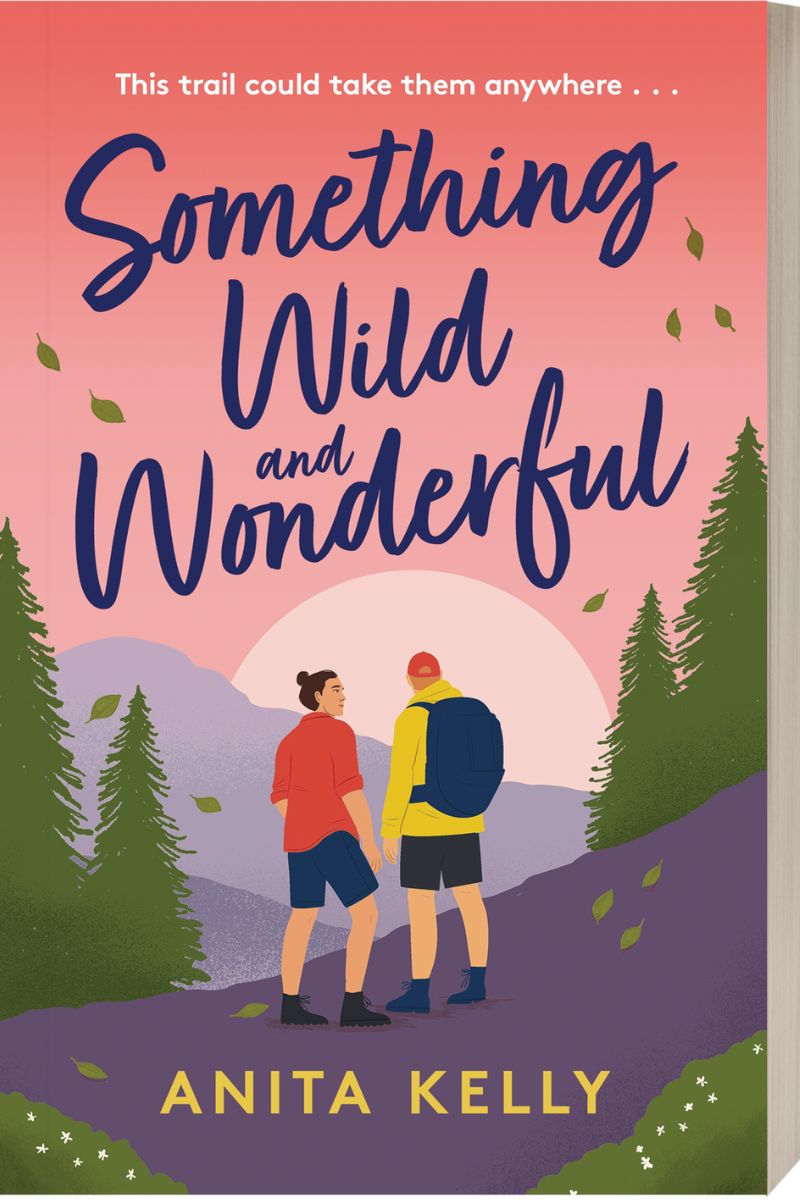 Something Wild and Wonderful
Anita Kelly
Helpful tags: Nature, solitude, grumpy-meets-sunny, M/M romance
Sometimes, in seeking solitude we find something else entirely.
It's difficult to find a single bad word about the glorious new romance from the author of Love and Other Disasters. Two intensely loveable protagonists, relatable traumas, an incredible setting, deft pacing… it ticks all the boxes that count.
Having recently been completely cut off by his parents, Alexei is putting all his energy into hiking the Pacific Crest Trail. Months of liberating solitude, wildlife and nature, peace and exertion. He's ready for it all. 2500 miles of freedom, just him, just the trail. When he first comes upon the handsome, magnetic stranger, he notices him but he doesn't think too much of it. But when they keep running into each other, Alexei finds it hard to ignore. Is this mere coincidence, or is the path bringing them together for a reason?
Ben has a history of allowing beautiful men to influence his decisions… and not very often for the better. He knows it's something he needs to work on, knows he should be using his time alone on the trail to reflect by himself, and on himself. But there's something about the gorgeous, quiet Alexei that he can't bring himself to leave behind.
Alexei and Ben both were brought to the Pacific Crest Trail by the healing they hoped to find there, and the adventure that might await. They could not predict that they would become each other's biggest adventure yet and did not foresee the healing they would find in each other. But the path has to end sometime and as their journeys begin to approach a crossroad, they start to wonder if it might be possible to hold onto the wonders they have found in the wilderness.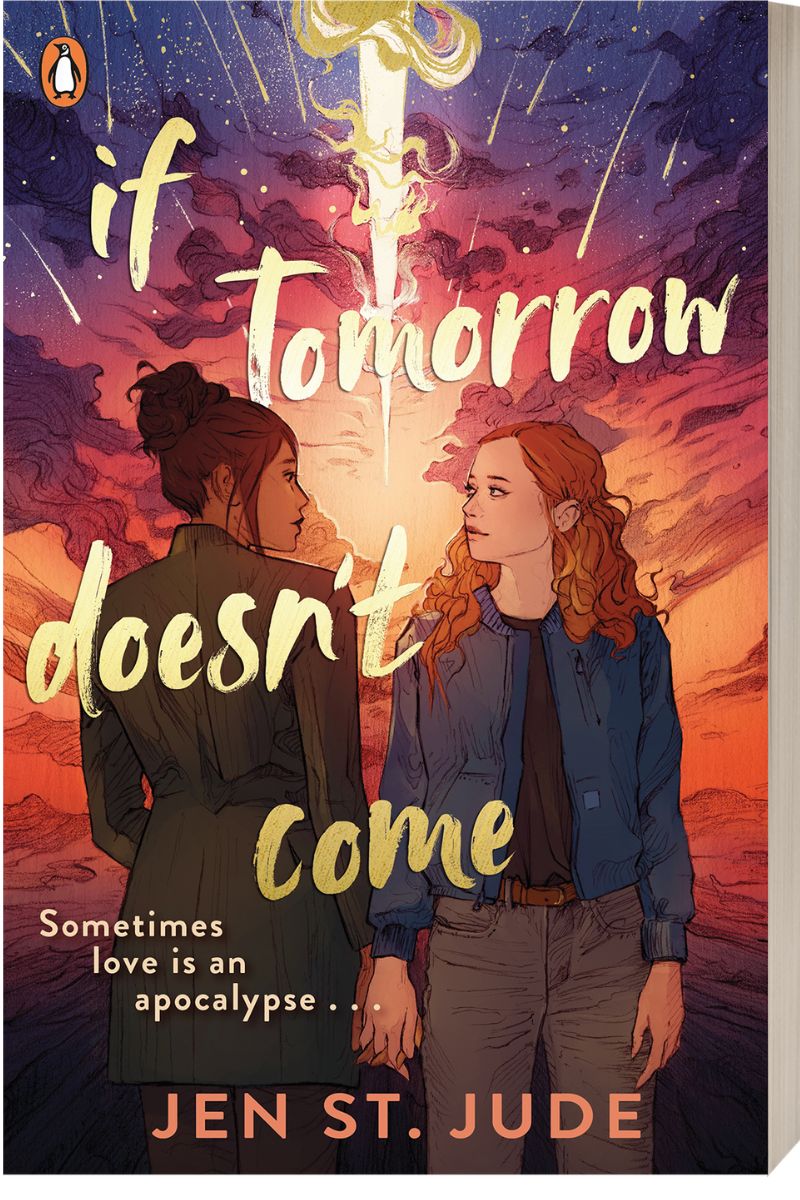 If Tomorrow Doesn't Come
Jen St Jude
Helpful tags: dystopian/speculative, depression, religion, F/F romance
No matter how well you plan a thing, something else can always come along to ruin it. And no matter how well you keep your secrets, something can always come along to unearth them. The imminent end of the world could be considered one of those things.
Avery Byrne has undiagnosed clinical depression, she's queer, and she's in love. Nobody knows this but her. She has decided to end her life. She has it planned out: she's chosen the day, she's chosen the spot, she's written her letters. But on that final day, she discovers, along with the rest of the world, that an asteroid is heading for earth. It's big enough to end life as we know it and it will hit in just nine days. Can she, for the sake of everyone she loves and for all who love her, hold on for just that much longer? If she can, and if she's going to try, it must begin with Cass, her best friend, the girl she has loved for as long as she can know.
But staying alive is going to mean facing the truth, coming clean, admitting that she needs support: it means attempting to have hope in something. Maybe there is a way to make it through this. Maybe the impossible beginning of Cass and Avery doesn't also have to be their untimely end.
Split between the past and present, If Tomorrow Doesn't Come beautifully and devastatingly explores the courage it takes to carry on and warring weights of hope and hopelessness. At once filled with action, emotionally raw and instilled with incredible tenderness, this is a big, emotional read that will not soon leave you.
Especially recommended for fans of They Both Die at the End.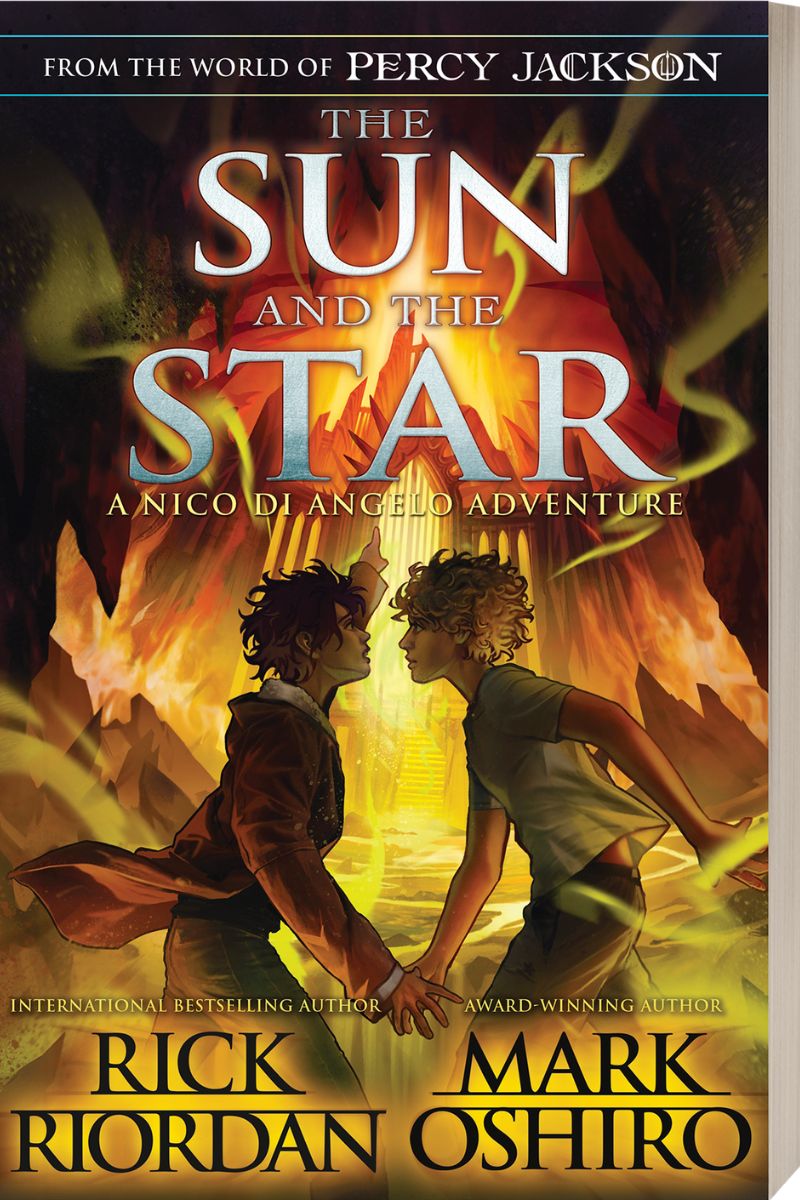 The Sun and the Star
Rick Riordan and Mike Oshiro
Helpful tags: Greek mythology, gay, bisexual
We're back in Tartarus with fan favourites Nico and Will! And this time the demigod boyfriends are braving the very darkest parts of the world to answer the call of a condemned old friend.
Nico Di Angelo, son of Hades, has been through a lot. His mother and sister were taken from him far too soon. He was outed against his will. He lost good friends during the infamous Trials of Apollo. But at least now he has his boyfriend, Will Solace, the son of Apollo. And together they've been able to best just about any deadly situation. But can they keep it up?
When Percy and Annabeth escaped Hades's realm, they were forced to abandon a reformed Titan named Bob. Bob has been languishing there ever since. Now Nico has begun to have strange dreams and, confirmed by Rachel Dare's latest prophetic visions, his sure that they are Bob calling for help. No matter what anyone else has to say about it, Nico knows he has to help. And, of course, Will is not about to be left behind. But Will, a being of pure light, has never ventured so far into the darkness or faced the terrors that wait there. With Rachel's warning that in order to save Bob he will have to "leave something of equal value behind", Nico gets the feeling that this quest will test not just the strength of his partnership with Will but also their ability to make it out alive.
A stand alone set in the legendary world of Percy Jackson, not only is this some of Riordan's best character work yet, it is also a notable step into more mature territory.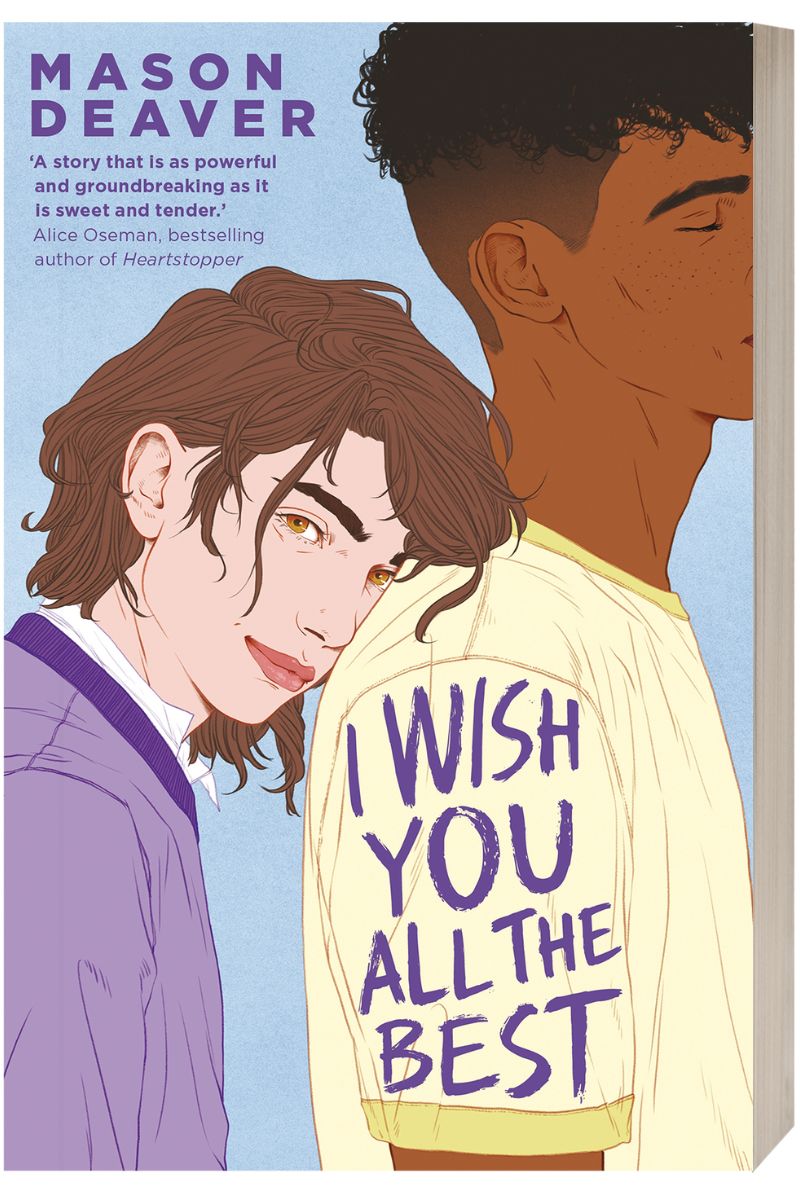 I Wish You All the Best
Mason Deaver
Helpful tags: non-binary, family vs chosen family, coming out.
Heartfelt, moving and easy to get into, if you've never read a book with a non-binary protagonist, this is a great place to start.
The long moment that leads to coming out is one that's overflowingly full of calculations. Minute assessments. There's so much to anticipate.
Ben de Backer does not expect the reaction they receive when they come out to their parents as non-binary. They do not expect to be forced from their family home, to have the door firmly and permanently slammed on them. But that's what happens. And that's how they end up traipsing toward their sister's house, hoping she'll let them stay even though they haven't seen her in ten years. Fortunately Hannah, along with her husband Thomas, is better than her parents and Ben is able to find some degree of stability in spite of everything.
But then there's a new school to worry about – a senior year to survive. Only Hannah, Thomas and their therapist know what's really going on. With an anxiety disorder and depression to overcome, all Ben wants to do is fly under the radar. Then Nathan – funny, charismatic, painfully adorable Nathan – comes along and makes that all but impossible. Nathan takes Ben under his wing and gradually, cautiously, a friendship starts to bloom… and then that friendship begins gently to change and deepen. With the trauma of the last time still so raw, can Ben risk rejection again? This could be their chance to make something beautiful out of a painful disaster. But what's it going to take?
I Wish You All the Best absolutely teems with both heartbreak and joy and manages to communicate one of the touchstone queer experiences with considerable strength and tenderness.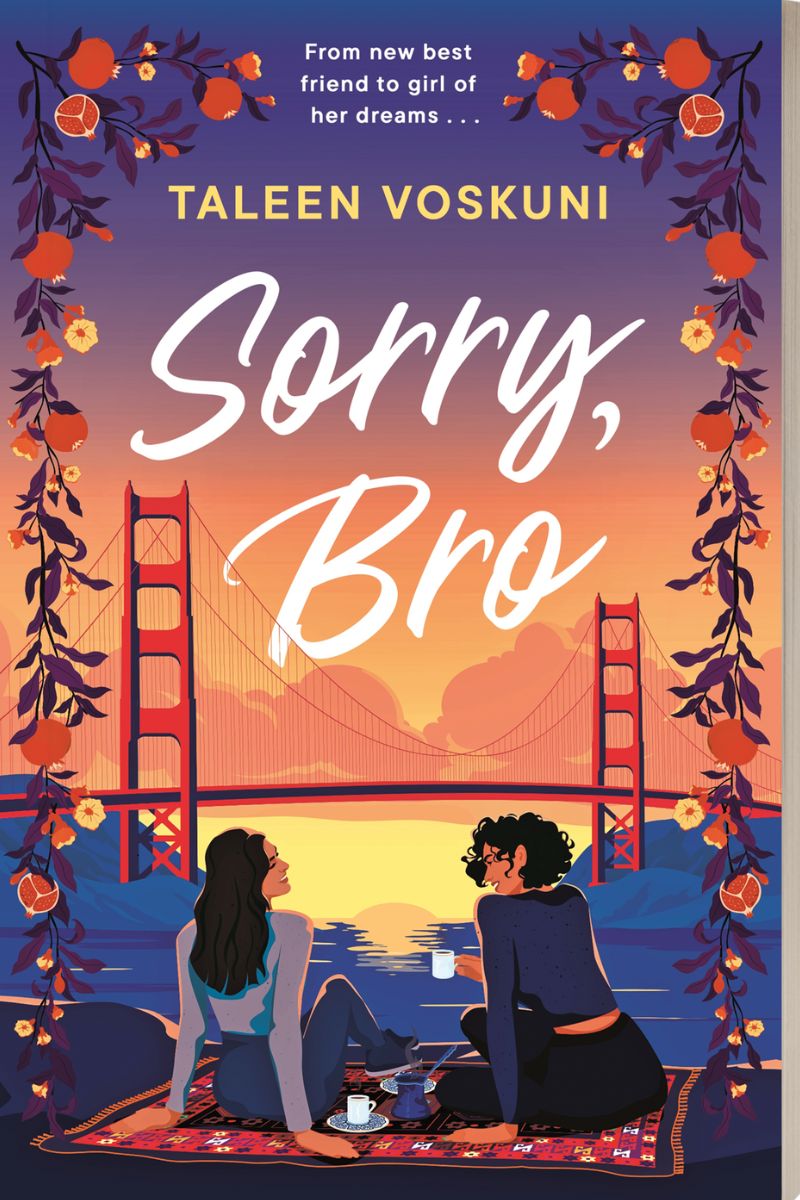 Sorry, Bro
Taleen Voskuni
Helpful tags: Armenian culture, later life coming out, bisexual.
A glorious journey of self-discovery comes in many flavours with this laugh-out-loud debut, which follows an Armenian woman as she learns to fully love her heritage, to embrace defied expectations and to love in a new way.
Nareh can pinpoint the precise moment when she knew things had to change: the moment her boyfriend botches a misguided proposal in front of a roomful of San Francisco tech-bros. That's when she knows she wants more out of life and romance.
Of course, her mother wants her to settle down with a nice Armenian boy – and she has a literal stack of candidates that she's hunted down online. She convinces Nar to take part in Explore Armenia – a month-long series of events curated to celebrate and educate about all things Armenian.
But here it is not the approved doctor or the eligible engineer that catches her eye and holds her interest, it is Erebuni, an enigmatic, staunch defender of Armenian identity and a woman with an enticingly witchy vibe. With her in the picture, to act as a guide, the events come to feel less like an obligatory slog and more like a freewheeling adventure. Erebuni makes Nar feel a part of Armenia like never before, makes her feel seen in a way she has never felt. She's never been quite so clear on what she wants. Only, no one knows she's bi and Erebuni would certainly scupper her mother's marriage schemes. But how much of a problem could that really be, in the end?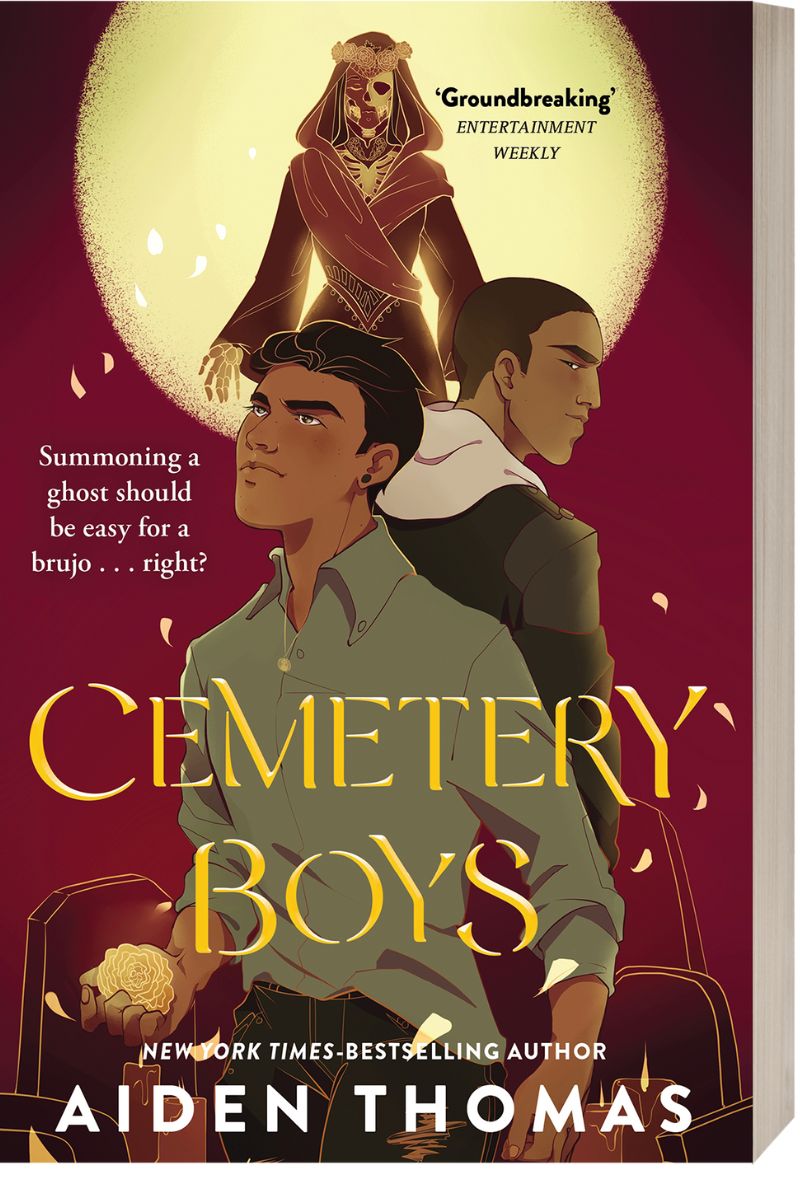 Cemetery Boys
Aiden Thomas
Helpful tags: Latinx, M/M romance, paranormal
You don't get all that many books about a gay transgender ghost-summoning teenager, do you? Well here's one with all that and more!
This entrancing debut is a queer paranormal Latinx mystery romantic adventure that charms and astonishes in equal measure. It just doesn't make sense to skip it.
Yadriel comes from a traditional Latinx family. It's been hard to get them to accept his gender. This will take time. But there is one thing he can do immediately to earn their respect: prove that he is a bona fide brujo. And to do that, all he needs to do is summon the ghost of his murdered cousin and guide him to the other side. Nothing to it.
Just one slight problem: the ghost he summons is actually Julian Diaz his school's hottest rebel. And Julian's not done living. He has no interest in joining the other side. He'll be damned if he's going anywhere!
To get rid of Julian's ghost, Yadriel will have to help figure out who and/or what killed him. It's a prickly agreement, but there are no other options. As they piece together as much as they can, spending more and more time together, Yadriel gets to thinking: maybe it wouldn't be the worst thing in the world if Julian stayed.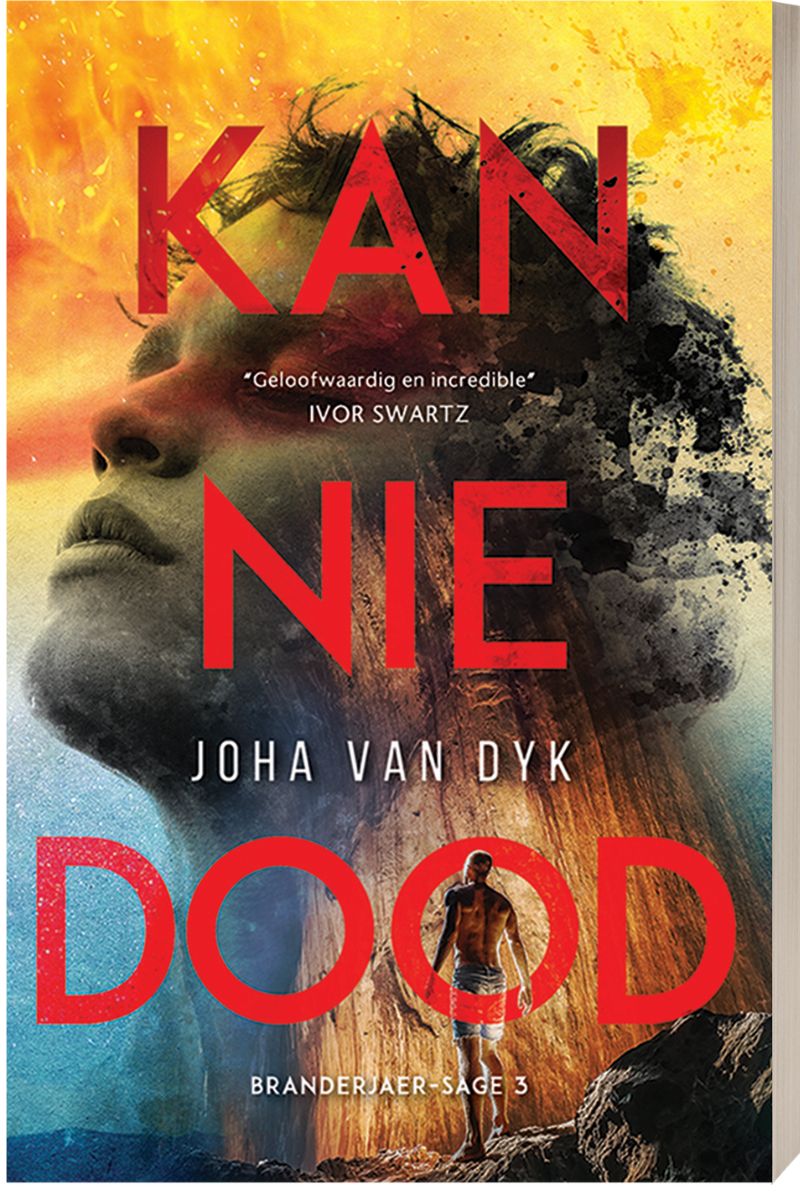 Kanniedood
Joha van Dyk
Helpful tags: Afrikaans, SA culture, bisexuality.
A tense and gripping read that explores South African gang culture while examining if and how masculinity and sexuality fit into that world, Kanniedood treats us to two compelling and complex characters in an electrifyingly dangerous situation.
Like many matric students, Ben Palmer just wants to focus on getting through the year and doing what he needs to do. And he might have been able to do it, too, if not for an arrival that messed everything up.
An old gang leader is back in Breekwater and now Ben and his sister Kalla are forced to reckon with everything they thought they'd put behind them… and the possibility of all out war.
When Kalla was attacked in No Man's Land, everything changed. But now that she has the chance to stop such a thing from happening again, she can hardly let it pass by. Taking that chance might leave a major trail of destruction. But it has to be worth it.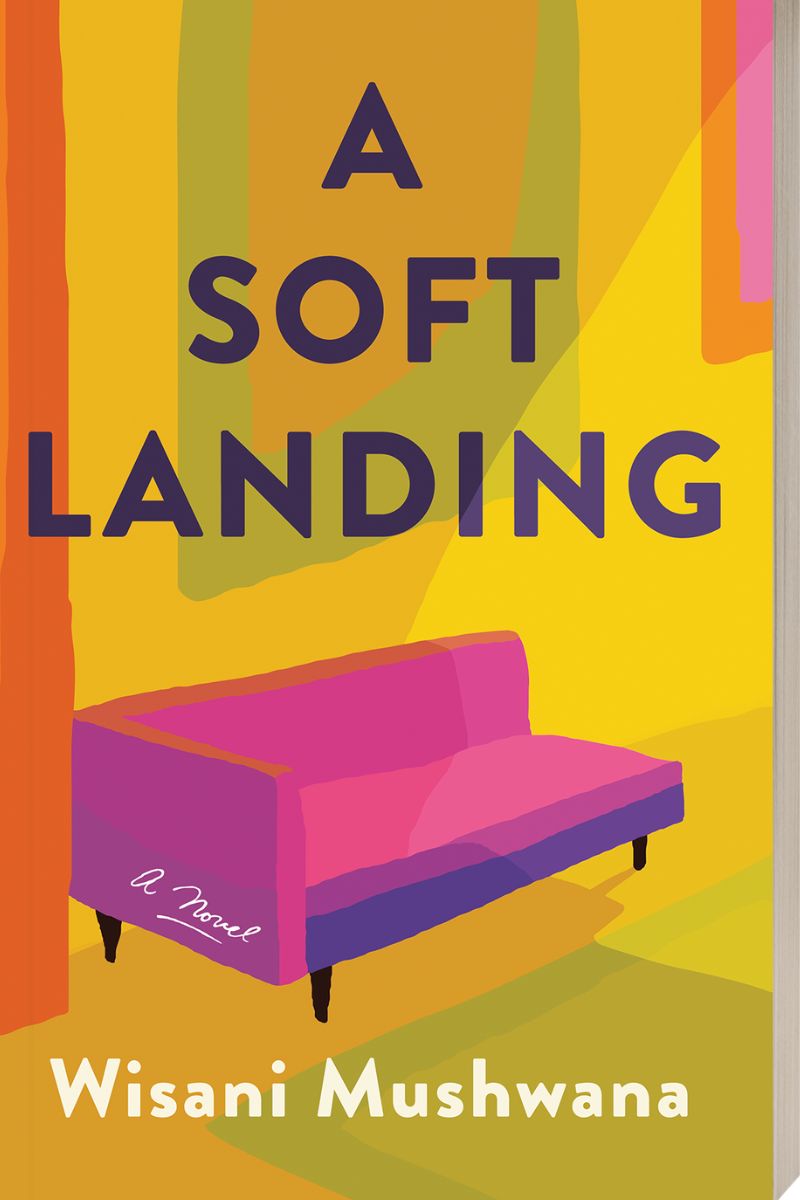 A Soft Landing
Wisani Mushwana
Helpful tags: South Africa, M/M Romance, local gay culture.
A debut of rare beauty that insightfully concerns itself with grief as much as with queer and racial identity, this is a local book that frankly examines tragedy without ever lapsing into pity-bait.
Andzani, a gay young Tsonga man has escaped a traumatic childhood in rural Limpopo and reforged himself in Cape Town. But his professional life has become stifling and he's finding little fulfilment in the anonymous hookups he pursues out of habit. Life has become something of a prison and the traumas of his past still weigh heavily on him.
As Andzani languishes, we're taken back to the events and losses of his early life, his coming of age and the pains that shaped him. Here Mushwana does not shy from exploring some disturbing themes or from heartbreakingly relating the terrors that are cruelly visited upon boys who don't fit in with their oppressive communities. But by the final third of the novel, hope arrives in the form of Andzani's new boyfriend Yolula – who has endured his own losses, and who helps Andzani to come to terms with the memories he has repressed for so long.
A Soft Landing is a profoundly moving debut from a local author with a keen understanding of people and the things that make us who we are.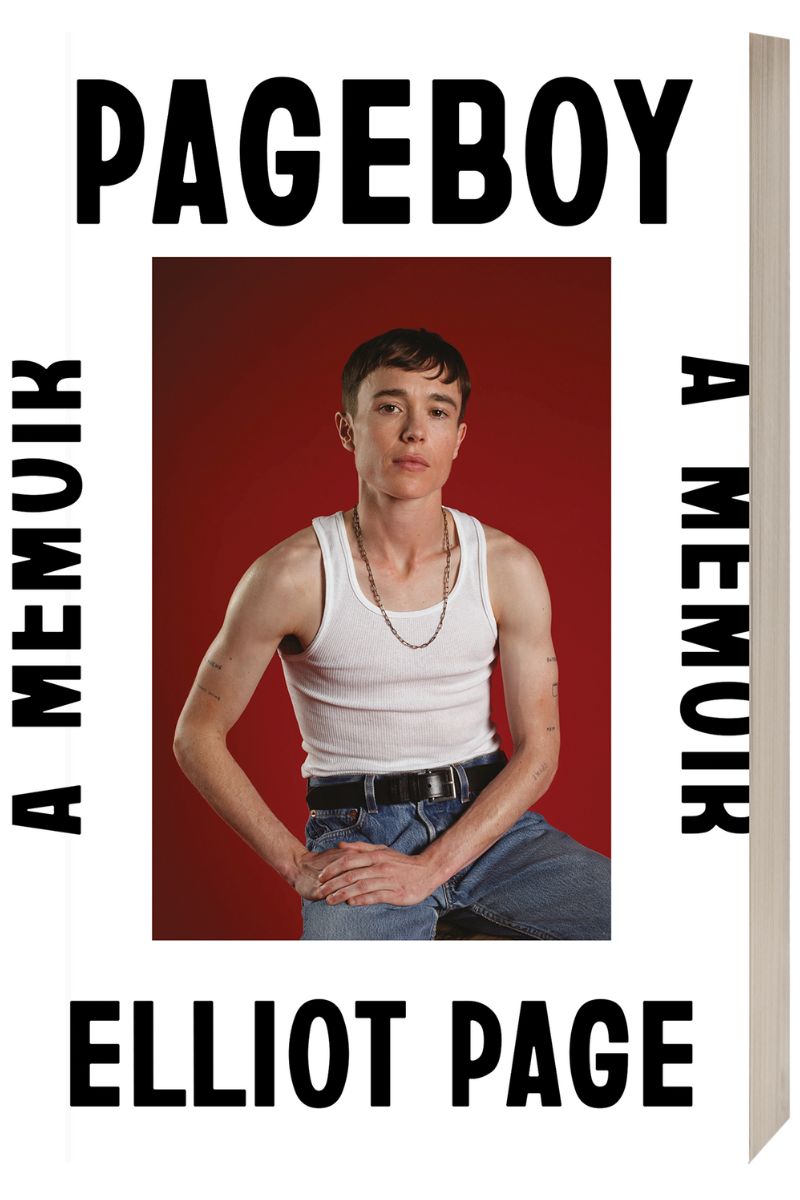 Pageboy: A Memoir
Elliot Page
Boasting an emotive, lyrical style and deftly exploring the vital importance of discovering your innate self and being truly seen, Pageboy is an inspiring and essential tale of fame, family, faith and love.
When Juno was released to widespread acclaim, Elliot Page became an instantly beloved star. But behind the scenes, Page was vying with enormous pressure. The pressure to perform, the pressure to be something that did not feel right. On and off set, he was pushed into the agonising role of iconic young starlet, facing terrible scrutiny and struggling under the weight of all Hollywood's unstoppable machinations. The whole apparatus of success and spotlight was forcing him into a painful binary. And he was unsure of how to respond to any of it… until it became powerfully clear.
What eventually followed was Page's triumphant journey to fully embrace himself as queer and as trans, to gain the courage to pursue his dreams and real wants and to take his true place in a world that so often excels at harming and defeating.
Here he tells his groundbreaking story: a story that is both universal and intimately personal. Packed with enthralling tales about formative romances, body image woes, professional complications and personal success Pageboy is an important and uplifting read.