Another new month means another pair of books that warrant special attention. And in this case, they could hardly be more different. One is the moving new novel from an acclaimed voice in historical fiction while the other is a debut that's distinctly contemporary; one is about the will to survive and one is about the will to… well… kill. And both are certainly worth adding to your TBR stack.
Without further ado: here are this month's Book of the Month and Debut of the Month!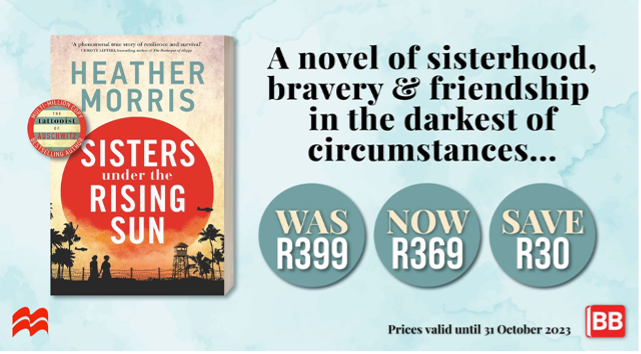 Sisters under the Rising Sun by Heather Morris
With The Tattooist of Auschwitz, and the book that followed it – Cilka's Journey –, Heather Morris established herself as one of the most popular writers of historical fiction out there. Nobody with an interest in the human cost of war, and the emotional damage dealt right alongside the literal damage, can fail to be moved by her consistently intense, emotive and enthralling tales of resilience and determination. While Sisters Under the Rising Sun concerns an aspect of WWII with which fewer of us are likely to be familiar, it packs a punch just as powerful as her previous novels and delivers a tale every bit as affecting.
In 1942, while war raged throughout Europe, the Japanese army captured Singapore, then a British stronghold, capturing thousands of troops and dealing a considerable blow to The Allies. This event, and the advance of the Japanese army through the Pacific, forms the dramatic backdrop of Morris's newest foray into the heart of conflict.
As the Japanese army continues its unstoppable advance toward the city, Norah Chambers, an English musician, puts her eight-year-old daughter on a ship leaving Singapore – knowing that they may never see each other again. It is the last way she can conceive of keeping her safe. Norah, however, must stay behind to care for those unable to care for themselves. Not long afterwards, Singapore falls to the Japanese and Norah, like her daughter before her, finds herself crammed onto a merchant ship, praying that she'll make it out alive.
On this ship is also Sister Nessa James, a Welsh-Australian nurse who joined up to treat and care for allied troops. Off the coast of Indonesia, only a little way into their terrifying journey, the ship is bombarded and sunk.
Surviving the wreck, and then somehow surviving an almost unsurvivable day lost at sea, Norah and Nesta finally, improbably, manage to find their way to the shores of a distant island… where they are immediately captured by the Japanese army and thrown into one of their infamously brutal POW camps. Here, nothing awaits them but disease, starvation and unchecked cruelty. But they do have each other and they do have their own unique talents and, in forging a beleaguered sisterhood, both women tap into more courage and perseverance than they ever knew they had.
Driven by compelling and memorable characters, and depicting as much joy and optimism as it does atrocity and hardship, Sisters Under the Rising Sun distils an uplifting and thought-provoking story from a part of the war that is owed more popular attention.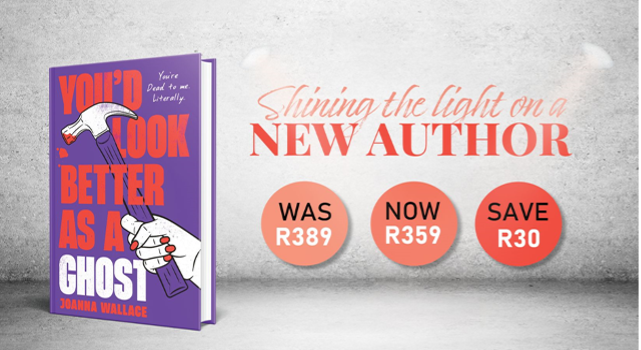 You'd Look Better as a Ghost by Joanna Wallace
There's always something particularly delicious about an unrepentant killer (provided they're fictional, of course). They're even more delicious when they're women. And they're even more even more delicious when they're quick with a sardonic quip. And when they have a certain knack with a hammer, well, all the better. That's a combination you can really root for.
 This month the debut we've chosen for that extra bit of spotlight is an ingenious, macabre and hilarious page-turner that manages to be both light-hearted and delectably dark all at once. Featuring a stylish psychopath with a dubious hobby, a string of hapless victims and a bevy of sharp-witted plot twists, here is an absolute treat for anyone who's ever seen the comedy in a murderous daydream (and let's not pretend that's not everyone).
Darkly comedic female serial killer stories are having quite the moment. And, for our money, this one is the year's most exciting addition to this flourishing subgenre. If you enjoyed How to Kill Your Family and My Sister, The Serial Killer, if you've ever found yourself egging on Dexter or Villanelle, you're going to love You'd Look Better as a Ghost.
Claire's art career is not getting off the ground quite as she would like. She's also having a hard time dealing with a recent loss. But she has found a novel way to work out all that impatience and frustration: cold-blooded murder.
The night after her beloved father's funeral, Claire meets a man named Lucas in a bar. He is not aware that there is nothing accidental about their meeting. He doesn't know that she sought him out. He has no idea how much trouble one accidental email has just gotten him into. He buys her a drink. She takes him home and hacks him into more portable pieces.  Nothing to it.
But there is more to it… because what Claire doesn't know is that she is being closely observed. And she absolutely can't have anybody ruining what she gets up to in her spare time. But who exactly is staying one step ahead of whom here? And is she the only one who knows where she buried the bodies?
Unfolding as a gleefully barbed cat-and-mouse style thriller, but with major emphasis on entertainment and comedy, You'd Look Better as a Ghost is not only a riotously good time but also that rarest of things: a murderous tale in which you desperately want the murderer to get away with it.
 HAPPY READING