If the bestseller lists over the course of this year have been any indication, #BookTok – the arm of TikTok dedicated to the love of literature and all things bookish – has been having quite an effect on the publishing industry, and on reading in general. This particular online community has proved its newfound influence by creating bestsellers, bringing less appreciated genres like graphic novels and LGBTQ+ to a whole new audience and sending certain authors flying into the limelight. Perhaps the two most notable events to have begun with #BookTok involve Alice Oseman's Heartstopper series and the numerous novels of Colleen Hoover, It Ends with Us in particular. Currently, Leigh Bardugo's Six of Crows is the most viewed book on #BookTok… it's garnered more than 1 billion views! Some large publishers are even crediting #BookTok with kickstarting a mini revival in the sci-fi and romance genres. So it's clear: here's an online community, made up predominantly of teenagers and other post-millenials, that's really shaking things up. And for the better too.
With that in mind, we thought it would be worth introducing you to the work of two authors who have really been blowing up on the platform – which, as you know if you are a user, tends to involve a fair bit of sobbing, swooning, voracious devastation and infectious whimsy. Here they are:
Beach Read by Emily Henry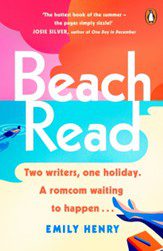 Emily Henry writes romantic comedies. Some of them, especially her earlier novels, incorporate fantastic and magical elements, but the two that we will be focusing on – Beach Read and You and Me On Vacation (published in the US as People We Meet on Vacation) – are two of the most perfect getaway novels you're likely to come across and fall somewhere close to the contemporary romance category. Fans of Beth O'Leary and Casey McQuiston will love her work.
A romance between two writers is going to attract a certain kind of reader… readers, that is, who like books and romance! It's the perfect combination. Unless of course that combination involves January and Gus.
January Andrews writes romance. And she's good at it too. Bestsellingly good, in fact. She believes in happily-ever-afters and she is devoted to love. Augustus Everett, on the other hand, thinks, or rather knows beyond a doubt, that love is a foolish fairy tale. He too is an acclaimed author, but he works in a far more literary vein. But the two of them actually have far more in common than it would seem:
They're both broke. They both have unbreakable writer's block. They both have a deadline bearing down on them. And, crucially, they're both spending the next three months in beach houses. Beach houses that are right next to each other.
Neither of them can be sure that their lakeside getaway will solve their problems… but then they meet one evening, one thing leads to another and they strike a bargain that could change everything:
Gus will spend the summer writing something happy and romantic. January will spend the summer writing Gus's kind of book. Who will get published first? And what will happen as they try to inhabit each other's worlds?
Beach Read is smart, witty, original and absolutely crackling with romantic and sexual tension.
You and Me on Vacation by Emily Henry by Emily Henry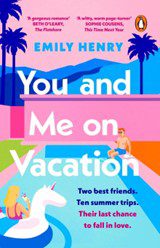 Poppy and Alex have absolutely nothing in common. They've known each other for about twelve years. And for the first of those years, they loathed each other. But then, about eleven years ago, they were forced to share a car ride. By the end of that ride they had become fast friends and had made a promise to each other: once a year, they will go on vacation together.
Since then, they have shared and conquered their fears together, avoided disasters together, indulged in all the excesses and adventures of holiday together (there was that one time they very nearly got matching tattoos in New Orleans).
But then, two years ago, they ruined everything. And they haven't spoken since.
This year, though, Poppy has decided that this cannot go on. She invites Alex on one last holiday, once last chance to mend the rift… and once last chance to determine the rest of their lives.
Filled with more of Emily Henry's wonderful wit, and veritably fizzing with chemistry and gorgeousness, You and Me on Vacation is another complete romantic triumph.
Ana Huang
Like Emily Henry, Ana Huang works primarily in the field of contemporary romance. Huang's books, however, definitely lean more toward steaminess, scandal and sex. They can be lighthearted, they can be dark, and they're always going to leave you a little on the breathless side. Here, as an introduction, we'll be taking a little look at the first three books in her series, Twisted.
Possessive, devilish antiheroes. Women haunted by their nightmarish pasts and unfulfilled desires. Forbidden romances dripping with conflict, angst and steaminess. There's love, there's hate and there are the (twisted) games that take place in between. The Twisted series is a pant-inducing trip through the minds and bodies of broken, beautiful, brazen lovers.
Twisted Love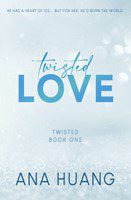 Here we are introduced to Alex Volkov – a gorgeous, angel-faced demon of a man thrust into the ruthless pursuit of ambition and vengeance by the tragedies and curses in his past. His life has left him heartless. And he has no time for love or other feelings that might get in the way.
We're also introduced to Ava Chen – a woman who has somehow managed to wonder at the beauty of the world in spite of the things she has had to endure and the childhood that she can't remember. And she thinks that she may be able to find the warmth beneath the icy shell of the man she really shouldn't want.
When the two of them meet, brought accidentally together by a fluke of proximity, Alex begins to feel a crack forming in his defences. And Ava, she has no way of knowing whether she has met the man who will be her salvation or her destruction… and yet, she recognises almost instantly that she might be meeting both all at once.
Twisted Games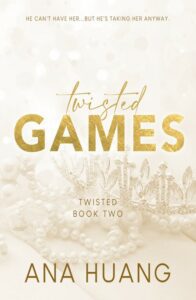 Here the story follows bodyguard Rhys Larsen and reluctant Princess Bridget von Ascheberg. Larsen only handles the most elite clients. He lives by two rules: protect the client at all costs, and never get emotionally involved. But all that changes when he is assigned to protect the stubborn, fiery and desperately trapped princess. Bridget dreams only of freedom… but it seems so completely unattainable. Since her brother died, she has been staring into a miserable future defined by a loveless political marriage and a throne she never asked for.
As Bridget begins to break down the bodyguard's defences and he is driven closer and closer to breaking his rules, the two slowly spiral into a forbidden romance that will end up redefining them both… and possibly destroying them.
Twisted Hate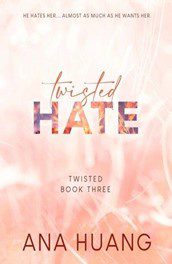 This time around, we met hotshot doctor Josh Chen and party girl turned law student Jules Ambrose. Josh is used to being able to charm any woman he sets his sight on. But Jules is the exception. He hates her, she's been nothing but a thorn in his side ever since they met. And yet, no woman has ever so thoroughly invaded his thoughts. And as far as Jules is concerned, Josh is the most insufferable man she has ever met. Even if he is impossibly good looking. Theirs is an animosity that shows no sign of simmering down. Instead, one night, it explodes over into something new. They'll be enemies with benefits. That's absolutely all. No strings attached, no getting jealous and absolutely no falling in love. But neither of them can anticipate what will happen once they start getting to actually know each other.
These are, of course, just some of the exciting titles generating a buzz on TikTok. If you want to find out about more of them, go and check out #BookTok
Happy Reading!