7 Books To Make Work More Workable
We all know that work is never perfect. And a lot of us are looking to shake things up at the moment: to branch out, to become more self-sufficient, and/or to just spend less time putting up with dreadful people. We at Bargain Books want to make sure that all the advice and guidance you might need is available, and that's why we're promoting the seven books below. You'll have heard of some of them before, some of them will be new to you, and all of them will be useful. So take a look, and start planning your next move.
Influence is Your Superpower by Zoe Chance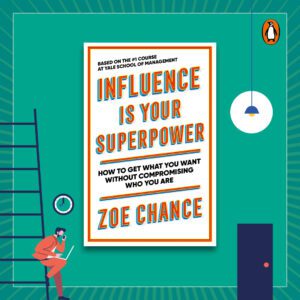 This is a business book for nice people.
You can get your way without making enemies and you can be influential without crafting a new personality for yourself.
Here, Zoe Chance – who heads one of Yale University's most popular MBA management courses – illuminates the art and science of persuasion. The book delivers that same essential skills as Chance's management course while rounding the whole thing out with backed-up social research and entertaining real-life stories. Each page is so jam-packed with advice that you'll come away eager to flex your masterful new influence muscles – you'll also find yourself better able to conquer any anxiety and fear of rejection that might have been holding you back. And it's not just about getting people to do as you say either. Chance's approach is very much focused on making a positive impact.
Chance's techniques include the Magic Question, Powerful Listening, the What Would It Take Question and Building Support.
Zero To One by Peter Thiel and Blake Masters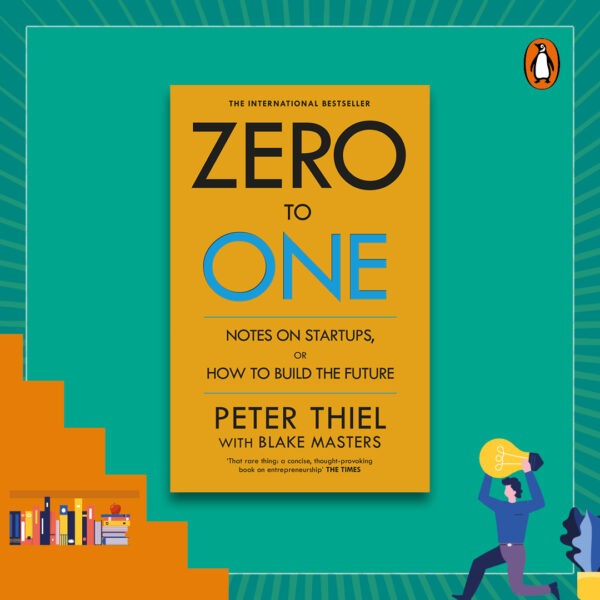 One of the issues with modern entrepreneurship is that it's just too easy and too tempting to copy what someone else is doing or has done. But you don't break through by giving the world more of what it already has.
With Zero To One billionaire entrepreneur Peter Thiel, a co-founder of PayPal and one of the first outside investors in Facebook, brings an elegant and rational point of view that cuts through the pessimism surrounding the future and teaches you how to figure out: "what valuable company is nobody building?"
This is an essential read for any aspiring entrepreneur and an invaluable tool for anybody looking to take a transformative risk.
Grit by Angela Duckworth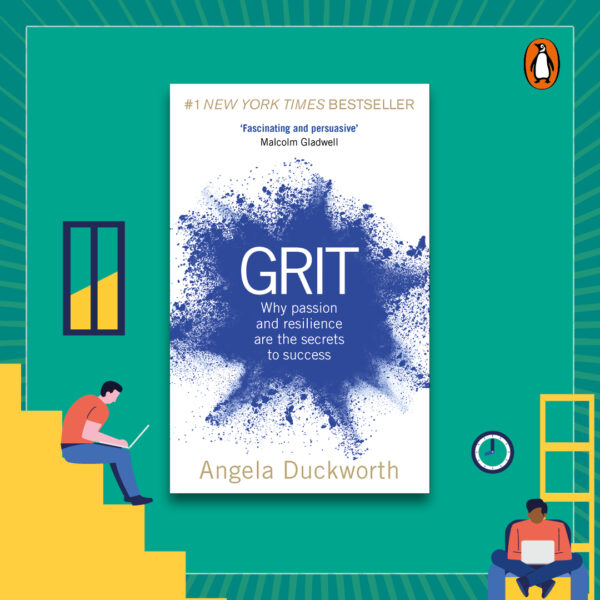 Psychologist Angela Duckworth was told as a child that she lacked "genius". But She resisted the idea that brilliance and success are something you are merely born with and chose to focus instead on what she believes to be a far more truthful indicator of success: a unique blend of perseverance and passion that she calls "grit".
In Grit, she takes readers into the field to visit cadets struggling through their first days at West Point, teachers working in some of the toughest schools, and young finalists in the National Spelling Bee. She also mines fascinating insights from history and shows what can be gleaned from modern experiments in peak performance. Finally, she shares what she's learned from interviewing dozens of high achievers–from JP Morgan CEO Jamie Dimon to New Yorker cartoon editor Bob Mankoff to Seattle Seahawks Coach Pete Carroll.
Winningly personal, insightful, and even life-changing, Grit is a book about what goes through your head when you fall down, and how that–not talent or luck–makes all the difference.
Surrounded by Idiots by Thomas Erikson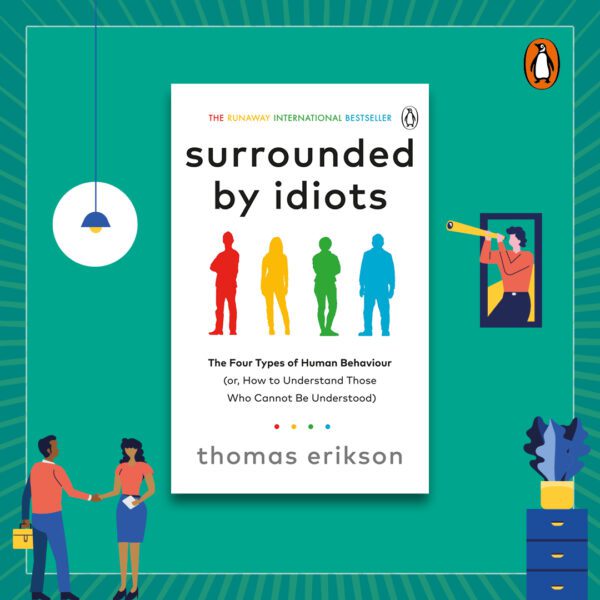 Have you ever felt that you were surrounded by idiots? Of course you have. Who hasn't? There's also a fair chance that you have felt this way because, well, it's probably true. And how about psychopaths? Ever felt surrounded by those? Bad bosses and hopeless employees? Setbacks of every shape and colour. Yep. These are things by which we are confronted on a frightfully regular basis. The good news is: Thomas Erikson can show you what to do about it.
Following an awful meeting with a successful entrepreneur who honestly seemed to consider himself the only capable person in the world, Erikson found himself wondering why and how people function the way we do, and why we have such a hard time connecting with certain kinds of people and certain situations.
Surrounded by Idiots presents a new system of identifying and assessing four main personality types (red, yellow, green and blue) and, through extensive and original research, explains how best to communicate and share information regardless of how differently we may be wired.
Think of this as a toolkit with almost infinite uses. It will help you to understand yourself and others better, will improve your communication skills, will teach you to navigate conflict like a pro, identify subtle quirks of behaviour and psychology, and even understand those you suspect are utterly incomprehensible. Above all, it's a book that will shift your perspectives and free you from the either I'm an idiot or you are binary. Try it out on whoever you like.
Start With Why by Simon Sinek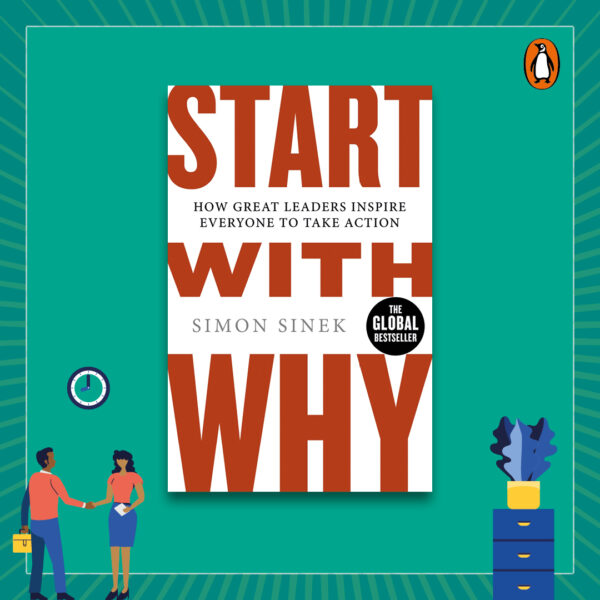 Originally from 2009, this book occupies a special place within modern books on leadership. Its message is clear, even from the title: it isn't what businesses and organisations do that makes them successful… it's why they do it.
Start With Why is a simple and elegant work of inspiration, a work that examines great leaders of the past and identifies the common denominator that allowed them to so engage with people and impel such action: they all began by asking themselves why they wanted to influence change or effort rather than simply fixating on what it was that they wanted done. Having identified this pattern among the most inventive and successful companies in the world, Start with Why provides you with a framework on how to spark similar greatness in your own endeavours.
Think and Grow Rich by Napoleon Hill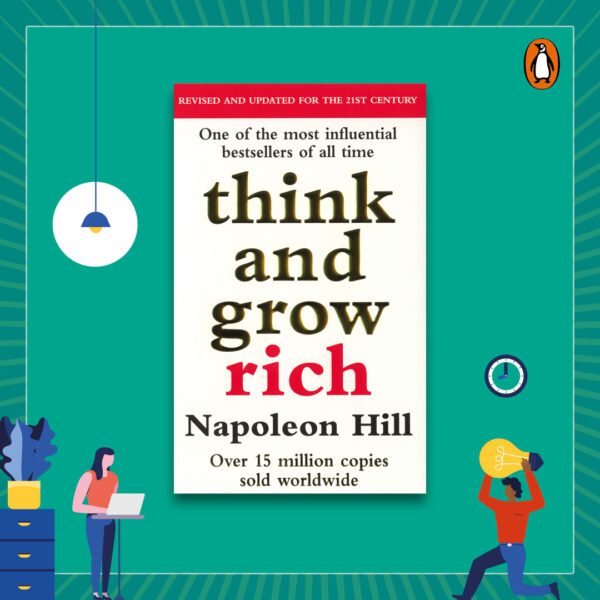 This became one of the most influential and beloved motivational books of all time by advocating and building an ethos around a single idea: the best way to become rich is to think like the rich. Since many of us won't have access to the fabulously wealthy, Napoleon Hill spent his career interviewing those with the most economic clout on our behalf. The result is a simple formula, just thirteen steps, that has stood the test of time and led many many people into rarefied financial territory.
More recent editions include more modern examples, analysing the habits and successes of people like Bill Gates and Stephen Spielberg  in order to prove that Hill's original precepts are just as applicable today as they ever were.
The Richest Man in Babylon by George S. Clason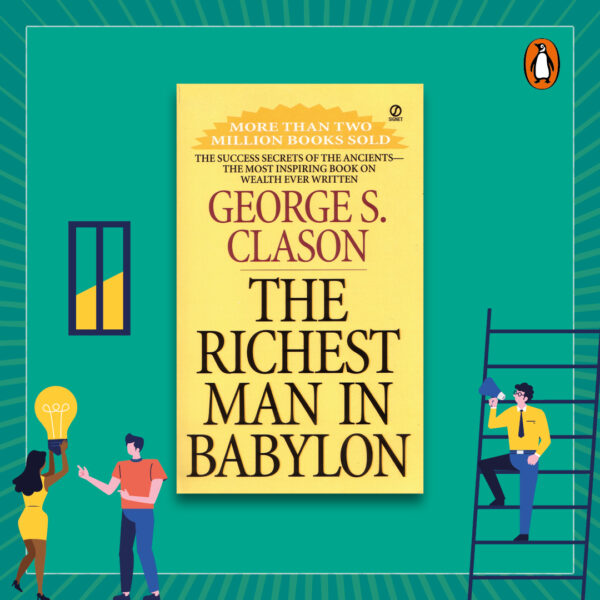 In the mad rush for impressive wealth, many of us forget that there is a simple concept that can help us get there even more reliably than a groundbreaking idea or a timely market gap: thrift. Through a collection of simple parables extolling the virtues of careful financial planning and prudence, this modern classic is inspiring and down-to-earth in equal measure. Some say it is the only book on finance you will ever need.\
The insights presented by The Richest Man in Babylon have remained essentially true for around 4,000 years… and isn't there something comforting about the fact that money and prosperity continue to work more or less as they always have, and that they still reward the same uncomplicated practices.
Happy Reading and Happier Working!