Every family has that one person who'd rather be curled up with a proper murder. Actually, most families have more than one. So it's just as well that we've got a whole heap of psychological thrill-rides and grizzly nail-biters for you to choose from. Treat the darkly inclined in your life to a good ol' fashioned dose of calculated mayhem. We've got serial killer magistrates, shocking secrets, deranged communities, deadly cabals, insatiable predators… well, you get the picture. Something for everybody!
A Slow Fire Burning by Paula Hawkins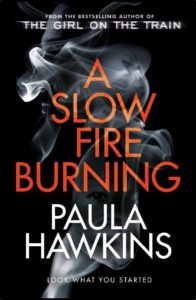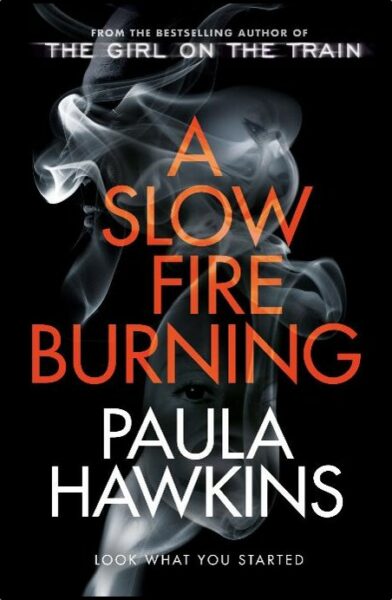 Some think that Laura is dangerous. Some write her off as a tragic loner. But Laura is used to being judged. Miriam, on the other hand, doesn't think there's anything seriously wrong with Laura. So what if she was seen leaving a murder scene with blood all over her clothes? That doesn't mean that she's a murderer. Then again, Miriam also knows that good people can be put in horrible positions. She learned that the hard way. Carla cares about two things only: who is responsible for the brutal murder of her nephew, and, how will she ever survive it?
To her, good people/bad people is a meaningless distinction – all people are capable of the very worst acts, and nobody is to be trusted. As the events of the present and the past become confused and grow more complicated, A Slow Fire Burning misdirects, twists, shocks and satisfies as we find out who each of these three women truly is.
Better Off Dead by Lee Child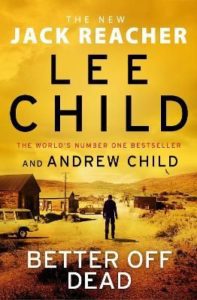 FBI Agent Michaela Fenton thinks her twin brother may have fallen in with the wrong people. She needs to find him. Reacher thinks he might know who some of these people are, and where to find them. It begins with an abandoned, crashed jeep on an empty desert road, and it continues into a decrepit bordertown.
Helmed by a charismatic leader, the people of this town know that Reacher is coming. They know what he wants to know. They know what he'll do to uncover what they're hiding. And they have other ideas. Cool, thoroughly entertaining and properly moreish.
Fear No Evil by James Patterson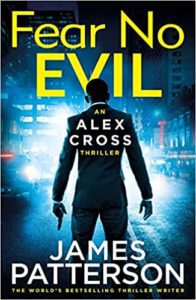 A personal mission sees Cross journeying into the unforgiving wilds of Montana. This one is more than a job. But Cross is no stranger to untamed landscapes. He can handle himself. But there are people out here in the mountains and forests, people sent by a mysterious arch-villain, who have mastered this type of situation.
Their objective is simple: hunt and kill Alex Cross. Cross knows who's sent them, knows the damage this person has already wrought in his life. In the wilderness, though, pitted against thorough darkness, white water and master assassins, knowing this will not keep him alive. Fast-paced, brimming with action, utterly riveting: vintage Patterson.
The Dark Flood by Deon Meyer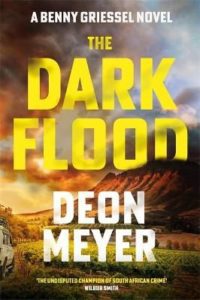 Being an estate agent in gorgeous Stellenbosch ought to be a dream. But for Sandra Steenberg it is anything but. With a difficult and demanding family to support, she needs a game changing sale and she needs it now. But the town's property market has been completely destroyed by the corruption of one man: Jasper Boonstra. And Boonstra, has his eye on Sandra. He knows a mark when he sees one.
Griessel and his disgraced partner are in Stellenbosch following up on a missing person's report. It's barely enough to keep him sober. But the disappearance of Callie de Bruin is about to drag them into something far more dangerous than anticipated. Explosively exciting, bursting with murder, intrigue and tension, this is the unmistakably work of SA's king of crime fiction.
The Judge's List by John Grisham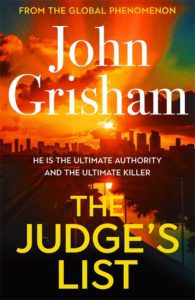 Three years ago, investigator Lacy Stoltz was attacked and nearly killed by the syndicate she was investigating and the judge who enabled them. Now, older and fully recovered, she is tired of her job on the Judicial Conduct Board. She wants out. Then she meets a woman named Jeri. A woman whose fear is so rampant that she goes by multiple false names. Jeri's father was murdered two decades ago and the killer has yet to be identified. But she knows, she is certain, who did it and she believes she knows of more victims. But who can prove it?
The man she suspects has a thorough knowledge of forensics, knows how the police think and is able to evade the law like no other. How will Stoltz pursue him without becoming a victim herself? Maddenly suspenseful and unrelentingly smart The Judges List is more chilling than any Grisham novel yet.
Over My Dead Body by Jeffrey Archer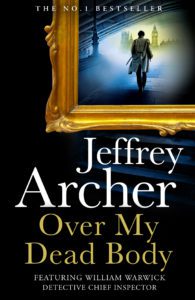 Miles Faulkner, millionaire art collector, convicted forger and thief, and Warwick's persistent nemesis, is dead. His widow is already planning to remarry. And yet, Faulkner's shady lawyer still seems to be representing him. Meanwhile, the Metropolitan Police of London have set up a new cold case unit to focus on four unidentified killers – all of whom may be prepared to kill again.
Elsewhere, on a luxury cruise liner in the Atlantic Ocean, the wealthy elite have gathered to decide the fate of a powerful dynasty, and the negotiations seem poised to descend into deadly violence. Warwick is going to need some outside help in order to tie these three cases together. Another masterful page-turner from one of the most entertaining storytellers out there.
Mercy by David Baldacci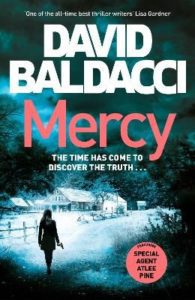 Agent Atlee Pine lost her twin when she was just six years old. The torment has never left her. Instead, it has spurred her on to punish those who deserve retribution… and to hunt the man who destroyed her family. At last she has discovered the truth – but it is not what she had expected.
It only deepens the hurt. It only presents her with one final challenge to overcome. Baldacci's newest offering blisters its way to a furious conclusion.
Check out our full Christmas catalogue here