These deadly women are nabbing the spotlight this month as we bring you four superb novels by ladies with a certain gift for the twisted and dark.
The femme fatale is an archetype of art and culture that can be traced farther back than you might imagine. The mysterious, seductive femme who wanders into your life looking to lead you away from all that's safe and virtuous has been around since pre-biblical times. Now, before we get into the larger implications of such lingering portrayals, it's worth noting that in this case, we're really just focusing on good old juicy murders… and the femme fatales in this case are the authors themselves! After all, what is more seductive than a well-told story?
Without further ado, let yourself be led down a dark and delicious path by these crime writers at the top of their game.
For Your Own Good by Samantha Downing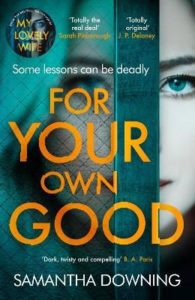 Samantha Downing's fatal thrills tend to come with darkness and fun in equal measure – which is why her writing is just so seductive. Hers is a wicked imagination that delights in shocking you as much as in delighting you. With that, meet Downing's most deliciously diabolical character yet.
Teddy Crutcher is a teacher long denied the attention he feels he deserves. Disliked equally by fellow staff and long-suffering students, he has made his classes nigh impossible to endure… and then he wins the coveted Teacher of the Year Award and things are finally going his way, his brilliance at last recognised.
But someone knows the truth. Someone has noticed that his wife has not been seen in a while. Someone notices that he seems utterly unphased by the death of a parent – even when rumours of murder begin to circulate. This is a school for the best of the best. Of course the star teacher keeps calm and remains professional. Of course all his methods and strictures are for your own good. But somebody's going to have to prove what he's really up to. And that's going to mean getting far closer than is safe.
In Teddy Crutcher we have a villain almost anyone can recognise, and in For Your Own Good we have a salacious thriller filled to the eyeballs with suburban scandal, wily wickedness and sinful originality.
The Night She Disappeared by Lisa Jewell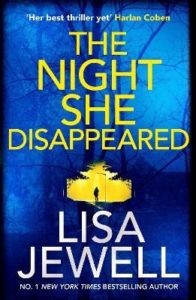 Lisa Jewell is a veteran master of suspense. Her clever, pulse-pounding thrillers can always be trusted to keep you glued to her pages and missing sleep. You might call her the queen of plot-thickening: your nerves might be too frayed for you to call her anything.
Every parent has to put up with requests their instincts tell them not to fulfil. You can't stop your kid from living their life.
Nineteen-year-old Tallulah is a kid and a mother. One night, Tallulah goes out on a date, leaving her young daughter with her own mother, Kim. Won't be long, she says.
And that was the last anyone saw of her. Well, someone was the last one to see her. Rumours abound that she was last seen on her way to a pool party in the woods. Does her disappearance have something to do with her controlling boyfriend? Could she really abandon her young daughter? What was really going on in the Dark Place that night.
The following year, a writer named Sophie is walking in the woods when she comes upon a sign that simply reads: Dig Here…. And, at once, she is plunged into the unsolved case.
Through multiple POV's and timelines, The Night She Disappeared crafts a gripping mystery imbued with all the hallmarks of Jewell's intense and ingenious style.
Not a Happy Family by Shari Lapena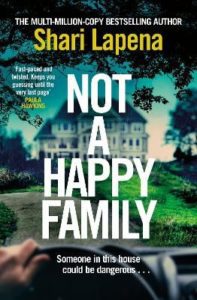 Shari Lapena's gruesome genius lies in her understanding of families: the truth of them and, more pertinently, the lies of them. At some point, we all wonder if the people we live with are who they seem to be, don't we? Lapena's knack is for taking that niggling doubt and turning it up to a thousand. After all, home is really the deadliest place there is.
Fred and Sheila Mercer are rich. Absurdly rich. The kind of rich you have to be if you want to live in Brecken Hill, New York. The night after a tense and lavish Easter Dinner with their three adult kids, the Mercers are murdered. Some things, money can't fend off. Naturally, their children are devastated. Why would anyone do such a thing? …Well, there's the inheritance for a start. And they weren't the happiest family out there. Did one of them snap, or was this a stranger with another motive? That's probably it. A stranger. Because you'd know if one of your own siblings was capable of such brutality. You just would.
In Not a Happy Family, Lapena unleashes her twisted talent for web-weaving lies and never lets go.
Such a Quiet Place by Megan Miranda
Megan Miranda's mastery is of psychological suspense. Of approaching awful things from multiple angles and engulfing you in the result. Lovers of the creeping slowburn will find her work especially captivating.
Hollow's Edge was once a close-knit, idyllic community where neighbours celebrated together and looked out for each other. Now it's a very different place. Following the murders of Brandon and Fiona Truett, Hollow's Edge has become a prison – a simmering morass of tensions stoked daily by the empty Truett house and the unsolved events that led the town to this point.
Ruby Fletcher was the resident implicated most completely by the testimonies of her neighbours. But now her conviction has been overturned and she's back in Hollow's edge. The turn explodes with a new frenzy of suspicion. Why would Ruby come back? What trouble does her return bring with it? But she cannot be turned away. It's not long before the wounds of the past are reopened, and the community realises that some of them must have lied up the events on the night of the murder. But when residents start to receive threatening letters, the effort to find the truth becomes desperate… because the real killer is still out there.
Bristling with suspense and teeming with twists, Such a Quiet Place is an irresistible work of consummate mystery.
Happy Reading