Here are five brand new books containing fabulous adventures, uproarious laughs and important knowledge. Take a look:
Rainbow Grey by Laura Ellen Anderson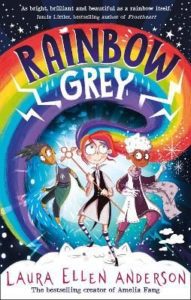 The creator of the always marvelous Amelia Fang series makes a riotous return with a brand new series positively brimming with colour.
If you've ever dreamed of suddenly being imbued with the whole power of the rainbow (and, let's face it, we all have), then this spectacular new adventure is just the thing for you.
Ten year old Ray Grey lives in a realm far up in the sky. This place is called The Weatherlands and it is populated by an exceptional people called the Weatherlings – all of whom can harness the power of the weather in extraordinary ways. All except Ray, that is, who seems to have no powers at all. But one trip to Earth changes all that… and she is transformed into Rainbow Grey!
Unfortunately, she doesn't have long to figure out her new abilities (it would have been nice just to have played around with them for a while), before she has to use them to defeat a mysterious new enemy threatening the world.
Rainbow Grey is just an utter joy from page one. Full of the heart, humour and verve for which Anderson is celebrated.
Mega Monster by David Walliams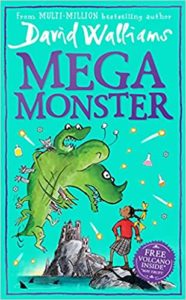 At this point, David Walliams really doesn't need much of an introduction. You just know that a new book from him is an exciting thing… and that there's a whole lot of wackiness, action and madcap humour coming your way.
The Cruel School is not a school kids are happy to be going to. A lot of schools suck, sure, but this one is just the worst. The fact that it sits on a volcanic island surrounded by shark-infested waters is bad enough, but the dinners are also completely disgusting, the teachers are terrifying and the lessons are awful. And no teacher inspires more fear and trembling than the odious Doctor Doktur.
When poor Larker is sent to school, she knows instantly that something is up. Something pretty dreadful is going on. Something that involves Doctor Doktur and something called the "Monsterfication Machine". In fact, she barely has time to adjust to the school's other already overflowing awfulnesses before she comes face to face with an actual Megamonster.
Fortunately, Larker has some tricks of her own up her sleeve.
Heroic heroes, dodgy goings-on, hilarious antics and riotous adventures… Megamonster has all the Walliams favourites going on.
Dog Diaries: Dinosaur Disaster! by Steven Butler and James Patterson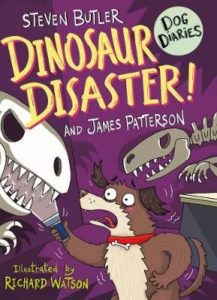 The Dog Diaries series, if you aren't already familiar with it, tickles the funny bone everytime with its canine observations and adventures. You can always trust a dog to get itself into all sorts of hilarious messes after all.
This sixth entry keeps the laughs coming by chucking some dinosaurs into the dog park. What? It could happen.
Publisher's Blurb:
I have something very IM-PAW-TANT to tell you…
I was with my mutt mates in the dog park when we saw something MONSTROUS through the trees…I recognized it straight away. It was a huge DINO-ROAR!
Now, I know what you're thinking – dino-roars don't exist anymore, right? WRONG. I spotted one in the flesh, well in the bone…And it smelt tail-waggingly tasty!
I followed its sniff-a-licious scent to the BIGGEST building I've ever seen, and the smells coming from inside were the most dusty, moldy, oldy, dirt-lectable whiffs I've ever wrapped my snout around.
I don't know what the humongous building is, but what I do know is that I just HAVE to get inside. It will be the greatest challenge my pooch pack has ever faced!
The Girl with 21 Questions by Boitumelo Mothupi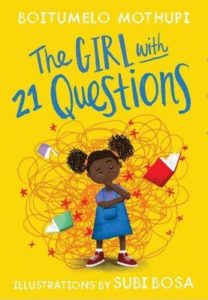 Every kid knows the feeling: there are so many questions to be asked and answered. So much to know! But, at some point, you can bet your notebook that the grownups will eventually get tired of all your questions, leaving you without the answers. What do you do then?
The girl in this book has exactly this problem. She loves to ask questions. All the questions. How? Who? Where? What? Why? When? However, when the adults become sick and tired of her enquiries, she doesn't give up or sulk. No. She goes in search of her answers elsewhere. Somewhere she knows she will not be denied. She turns to books.
Appealing to every young reader who ever had more questions that anyone would answer, The Girl with 21 Questions is a beautifully told, beautifully illustrated ode to the importance of asking, the importance of seeking your own answers and, of course, the importance of books.
Coco The Money Bunny by Nicolette Mashile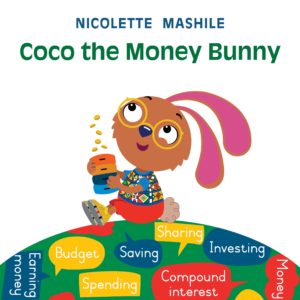 It's really never too early to start learning about money, how it works and why it is important. With this new uniquely South African and incredibly useful book, youngsters, from ages six and up, can begin to learn about managing money.
Coco is on a journey to learn all she can about money and how best to put it to use. Through this journey she will learn: what money is, how to earn it, how to spend it wisely, how to save it properly, the right time to invest it and, most importantly, how to use money for your own good and the good of those around you.
Essential concepts taught in a fun and uncomplicated way, Coco The Money Bunny is the ideal book to get kids started on a path that will form a significant part of their lives, to get them started with a solid foundation.
Happy Reading!