Those of you with a taste for economic history and the big personalities that shape our world would be well advised to look out for new book Fortunes by veteran journalist Ebbe Dommisse.
The book is available in both English and Afrikaans and is in stores now.
Fortunes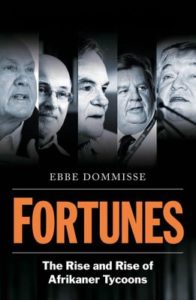 The rise of a subset of super-rich Afrikaners, over the last thirty years or so, has unexpectedly coincided with SA's Black Economic Empowerment programme. Navigating South Africa's newest economic period with incredible savvy and a certain thirst for excitement, a handful of Afrikaner businessmen have recently managed to join the world's wealthiest elite.
Dommisse delves deep into the lives of these Afrikaaner tycoons – who have come to control a large proportion of the Johannesburg Stock Exchange, food retail, the clothing industry and high-end luxury sales – examining their work ethics, personalities, faults, foibles and ambitions in order to explain how this select group of men went from running their own affairs to presiding over global empires.
"Based predominantly on personal interviews, Fortunes reveals why individuals such as Jannie Mouton, Michiel le Roux, Douw Steyn, Johan van Zyl, GT Ferreira, Hendrik du Toit, and several commercial farmers, turn whatever they touch to gold. Work ethic, astute alliances and an appetite for risk have catapulted them to great heights."
Fans of James-Brent Styan's recent runaway bestseller Steinhof: Inside SA's Biggest Corporate Crash will be particularly interested in Fortunes as this storied collapse very nearly took the fortunes of some of the featured magnates with it. But it's not all high-stakes plays, whopping revenues and big investments, Fortunes also takes the time to explore the philanthropic efforts of the business leaders whose astronomic rise it charts.
Happy Reading