Get Ready for the World Cup!
With rugby's most hotly anticipated contest now just weeks away, everybody's asking the same question: can Erasmus and the Springboks do it again? We could debate it forever, of course, but we thought it might be more appropriate for us to bring you two brand new books from two of the most towering personalities in the sport. So, before the opening match kicks off in France on September 8th, take some time to soak up all the wisdom and insight that legendary coaches Nick Mallett and Rassie Erasmus have to offer.
Show your spirit by delving deep into two of the best rugby minds out there!
Check out these essential new reads for every kind of rugby superfan:
Rassie: Stories of Life and Rugby
By Rassie Erasmus and David O'Sullivan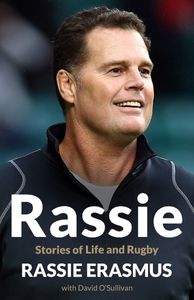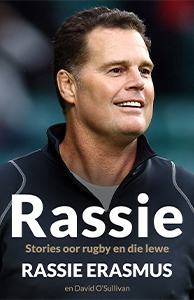 He's won World Rugby Coach of the Year, has been appointed to director of SA rugby, has been hailed as a miracle worker for bringing a diverse and struggling Boks team back to prominence and has found himself sanctioned for his strong reactions to referees… as rugby personalities go, Rassie is hard to miss. As we count down the days to the World Cup, why not take a dive into this fascinating Rugby life?
His whacky methods, sometimes contentious behaviour, prominent achievements and devotion to the sport are all well known, but Erasmus maintains that very few people know the real him – and this book, written in conjunction with veteran writer and broadcaster David O'Sullivan, is a chance to change all that.
This is a portrait of a rugby star who's always approached things a bit differently. Stories of Life and Rugby charts Rassie's career, revealing his achievements in the stellar 1990s Springboks team under Nick Mallett's leadership, exploring the experiences and the injury that ended his playing career and illuminating the unusual coaching methods that were initially met with scorn before going on to make him a respected authority on the sport – unconventional habits like watching matches from the stadium roof, and analysing data and playback while others relaxed between games. The book also focuses on two of his most intriguing professional chapters: the move to Ireland where he successfully won the admiration of Munster players and fans, and the ambitious plans to transform the national team that culminated in the appointment of Siya Kolisi as captain and a glorious victory at the 2019 World Cup.
Entertaining, candid and packed with vivid behind-the-scenes secrets Rassie is an absorbing look into the life of a preeminent figure whose career has been laced with genius. A must-read for anyone after deeper insight into the modern game… and for anyone who has ever suspected they'd make an awesome rugby coach – that's all of us, right?
Rassie: Stories of Life and Rugby is also available in Afrikaans as Rassie: Stories oor rugby en die lewe
Insights into the Rugby World Cup
By Nick Mallett with Lloyd Burnard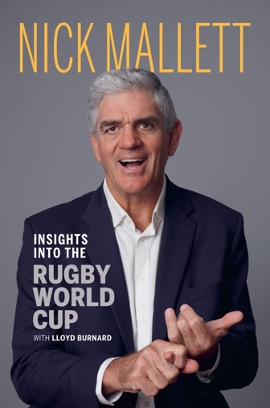 Who better to explain the inner workings of Rugby's greatest contest? Mallett, who'll need no introduction for existing rugby fans, has had quite the career. He coached the Springboks for three years, moved on to coach Parisian club Stade Francais and finished with a four year stint coaching Italy's national team. You'd be hard pressed to find anyone with a better grasp of the sport, team dynamics and international management. And with the '23 World Cup fast approaching, Mallett's observations are just the thing to pique your interest and sharpen your appreciation.
On top of leading the Springboks' most legendary winning streak as national coach, Mallett has been debating, analysing and commentating on rugby for over three decades. He's known for his astute insights and his forthright opinions. This book gathers his breadth of expertise, along with his most entertaining anecdotes from previous world cups and strongest opinions, into an essential celebration of the sport and its pinnacle competition.
Insights into the Rugby World Cup answers all the key questions that superfans and newcomers alike will be pondering as we approach the first match in Paris: questions like who are the favourites to win? How strong are the Spingboks this year? What difference will the playing conditions in France make? Can Rassie Erasmus pull it off once again? And how easy is it really to play the referee? It also delves into the major factors that will make all the difference, outlining the contributions of the key players, evaluating the leadership of coaches and captains, outlining the matches that will most sway the outcome and discussing the immense pressure that goes into such a demanding and high stakes tournament.
This is a book every fan should read… and coming to this year's RWC fully armed with the kind of knowledge that only Mallett can offer can only intensify an already intense event.
Springboks Stronger. Together. Journal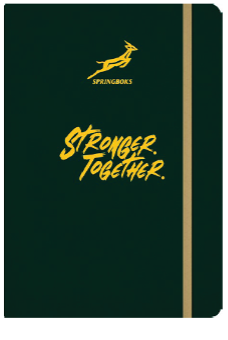 If you're anything like us, you appreciate a dedicated notebook. And, given the season, where better to record your RWC thoughts, theories and obsessions than in this Springboks journal? Oh, and lists, you always need somewhere for your themed lists too.
It's the perfect gift for the rugby fan/armchair referee in your life… and if you are that fan, then it's the perfect gift for yourself!