Heritage Month is a time for celebration. For celebrating your own culture and traditions, and for celebrating all the cultures and histories that form our country. Often, these celebrations involve fabulous meals, proud outfits and joyful family gatherings. As they should! But there is room too for a quieter appreciation of the many voices that make up our shared national identity. The marvelous variety of authors that continue to contribute to the evolving culture of this country offer us an incredible opportunity to be part of a heritage that contains wonderful multitudes. Which is why we're bringing to you the ten local books below at unbeatable discounts. Celebrate your heritage this month with brilliant South African books!
Land Matters by Tembeka Ngcukaitobi
This deep dive into the history of land ownership and manipulation demonstrates first how traditional African communal land laws allowed the earlier occupants of South Africa to be denied what was truly theirs by colonial powers and brings that to bear upon the present day by examining the ANC's twentieth century policies and negotiations on land.
Ultimately Land Matters provides illuminating context as it analyses exactly why and how various land reforms have failed South Africa. It asks whether there is a simple solution, whether any kind of compensation can ever be sufficient and what can be done to get the whole thing back on track.
Mess by Dudu Busani-Dube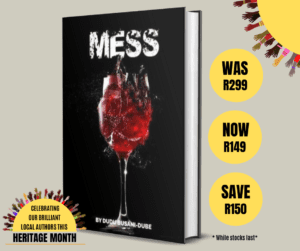 Centred around eight Zulu brothers from Mbuba village in Greytown, KZN, the Hlomu series begins with Hlomu the Wife and tells African love stories interspersed with tragedy and brutality. Each of the books is narrated by a woman drawn into the path of the brothers, and each is decidedly character-driven.
Mess is the most recent instalment of this series and brings an extra dose of suspense, romance and drama to the lives of characters you can't help but root for despite all their damage.
The best introduction to the series comes from Busani-Dube herself. Read this Interview with JRB for more on her process and how the books came about.
Braaibroodjies en Burgers by Jan Braai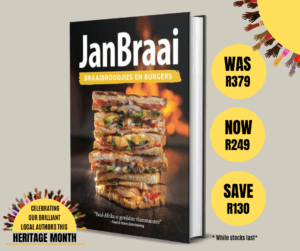 It's Jan Braai – burger-maestro of the covered-brazier and tong-wielding national hero – and it's got braaibroodjies… which are a terrific reason all by themselves to get the fire lit in the first place.
Master the art of the grilled sandwich – which, as any toastie-aficionado will tell you, is an endeavour into which far too many people put far too little effort – with the help of a familiar fireside friend. What bread should you use? What filling goes best with what bread? How do you get it perfectly crisp without setting fire to your own Schwartzbrot.
For My Country by Themba Maseko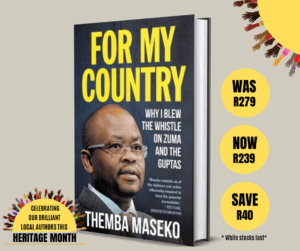 Distressingly often, a political career is derailed when a public servant refuses to kowtow to a powerful private enterprise. Maseko, a devoted civil-servant whose journey of activism and government began with the Soweto Uprising of 1976, found this out the hard way. Staunch loyalty to the ANC's founding principles and his distinguished record were not enough to save his position when he defied Zuma and the Guptas.
For My Country is Maseko's compelling inside-look at the workings of SA government, his revelatory account of the presidencies of Mbeki and Zuma, and his private meditation on the importance of principles in life and service.
Fortuine by Ebbe Dommisse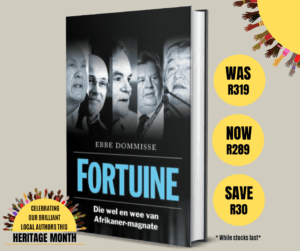 The rise of a subset of super-rich Afrikaners, over the last thirty years or so, has unexpectedly coincided with SA's Black Economic Empowerment programme. Navigating South Africa's newest economic period with incredible savvy and a certain thirst for excitement, a handful of Afrikaner businessmen have recently managed to join the world's wealthiest elite.
Dommisse delves deep into the lives of these Afrikaaner tycoons – who have come to control a large proportion of the Johannesburg Stock Exchange, food retail, the clothing industry and high-end luxury sales – examining their work ethics, personalities, faults, foibles and ambitions in order to explain how this select group of men went from running their own affairs to presiding over global empires.
Fans of James-Brent Styan's recent runaway bestseller Steinhof: Inside SA's Biggest Corporate Crash will be particularly interested in Fortunes as this storied collapse very nearly took the fortunes of some of the featured magnates with it. But it's not all high-stakes plays, whopping revenues and big investments, Fortunes also takes the time to explore the philanthropic efforts of the business leaders whose astronomic rise it charts.
The Longest March by Fred Khumalo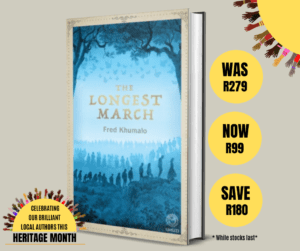 The Longest March, Khumalo's most recent novel, dips into history to provide an intimate tale of resolve and courage – a moving portrait of ordinary countrymen and women pushed into the extraordinary by romance and circumstance.
Though it takes place in a familiar period of history, The Longest March is inspired by a lesser-known event. On the eve of the Anglo-Boer War, thousands of black men found themselves marooned in Johannesburg when the gold mines were shut down and migrant workers were ordered to leave. Many of them came from inaccessible and distant parts of the country and, as the trains had stopped running, had little choice but to walk the long trek home. Seven thousand of these dispossessed workers brave perilous terrain, wild animals and hostile farmers to make the laborious journey back to Natal on foot.
Welcome To My Table by Siba Mtongana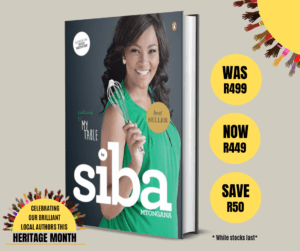 My Table is Celebrity TV Chef, Siba Mtongana's first book, featuring 120 recipes from Season One and Two of her Hit Food Network Television series Siba's Table, with some new additions. Use this book to create "simple, yet sophisticated food with a cosmopolitan flair" and be the star of your dinner table.
If you're married, a single parent, or just a young person who wants to glam up your meals, but don't have the time to spend hours in the kitchen, this is the book for you. Siba Mtongana is the Queen of Convenience. She shows you how to make dinner in no time; and provides the kind of tips that'll make something you whipped up in under an hour look like you've been slaving over the stove all day.
Her recipes reflect her local roots, international food trends and some of the exotic flavours and ideas she's picked up on her travels around the world. You'll find ways to jazz up salads and veggies; discover deeply satisfying roasts and mouth-watering fish dishes. Her 'Local is Lekker' section provides a personal take on an array of traditional South African favourites, which she calls "Sibalicious"!
Hans Gee Herklaas Horings by Rudie van Rensburg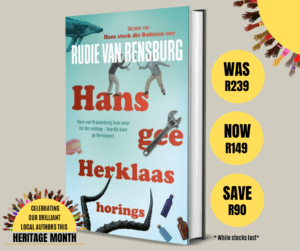 Vroeër of later gaan iemand opdaag en sê dat jy moet beweeg. Dit is maar net die manier van dinge. Die bose ontwikkelaars is nooit ver weg nie. Gelukkig is Hans van Kraaienburg in hierdie geval ook nie.
Warm, skreeusnaaks, verrassend aksiebelaai en sjarmant knorrig, Hans Gee Herklaas Horings is 'n wonderlike verhaal van misleiding, lelike trots en die klein ouens wat boelies wen.
"Hans van Kraaienburg, verlosser van Huis Madeliefie se oumense, se vriend Vasie nooi hom vir 'n vakansie op Hermanus, as gaste van dié se neef Herklaas. Daar gekom, vind hulle Herklaas in die sop: die Overstrand se rykste skobbejak, Grond Graaffwater, wil sy blyplek koop en herontwikkel – maar Herklaas wil nié trek nie. Toe Grond se kriminele handlangers hardhandig raak, besluit Hans dat Herklaas 'n stel horings moet kry om Grond trompop te loop."
Liwa – Always on their Minds by Jackie Phamotse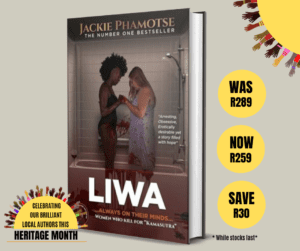 Childhood friends, Liwa Nile and Noel Glass grow up in Port Alfred bound by hope and pure love for each other. But their deep dark desires bring in sinister trails of lust, murder and unclassified sexual escapades to the heart of Melrose Arch.
When Liwa loses her beloved father, hear dear friend Noel comes to the rescue. As they grow their architecture business, it emerges that Noel is no ordinary painter. Her love for darkness quickly turns Liwa's wet bed into a nightmare.
With every break of dawn, a soul falls. More bodies are soon disappearing and their business is thriving.
Tyson Manson seeks sexual pleasure. So when a love affair boils over, he discovers more than expected. As he digs deeper into their past, more worms fill in the missing pieces. Will his findings destroy the bondages of a long-standing friendship?
The Whistleblowers by Many Weiner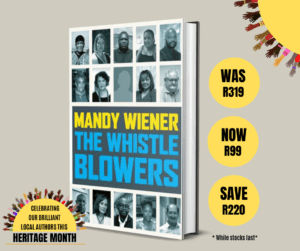 Here's the thing about exposés: they're designed to whip up controversy, invite scrutiny and justice (rightly) and perhaps even prompt some sort of hysteria. And in all that litigious frenzy and shocking revelation, there's a group of people who tend to be forgotten about.
We tend not to spare much of a thought for the brave, often vulnerable, people who help to bring these things to light – and, sadly, often suffer serious consequences for the part they've played. However, we do often tend to suggest that those blowing the whistle may themselves have been complicit in the crimes they're exposing.
This is just the sort of thing that Mandy Wiener's new book, The Whistleblowers, explores. By allowing whistle blowers, some of whom have been involved in some of SA's biggest recent scandals (cases like Bosasa, the state capture regime, the arms deal, and several instances of corporate and political corruption), to explore their involvement from their own perspectives and in their own voices, The Whistleblowers uncovers the effects on mental health, and overall life, experienced by these people.
The Whistleblowers is an enlightening, often affecting, look at personal sacrifice and the legislation, culture and perception that surrounds such difficult decisions.
Happy Reading, Happy Heritage Month!
**Prices are for Heritage month only and subject to change**