Joubert has long been a celebrated writer of romance and historical novels focusing on the upheaval of the 20th century. Her two previously concluded trilogies, Ver Wink die Suiderkruis and Anderkant Pontenilo, both became phenomena in the Afrikaans (and Dutch) speaking world. Now Joubert has delivered the third instalment in her ongoing trilogy, following up Immer Wes and Mentje – Kind van die Pas-Opkamp with a dual perspective tale that moves from the dawn of WWII across continents and conflicts to paint a powerful picture of strife, chance and intersection.
Na 'n Plaas In Afrika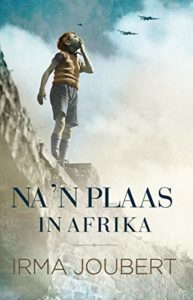 Set against the backdrop of Europe's most catastrophic war, Joubert's novel tells the story of a young boy named Charles who is whisked off to a new life in Scotland on the eve of war and a fierce German officer named Oswald who marches against the Russian Army on the Eastern frontier. In telling this bifurcated tale, Joubert vividly explores two very different aspects of war, eventually bringing vastly different experiences together.
When war breaks out in Europe, six-year-old Charles Smith is among the three million children evacuated from London. Concerns for the safety of the capital thrust Charles into a new life in rural Scotland with his unknown aunt Grace.
At the same time, Major Oswald von Stein descends with his troops into the Russian winter…. And beyond into the notoriously deadly POW camps of Siberia. He will be one of the relatively few men to survive this fatal, frigid campaign.
Charles and Oswald experience incompatible aspects of war in all its horror, and are changed by them in starkly different ways, but their paths eventually cross as they find themselves led all the way to an African farm – and to the important company that awaits them there.
Previously in the Oorlogstrilogie:
Mentje – Kind van Pas-Opkamp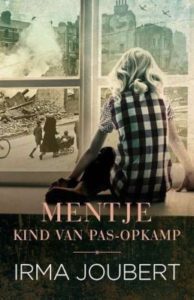 Nunspeet, Holland has been engulfed by WWII.
As young Mentje crouches hidden from view, she watches her father flee German soldiers. She waits for him to return, but he never does. Alone, heartbroken and terrified, Mentje eventually makes her way to a hidden community of other displaced refugees before being forced to leave in search of a relative in Arnhem.
At the same time, far from Holland, a South African man joins the British army. He will eventually encounter Mentje – and the brave girl that she has become – during the devastating Battle of Arnhem.
Packed with historical detail and led by memorable characters facing unspeakable horrors, Mentje is another excellent example of Joubert's ability to handle vastly different wartime experiences at the same time.
Immer Wes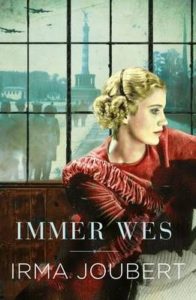 The events of Immer Wes concern the character who will go on to connect, however indirectly, the other characters in the trilogy: Hildegard.
Beginning with the dark shadow of WWI and Hildegard's troubled but noble upbringing, Immer Wes establishes a Europe and a world that is traumatised by the despicable horrors of one unprecedented war even as another one approaches.
The Great War shows Hildegard just how ugly life is; how corrupted by falsehoods her home is and how quickly everything can be taken away.
Hildegard survives WWI, survives the resulting miserable life with which she is left and makes it all the way to WWII… where the new challenges of West Germany, and the uncertain future of her daughter, await.
Immer Wes is an intimate contemplation of the loss, grief, oppression, poverty, hatred and loss of faith that war engenders: a first instalment that begins the powerful tapestry of experiences woven by Joubert throughout the trilogy.
Happy Reading!