Twenty One is a pretty significant milestone. But this is not your average birthday: this is the 21st instalment of the wildly popular Women's Murder Club series! Gotta love those balloons.
James Patterson and Maxine Paetro have created one of the world's most reliably entertaining crime thriller serials, delivering twists, turns, murders and thrills aplenty with each and every episode. The first book in the series, 1st to Die – the only book in the series to not feature a co-author – was published way back in 2001. All but two of them have been New York Times #1 Bestsellers, meaning that total sales have reached… a larger number than happily fits in the average head. The titular Women are a diverse group of characters who each bring their own professional skills to bear upon a crime investigation – and whose personal lives often become tied to murders in the San Francisco area.
Twenty years, twenty-one books, innumerable smart characters, deplorable villains, nefarious schemes and solid stories; it's almost impossible not to wonder what the club will be investigating next.
21st Birthday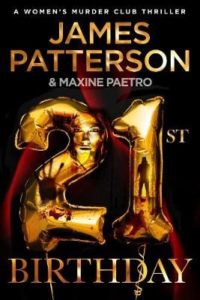 If shows and movies have taught us anything, it's that it's always the husband. Then again…
San Francisco Chronicle reporter Cindy Thomas is drawn into an intense and devastating investigation when she is approached by a desperate woman left reeling by a terrifying disappearance. This woman's twenty-year old daughter, Tara, and her baby granddaughter have recently vanished. Thomas' first step is to involve Sergeant Lindsay Boxer, the most trusted and tested member of the club.
Prime suspect in Tara's disappearance is her husband, Lucas Burke. Burke is your quintessential scumbag domestic offender, so by the time ADA Yuki Castellano gets involved, the case seems fairly straightforward. But Burke tells a story that sheds a different light on Tara, her life and her disappearance. An abusive husband will do anything to save his own skin right? However, when Chief Medical Examiner Claire Washburn begins to develop her own more complex theories, it becomes clear that Tara's case is part of something far bigger and more complicated than spousicide. Something that might just be connected to an existing web of murders and deceptions.
With all the pacy action and nimble plot twists that have made the series so successful, 21st Birthday hurtles toward a shocking climax cramming in oodles of drama and excitement along the way.
Previous Episodes
20th Victim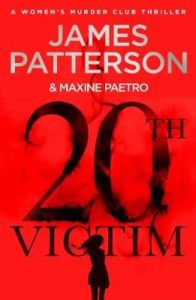 Sergeant Lindsay Boxer is drawn into a strange case that blurs the line between assassination and serial killing when three people are simultaneously killed, by one precise gunshot each, in three different cities. It's not long before she discovers that each of the victims was an influential criminal, each one of them involved in nefarious enterprises important to the press and the public.
These could be serial killings, they could be acts of vigilantism, or there could be something less brazen behind these killings. While all this is happening, the members of the club are facing their own particular battles, adding new strain to a situation that is already dangerously tense.
On top of the trademark thrills, tight plotting and relentless action, 20th Victim leaves room for intriguing ethical conundrums and considerable grey areas, making it a highly entertaining addition to the series, as well as a quick and accessible standalone.
19th Christmas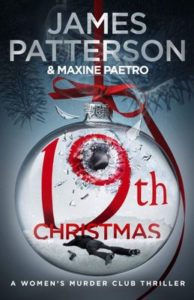 Sergeant Lindsay Boxer's chilled Christmas plans are blown to bits when she receives word that Christmas Day will form the backdrop to the biggest heist ever pulled off in San Francisco.
Unfortunately for her, the heist's mastermind is aware that she is onto his plans and thus unleashes chaos across the city, contriving endless traps and  deadly distractions specifically to keep Boxer from accomplishing her main goal. Now it isn't just her Christmas that might be ruined, it's the entire city's.
18th Abduction
Boxer is the lead in a frantic investigation that seems to arrive at nothing but dead ends. Three female teachers have disappeared without leaving a single clue or suspect. The longer the hopeless investigation takes, the slimmer the chances of ever finding the teachers become.
Meanwhile, Boxer's husband Joe, through a chance meeting, becomes embroiled in a sinister mystery involving an Eastern European war criminal.
When these two investigations unexpectedly entwine, it will take the skills of the entire club to get the better of a monstrous new villain.
For a complete list of the books in the Women's Murder Club series, check out deadgoodbooks
Happy 21st!