Our pick for BOTM this month comes from a beloved author who's been gripping readers the world over for some time with her suspenseful storytelling and intense domestic dramas.
Deception by Lesley Pearse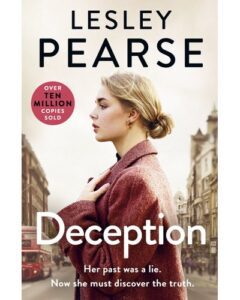 We all have to wonder, from time to time, whether we truly know those closest to us. If you have never sat by yourself for a moment and asked yourself whether it's possible that the people you are sharing your life with are deceiving you, then you will know something about this. And this is just what Pearse's compelling new novel explores.
Relationships with parents can be a difficult thing. But Alice Kent has always been very close to her mother, Sally. All this changes, however, when Sally dies. After the funeral, Alice is approached by a man named Angus Tweedy. Tweedy has an explosive truth to reveal. Thirty years ago, he and her mother were married illegally. He spent time in prison for this crime, but he is back now, and he says that he is Alice's real father.
How could her mother have so heinously betrayed her, allowing her to believe that Ralph, the man she has always loved as a father, was her real dad? And what could Angus hope to achieve by turning her life upside down? Sally was never quick to talk about her past, but Alice had forgiven her this foible along with many others. And now she has to uncover the whole truth about her mother, no matter what it takes. Her journey into an unknown past will have her doubting everything about herself and her mother… but that's better than going through the rest of her life in the dark, isn't it?
As with all of Pearse's best books, Deception is expertly evocative, gorgeously written and ultimately heart-warming.
Happy Reading!