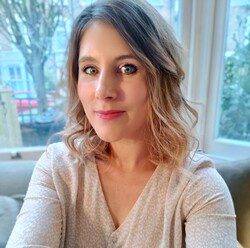 Our New Author of the Month this month is Katherine Faulkner… and she has penned an almost universally hailed, electrifying thriller described as impeccably polished and ingeniously lithe.
Greenwich Park – an insidious, deliciously dark and expertly plotted psychological nail-biter that follows an expectant mother's destructive descent into a slew of threatening secrets – is published following an impassioned bidding war between four of the industry's heaviest hitters.
Though this is her debut novel, Faulkner is already a well respected writer. Having won a prestigious award for public interest reporting, she has been an integral part of the news team at The Times. Though her time has been split between investigative reporting, editing, and writing fiction, she feels most passionate about her work as a novelist. Of course, there is no doubt that a writer with well-honed investigative instincts makes for a top notch author of suspenseful, character-driven narrative.
Greenwich Park
'A fantastically addictive read' Abigail Dean
'Razor-sharp … I raced through it' Harriet Tyce
'…in short, the perfect thriller' – Caz Frear
'Terrific. Pacey and suspenseful with a nice touch of satire' – Amanda Craig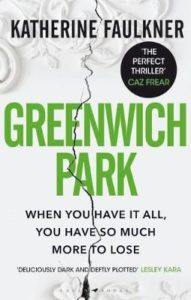 Karma siddles cruelly up to us all – even those of us robed in rich distraction.
Helen's life has reached a point of perfect promise. After too many years of trying painfully to have a child, she is at last expecting. Combined with her wonderful and successful husband, her gorgeous Victorian house and her close-knit family, the news has her feeling elated.
Then, at her very first antenatal class, she meets Rachel… to whom she could scarcely be more different. Rachel is not the kind of mother-to-be that Helen had imagined sharing this experience with: she is raucous, unpredictable, unconcerned with curbing bad habits and not especially interested in her approaching motherhood. And yet, perhaps as a little loneliness creeps in, Helen is intrigued by her. And Rachel is very interested in becoming Helen's friend. Rabidly so. And she hardly hides her appetite for every secret that can be gotten at.
As Rachel becomes increasingly erratic, Helen's family becomes aware of this strange new friend, and when she threatens to reveal a secret that could bring down everything that Helen has worked for, the disturbance she creates ripples into every corner of Helen's life.
Told using a deftly wielded triple POV structure, unfolding in parallel with Helen's pregnancy and utterly gripping all the way to its shocking, unguessable ending, Greenwich Park simply oozes skill and wit as it takes us from one riveting development to the next. It's a novel that'll have you shouting at its characters, panting with fascination and, most importantly, feverishly turning the pages.
Seemingly poised to set tongues wagging as frenetically as did The Girl on the Train, it seems inevitable that Greenwich Park will be one of this year's most lauded thrillers.
Happy Reading!