One of Us is Lying: #BookTok and Streaming Sensation
Karen M. McManus is a bestselling author known primarily for the series One of Us Is Next, now also a series on Netflix. Many are calling her the queen of teen crime. She's also one of the authors benefiting from the far-reaching attentions of #BookTok. Her books are known for their delectable, often salacious plotlines, and they invariably feature dark and twisty thrills, often with good doses of gossip and scandal thrown in for good measure. If you have a taste for feuding friend groups, devastating highschool romances, unspeakable secrets and, yes, a shocking good murder, this is an author you'll want to reach for.
Nothing More To Tell (Expected August 2022)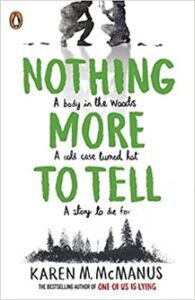 Four years ago, Saint Ambrose School was rocked by a terrible, criminal tragedy. And the case was never solved. Someone got away with murder.
Brynn left the school after the murder. The victim was her favourite teacher, Mr Larkin. He was found in the woods by three kids… and it seems to her that each of them knows more about what happened to him than they are letting on. Especially Tripp Talbot, who was once a friend but now seems the most suspicious of them all.
When Brynn lands a job working as an intern for a popular true-crime show, she smells an opportunity. This could be her chance to investigate the case for herself, to discover what truly happened the day that Mr Larkin was so shockingly killed. It's time, she decides, to bring the perpetrator to justice at last. As she begins to uncover a string of secrets stretching back into the past, she comes to realise that she may not be the only interested party.
One of Us Is Lying (Book 1)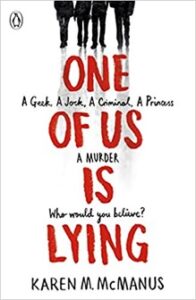 Five go in. Only four come out. Can any one of them be believed?
The five students that enter detention one fateful Monday afternoon have just one thing in common. They are all being punished for something they didn't do. But that's hardly the greatest injustice about to sweep through Bayview High. There's Bronwyn, a dedicated student and obsessive rule follower; Cooper, your standard sports star jock type; Nate, budding criminal and brooding bad boy; Addy, the prom queen struggling to keep up the perfect facade; and Simon the creator of Bayviews notorious gossip app.
By the time detention is over, Simon is dead. Investigators suspect foul play… especially once it is discovered that Simon was about to publish scandalous material concerning the other four. Every one of them is a suspect, but can any of them be believed?
Laced with cryptic clues and packed with propulsive plot twists, this is a brilliant read-in-one-sitting whodunnit. Do you reckon you can solve it?
One of Us is Next (Book 2)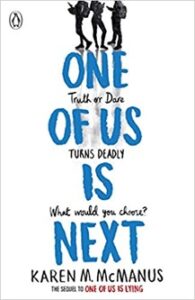 A full year after Simon's death, you might expect life at Bayview High to have settled down. Think again. A dangerous new version of truth or dare has spread throughout the school. The rules are simple, but the consequences can be dire. If you choose truth, your darkest secret will be revealed to all. But choose dare and things could become deadly. And if you make no choice at all, well, your secret will be revealed anyway. It's not much of a choice. Who is without their secrets, after all? It seems that the creator of this huge new game has also been keeping Simon's work alive, operating as some kind of copycat. Could this be some kind of revenge plot? And will the students at Bayview be able to find out who is behind this campaign before everything is out in the open?
Featuring some of the characters from the first book, along with some new additions, One of Us Is Next is best enjoyed as part of the series, but can certainly be read as a standalone should you want to.
Book 3 in the series, One of Us is Back, is set to be released next year.
Two Can Keep a Secret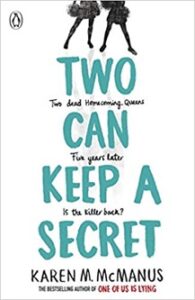 The most perfect-seeming town can often hold the darkest secrets. And the people of Echo Ridge, some of them at least, are willing to kill to keep their secrets properly hidden.
Ellery has never been to Echo Ridge, but she is aware of its dark past. Her aunt went missing there at the age of sixteen and has never been seen since. And, of course, everyone knows about the murder five years ago: the slaying of a Homecoming Queen that made national news and cemented Echo Ridge's notoriety. And now, because her mother has ended up in rehab, Ellery has to go and live there with a grandmother she barely knows.
Malcolm, on the other hand, is intimately familiar with the place. His older brother was the prime suspect in the murder, and was forced to flee in disgrace. But now he is back. Is it a coincidence that cryptic threats have also begun to appear around the town? Will the killer strike again?
When another girl goes missing, it's up to Ellery and Malcolm to unravel the mystery… but will their investigations go unnoticed?Quick, sharp and tautly plotted Two Can Keep a Secret is a murder mystery every bit as compelling as McManus's first.
The Cousins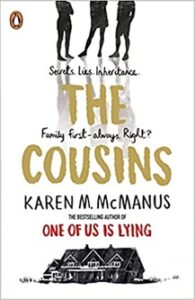 The Storys are the kind of family whose legend looms large. They are the biggest landowners on their island, they all are enviably beautiful and, of course, they are astronomically rich. But, as is often the case with these families, things beneath the surface are more complicated. And they're about to go from complicated to downright baffling.
The four children of the Story family are suddenly and completely exiled from the family via a one-line message from their mother. It reads: "you know what you did". This is the last they will ever hear from her.
Some years later, eighteen-year-old cousins Aubrey, Milly and Jonah Story receive an unexpected invitation. They are to go and spend the summer at their grandmother's resort. They know almost nothing about her, but they are aware of her as the enigma at the centre of their secretive family. Compelled by curiosity, and sensing the opportunity to delve into the heart of their family's history, they accept. But it does not take them long to realise that some secrets are better left undisturbed.
Just as twisty and enthralling, but perhaps a little more layered and patient than her other books, The Cousins is a good choice for any reader looking to further explore McManus's output.
Enter Now and You could WIN! https://www.bargainbooks.co.za/competition/
Happy Reading!