This month, because once again we had a hard time choosing between two very exciting new releases, we actually have two Books of the Month for March. For more about the first of these, read on. And, of course, stay tuned for more about our second Book of the Month (which we won't be mentioning by name just yet, so as not to spoil the surprise).
The Milk Tart Murders by Sally Andrew
By now, there's a fair chance you might be familiar with the agony aunt, comfort-food gourmand and formidable crime stopper Tannie Maria. Proffering advice, recipes and justice in (almost) equal measure, Tannie Maria somehow manages to routinely find herself embroiled in dangerous misadventure – not that anybody is unhappy that she's involved… well, except for the criminals. The Milk Tart Murders is Tannie Maria's fourth outing. Read on for the full backlist.
The Milk Tart Murders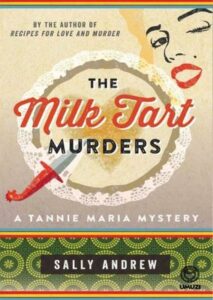 Things are looking up for Tannie Maria. Spring has come to the beautiful Karoo, and she and her police officer boyfriend, Henk, might just be ready to move in together… even if Henk's previous marriage is not yet completely resolved. All this, however, will have to wait. And it will have to wait thanks to thrift-shop owner, seething paranoiac and renowned grump, Oom Frik. Or, more accurately, it will have to wait thanks to who or what killed Oom Frik. The bilious old junk peddler died during a vintage movie screening in Ladismith. Perhaps it was his heart condition that killed him. Perhaps it was the sheer force of Marilyn Monroe's beauty. Perhaps both. But Tannie Maria and young journalist, Jessie, think there's more to it than that. After all, Frik was rumoured to have some real treasures hidden in his hoard, and he had a habit of frequently changing his will. The discovery of a second body confirms their suspicions, and so does the clue they find with it: a letter addressed to Tannia Maria requesting urgent advice… and a milk tart recipe.
Pure enjoyment from start to finish, The Milk Tart Murders serves up a tantalising mystery lovingly garnished with relatable situations and liberally seasoned with charming characters.
Oh, and the Tannie Maria tv series – Recipes For Love and Murder – is set to premiere very soon, so be sure to get hold of the books first!
More From Tannie Maria
Death on the Limpopo (Book #3)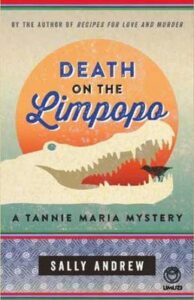 The Karoo's best loved agony aunt and crime fighter, Tannie Maria embarks on another thrilling mystery that takes us on a murderous journey with new allies and a little love-trouble.
Is it too soon for her to tell Henk how she feels? If it isn't, why is she finding it so difficult? And what about the political journalist seeking refuge at Maria's house and the biker gang that came along for the ride?
Tannie Maria and the Satanic Mechanic (Book #2)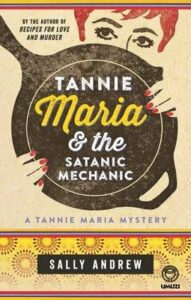 Following her first case, Tannie Maria is struggling to find a degree of peace. Memories of her previous abusive relationship, along with her new worries around a local land activist, impel her to visit the counsellor jokingly called "The Satanic Mechanic".
But somehow, her brush with therapy leads her straight into Henk Kannemeyer's new murder investigation – which is unideal not least because she and Henk are sort of dating.
Recipes for Love and Murder (Book #1)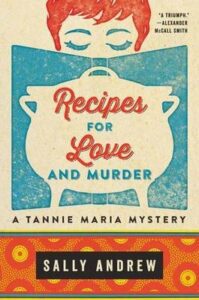 And here's where we first meet Tannie Maria. She's not very tall, she is perhaps a little plump, but she's easily the Klein Karoo Gazette's most inimitable agony aunt*… and she's about to prove herself an excellent amateur detective.
When a woman who once wrote her a letter asking for advice is murdered, Maria becomes entangled in the investigation – much to handsome, mustachioed Detective Kannemeyer's annoyance. Little does she know just how many secrets a small town can harbour.
*She also dishes out awesome recipes. Nothing heals like a good meal, right?