More New Fiction This Month
4 New Young Adult Titles and 3 New Adult Releases
Several of the most exciting fiction releases this month are of the Young Adult variety – so here we'll be taking a look at 4 Young Adult Releases and 3 new adult novels. Fantasy, romance and high-stakes thrills…
Take a look:
Believe Me by Tahereh Mafi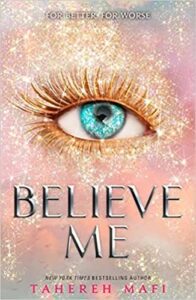 Driven on by increasing levels of TikTok fame, Tahereh Mafi's Shatter Me series became one of the biggest and most enthralling fantasy sagas out there. It now concludes with this dangerous, cracklingly romantic final instalment.
"Juliette and Warner fought hard to take down the Reestablishment once and for all. Life in the aftermath isn't easy, as they and their friends at the Sanctuary work with their limited resources to stabilize the world.
Warner has his sights set on more than just politics. Since he proposed to Juliette two weeks ago, he's been eager to finally marry her, the person he loves more than anything and has endured so much to be with. But with so much chaos around them, it's been nearly impossible for them to have a wedding. And even Juliette has been distracted by everything they need to do. At long last, Warner and Juliette's future together is within reach, but the world continues to try to pull them apart. Will they finally be able to be happily, officially, together?"
The Woven Kingdom by Tahereh Mafi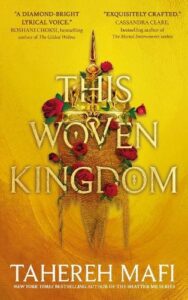 And once you have been thoroughly devastated by the conclusion of the Shatter Me series, you can jump straight into Mafi's brand new mythology-rich trilogy!
Inspired by the vibrant world of Persian mythology, This Woven Kingdom plunges us into a swirl of vicious empire feuding and forbidden romances.
Alizeh seems a perfectly ordinary, disposable servant. Anyone who meets her, however, cannot help but be struck by her strange and beautiful eyes. Crown Prince Kamran, especially, has a hard time getting her out of his mind, even though he should be focused on the prophesied death of his king. What he does not know is that Alizeh conceals an ancient, powerful lineage that one day could devastate his kingdom and ultimately alter the world. Romantic and epic and equal measure, this new trilogy is magically crafted and thoroughly transportive.
Realm Breaker by Victoria Aveyard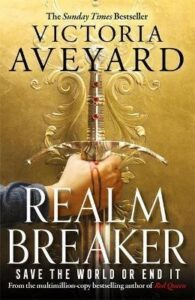 And here's another brand new series from an acclaimed author. Aveyard follows her beloved Red Queen series with a compelling new character who finds she is unknowingly carrying the power to save the world from destruction.
Corayne an-Amarat lives quietly on the edge of the Ward, but from her seaside home she can still feel that something dark and strange is growing. Her instincts are proven right when two strangers turn up at her door. The mythical immortal and the ruthless assassin inform her of her ancient lineage – and the immense power that comes with it. They tell her of a man raising an army that will threaten entire worlds, a man with a stolen sword who will crush the kingdom into the dirt for the chance to claim it. Only Corayne, by harnessing the magic that lingers in her veins, can stop his relentless conquest.
Here's To Us by Becky Albertalli & Adam Silvera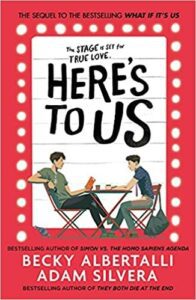 A touching and realistic new romance from two of the most celebrated voices in YA literature, Here's to Us pits two guys against the lives they are attempting to create and the forces that insist on pulling them toward each other.
Ben can't stop thinking about Arthur. Even when he's with Mario. Even when he is working on his fantasy manuscript. Even though he and Arthur called it quits two years ago.
Arthur is supposed to be focusing on his Broadway internship… and missing the great boyfriend he left back home. But when he comes across Ben in the arms of another boy, he doubts whether he's over Ben at all.
Things didn't work the first time. But the sparks are definitely still flying. Is the universe trying to give them a second chance? What if their futures aren't quite as they imagine them?
Adult Releases
The Gift by Liz Hyder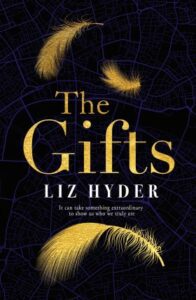 1840. Rumours of a "fallen angel" are swirling throughout London. A woman, unseen in the forests of Shropshire, staggers among the trees as a pair of enormous wings rip themselves from her shoulders. Meanwhile, an emerging surgeon devoted to achieving fame and fortune is looking for a certain sort of women – though his dangerous and perverse obsession threatens their lives.
Told from five different and distinct perspectives, this astonishing and original debut explores the danger of single-minded ambition, the limits of developing sciences, the perilous position of women in society and the dark intersections of religion and the enlightenment.
Take your breath away by Linwood Barclay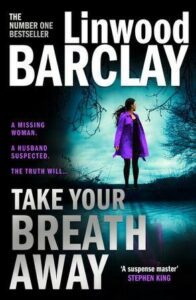 When a woman goes missing, her husband is the most immediate suspect. A lot of the time, it's that simple. But sometimes it's a great deal more complicated.
On a fishing trip one weekend, Andrew Mason's wife, Brie, vanishes without a trace. Nearly everyone believes that Andrew has gotten away with murder, but the police just can't make the case. His friends abandon him, he becomes unwelcome in his own home and it's not long before he spirals into alcoholism.
Six years later, Andy has a new partner and a new life. He's managed to put the past behind him. His old house has even been torn down and rebuilt. But everything changes when a woman – bearing a striking resemblance to Brie – turns up in town demanding to know what has happened to her house. Andy doesn't know what the hell's going on… and he will have to stay alive to find out.
Abandoned in Death by J. D. Robb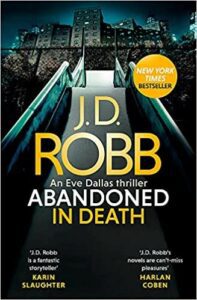 The new Eve Dallas thriller (number 54 in the "In Death" series) pits the lieutenant against a murderous kidnapper and sees her frantically trying to unravel the complicated histories of three young victims.
"Three young women have gone missing. They're all pretty, mid-twenties – someone clearly has a type. But no one links their disappearances until the first – Lauren Elder – is found lying peacefully on a bench in a children's playground. She is neatly dressed with a wide black velvet ribbon covering where her neck has been precisely slit. Her hands are folded over a childish sign on which is written in black crayon – BAD MOMMY.
Lt Eve Dallas and her team are brought in to investigate Lauren's murder and uncover the links to the other two women. Can they find out enough about the missing women and unmask their captor before they kill again….?"
Happy Reading!