If you know anything about James Patterson, you will have spotted that new release 22 Seconds is the 22nd entry in the bestselling Women's Murder Club series, which is regularly cowritten with Maxine Paetro. The women of the titular club have now been applying their particular sets of skills to thrilling high-stakes cases in San Francisco since 2001. And this most recent instalment is every bit as quick and vivid as its precursors. But before we get into that…
Meet The Women of the Women's Murder Club
The Detective: Lindsay Boxer
Meet Lindsay Boxer, a homicide detective for the San Francisco Police Department. Lindsay is five foot ten. She was a sociology major and graduated from San Francisco State (to which she transferred from Berkeley when she found out that her mother had breast cancer). She loves beer and butterscotch praline ice cream. She has a border collie named Martha. She enjoys running, loves to read travel books and mysteries and her secret hobby is tai chi.
Lindsay has been divorced once and is now married to long-time boyfriend Joseph Molinari. She has a younger sister named Cat and a father named Marty, who was also a member of the SFPD. Marty left Lindsay's mother when Lindsay was 13.
One thing that very few people know about Lindsay is that she has a tattoo of a one-inch gecko on her left buttock.
The Reporter: Cindy Thomas
 Meet Cindy Thomas, pretty, blonde and city cool. She's a crime desk reporter for the San Francisco Chronicle. Cindy is a graduate of the University of Michigan where she was a sociology major. She loves yoga, jazz music and, like her friend Lindsay Boxer, loves to read travel books and mysteries—she's even a member of a book club. She also has a tattoo, but unlike Lindsay, she has two small G-clefs on her shoulder.
The Medical Examiner: Claire Washburn
Meet Claire Washburn, Claire is black and heavyset; she always jokes, "I'm in shape… round's a shape." Claire is wise, confident, kind, and the Chief Medical Examiner for San Francisco. She is married to Edmund, a kettle drum-player in the San Francisco Symphony Orchestra. Claire and Edmund have two teenage sons and a young daughter named Ruby Rose. Her tattoo: an outline of a butterfly just below her waist. She also goes by the nickname "Butterfly" and has it embroidered on her lab coat at work.
The Attorney: Yuki Castellano
 Yuki Castellano is an ambitious, young San Francisco district attorney who is passionate, brilliant, given to speaking at 90 miles per hour, and sometimes wears a magenta red streak in her glossy, black, shoulder-length hair. Her parents met at a graduate school mixer for foreign students and married within three weeks. Her mother is Japanese and her father Italian American. Yuki's favorite drink, when out with the other members of the Club, is a Germain-Robin sidecar.
Now that we've met everyone, here's more about…
22 Seconds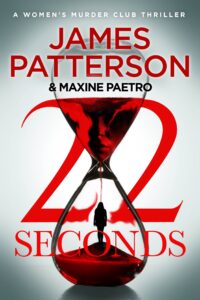 Many detectives have found themselves in situations that could lose them their badges… but for detective Lindsay Boxer, there is just 22 seconds between here and her fate. And her badge is not all she stands to lose.
What's brought her to this point is the rumour of a massive guns and drugs shipment coming over the border from Mexico. The law is cracking down on the gun trade and south-of-the-border cartel bosses are making a last ditch attempt to flood the market. But there's more to it than that. Former cops have been turning up dead, done in by professionals. And on the body of each and every one of them is a written message: you talk, you die. How did this case get so close to home and, crucially, what will be Boxer's choice? Her life, or her duty?
Meanwhile, Cindy Thomas has been tasked with co-authoring the biography of a serial killer with whom the club has had previous run-ins – and the details of his crimes are threatening to overwhelm her. And Claire Washburn is assigned the most harrowing autopsy of her career when a young girl is brought into her lab.
22 Seconds is another relentlessly action-packed and tightly plotted gem from one of this genre's undisputed masters.
For more about the Women's Murder Club series and the events thus far, check out this entry on deadgoodbooks
Happy Reading!