Genius: How to Take Smart Ideas Global by Bruce Whitfield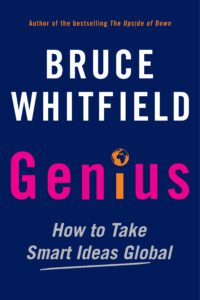 With his previous book, The Upside of Down (which came out in 2020), veteran journalist and business speaker Bruce Whitfield explored a world awash with chaos… and explained that, with the right attitude, eye for opportunity and problem solving mindset, it didn't need to be all doom and gloom. Which was an especially good thing to hear at the time.
Whitfield is now back with another book of financial insight, and this time he's treating us to a wealth of global success stories – another injection of business-based optimism.
South Africa's difficult political economy, while an enduring issue, is seldom considered the ideal breeding ground for brilliant ideas and innovative approaches. But that, Whitfield argues in Genius, is just what it is. The business landscape of this country is such that making your mark on it requires a particular kind of smarts… especially when taking an idea from local to global. But it has been done. Many times. This book tells the stories of those individuals and companies whose unique products, approaches and materials broke into the global market and made a positive impact on the global stage. And this begins, as Whitfield points out, with purpose: the will to act with it and the creative spark to employ it… and there's a whole bunch of South Africans purposefully addressing the problems of the future.
In Genius you'll discover "how Pratley beat Armstrong to the moon, how a former Eskom quantity surveyor capitalised on Britain's obsession with meerkats to create the UK's most visible price comparison website, how to take a Mediterranean-style food concept to the Mediterranean, and how a device designed to beat diamond smuggling made it from the set of a popular US hospital drama into emergency rooms and pathology labs across the US."
… and most importantly you'll learn the kind of thinking and problem solving necessary to make an impact on an increasingly fast-paced and competitive global market. These are essential lessons for anyone looking to take an idea from good all the way to genius… and thanks to the diverse and fascinating case studies presented within, this is also a great book for anyone intrigued by stories of stellar success.
And in case you missed it the first time around, here's a little more on…
The Upside of Down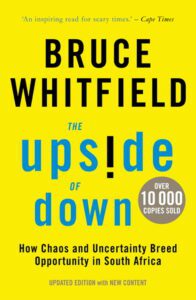 In a world shaped by Covid-19 and characterised by fake news, manipulated feeds of information and divisive social-media agendas, it's easy to believe that our time is the most challenging in human history. It's just not true.
It is a time of extraordinary opportunity. But only if you have the right mindset and attitude. Fear of the future breeds inaction and leads to strategic paralysis. Problem-solvers thrive in chaotic and uncertain times because they act to change their future. Winners recognise that in a world of growing uncertainty, you need to resort to actions on things you can control.
A robust mindset is the one common characteristic Bruce Whitfield has identified in two decades of interrogating how South Africa's billionaires and start-up mavericks think differently. They don't ignore risk or hope that problems will go away. They constantly measure, manage, consider and weigh up opportunities in a tumultuous sea of uncertainty and find ways around obstacles.
If, as Nobel Prize-winning economist Robert Shiller suggests, the stories we tell affect economic outcomes, then we need to tell different stories amidst the noise and haste of a rapidly evolving world.
Happy Reading!