Our second clutch of featured releases for this month includes new titles from veteran bestsellers as well as social media phenomena. We've got thrilling mysteries and cabalistic schemes, scintillating disappearances and terrible tragedies, and some truly lovely romance just to round it all out.
Take a look:
Second First Impressions by Sally Thorne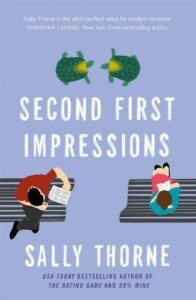 With the help of TikTok's uniquely enthusiastic book loving community, Sally Thorne and her lovable works of romance have recently reached new heights. And her newest release is only bringing her more deserved adoration.
Ruthie Midona is twenty-four… but she spends a good deal of time with older people. Much older. It'd be difficult to find anyone more devoted to the luxury retirement village she works at. She loves the colourful, and frequently mischievous, women she cares for. And, best of all, they distract her from her own life – or what little of it there actually is. Until a distraction of quite another kind shows up.
His name is Teddy, and Ruthie feels it fair to suggest that he's just as lazy as he is handsome. That is to say, very. And she's not impressed. There's no room around here for work-allergic rich kids. Her two favourite residents, however, with their usual knack for shenanigans, are only too happy to have someone new to torment. They'll soon send him packing.
But could it be that she has judged Teddy too quickly? If his charm and patience with the residents are anything to go by… well, she might have. Perhaps there is more to life than work.
Incredibly heartfelt, unexpectedly wise and frequently hilarious, Second First Impressions has just about everything you could want from a rom-com.
Who's Lying Now by Susan Lewis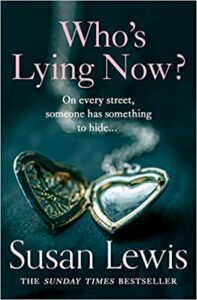 The newest domestic thriller from Susan Lewis reminds us once again just how easy it is to love her work. Featuring compelling character dynamics, a scintillating mystery and just the right number of twists, this is a solid new release from a proven veteran.
In London, Jeannie Symonds and her husband are high-powered, if eccentric, professionals. A publisher and a surgeon with a good marriage and a solid future, you could say that they have it all. But at their second home in Kesterly-On-Sea, a close and friendly seaside community, things are more relaxed. …Until Jeannie disappears.
Trainee investigator Cara Jakes is ambitious, smart and keen to delve deep into the woman's disappearance. She and detective Andee Lawrence decide from the get go that someone in Kesterly must know something and if they have to probe the little town to its core, so be it. But could it be a mistake to assume they can tell so many lies from what little truth they are offered? And is there more to this eccentric publisher than can actually be discovered?
Bare IV: Mercy by Jackie Phamotse
Cults, powerful politicians, sex trafficing, sex scandals, mental illness and the frequent disappearance of young people – Jackie Phamotse's Bare series has fictionally, but realistically portrayed so many of the hidden and brazen social ills plaguing SA. And it all began with the story of Treasure, a young woman who is wooed and ultimately groomed by a powerful cabal in her pursuit of wealth and luxury. Salacious, gritty and thrilling, this new instalment doubles down on the real-world problems that inspired Treasure's story.
From the publisher:
"Look closely around you. Have you ever asked yourself what happens to all the girls who are in the system?
Girls that are orphans…
The boys…
The mothers in shelters…
All the battered women…
The downfall of the most powerful…
How the agenda began…
I'm leaving the agenda BARE for those who seek to find it.
I have a story for you.
No mercy…
Back like I never left!
The savage, senseless murders of children and the youth. It carries Treasure's story from Book 1 and ends with the fight for life between Paul and Tim Morgan. We look at the disappearance of young people, human trafficking, cults and mental illness in men. This story is inspired by real-life events and researched data from global social ills and Jackie looks into SA political faces that have sex scandals as part of her research."
Beautiful by Danielle Steel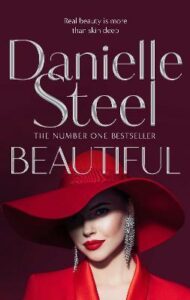 The life of a renowned supermodel disenchanted with the glamorous lifestyle and superficiality of the industry is torn apart by a tragic world event in the newest heartfelt novel from Danielle Steel. Beautiful is a novel about glamour, professional illusions and the light that fights against the darkness… most importantly, it is a novel about  the things that really matter in life and about what beauty really is.
At twenty-two, Veronique Vincent is one of the world's most sought after runway models. She's an absolute professional, but she has little interest in all the extravagant parties and shallow excesses of the business. She prefers simply to spend her time with those she loves. In the brief space between Paris fashion week and a high-profile shoot in Tokyo, she is looking forward to grabbing a quiet break. Instead, a deadly explosion at Zaventern Airport in Brussels changes everything.
Following the tragic terrorist attack, Veronique wakes up in the hospital to find that she has lost the two most important people in her life and that her celebrated appearance has been changed forever. She's lost everything. But, prompted by a secret letter from her deceased mother, she is about to discover that this may not quite be the case and that she is about to make the kinds of discoveries she has never imagined.
Monster by Rudie Van Rensburg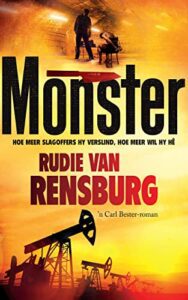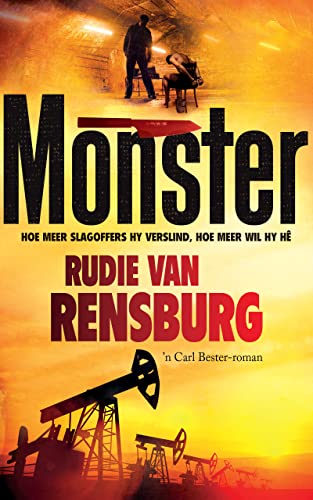 The newest Carl Bester novel shows Van Rensburg in fine thread-weaving form and revolves around a shocking, global case of ill-fated journalists, nefarious cover ups and a callous, brutal agency whose influence spreads farther and wider than even the most seasoned detective could anticipate:
"Die laaste voerings van oudpolisiespeurder Carl Bester se lewe torring los, en hy sluit aan by die Kaapse tak van Mercurius, 'n CIA-steunpilaar. Intussen word 'n Saoediese joernalis in 'n konsulaat in Istanbul vermoor, met 'n SA joernalis as onwillige ooggetuie. Gevolge van dié joernalis se besluite kring uit na Kaapstad, waar Carl opdrag kry om die saak te hanteer. Saoediese agente en 'n siellose mesmoordenaar is maar twee van die monster se vele tentakels wat Carl een-een moet afkap."
Happy Reading!