There are many things that need making sense of. That's not a new truism, of course, but it is an endless source of inspiring, thought-provoking and fascinating writing. So that's good – even if it can feel a bit much now and then. The five non-fiction picks below tell insightful tales of life and success, offer new approaches to leadership and mindset and even reveal some of the less obvious forces behind the state of things.
Take a look:
Magda: My Journey by Magda Wierzycka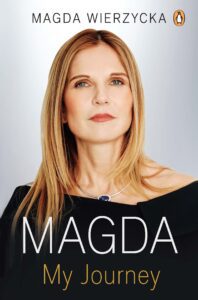 Magda Wierzycka was just a teenager when she fled communist Poland, hoping to make a better life for herself in SA. Today, she is not only one of the richest and most successful women in the country but also a famed anti-corruption activist. When she founded her company Sygnia Limited, which has since become a multi-billion rand financial services empire, the industry was utterly dominated by men and staid masculine attitudes. She was, of course, considered disruptive – before disruptive meant what it does today. Her aim was to operate with complete transparency and to offer her services for low fees – two ideas that were very much not championed by the ruling majority of the finance industry. But she stuck fast to her ideals and pursued them further, becoming an avowed opponent of corporate and government corruption.
With this book, Magda shares the story of her life. From her hard formative years in Poland to her hard won relocation to South Africa and even harder won success in an exclusionary industry, she recounts her struggles, learning-curves and triumphs, sharing some illuminating life lessons along the way. It's a fascinating story driven by applicable principles: a book that is as much about thriving in business and life as it is about surviving hardship and speaking out.
Bittersweet: How Sorrow and Longing Make Us Whole by Susan Cain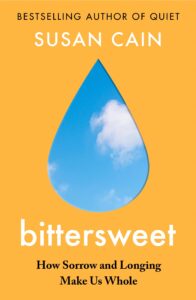 Susan Cain became a publishing phenomenon when, with Quiet, she urged society to better value and utilise the gifts of the introverts among us. It was a book that validated many an overlooked feeling and empowered a whole lot of disregarded people.
With Bittersweet, she returns to champion another undervalued but inarguable truth: light and dark, joy and sorrow, birth and death are forever paired within our experiences.
Many aspects of contemporary life conspire to insist upon boundless, often superficial, positivity. But what about those of us who experience highs and lows with equal intensity? Those of us who are sensitive to the contrasts in life and nature? Cain calls this the "bittersweet" state of mind and in this book she eloquently demonstrates how it can lift us beyond the personal and collective struggles and pains that cloud our lives. Which is especially valuable at the moment, of course.
Bittersweet is a mix of memoir, careful research and infectious storytelling that provides a clear path toward connection and insight: a book that's especially valuable to those whose emotional capacities often go unnourished.
Trust and Inspire by Stephen M. R. Covey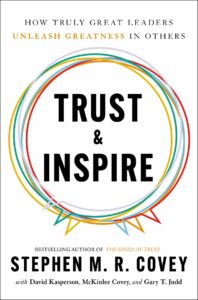 A great many societal changes have come about in recent years and decades. One of the things that has stayed largely the same, however, is the style of leadership that prevails across so many global institutions and agencies. With Trust and Inspire, renowned leadership expert Stephen M. R. Covey convincingly advocates for a shift away from the "command and control" model that still almost uniformly dominates environments as small as independent retailers and as massive as entire governments.
Reliance on ingrained hierarchies and employee compliance is, and has long been, the norm for a huge majority of companies. Here, Covey argues that this approach is outmoded and restrictive, and that a "trust and inspire" form of leadership is far more effective when it comes to nurturing growth and properly utilising potential. Anybody who's ever been part of an inspired team, anybody who's ever flourished in a trusted role already knows some of this outlooks' merits. So isn't it time that we made this change?
Nuclear: Inside South Africa's Secret Deal by Karyn Maugham and Kirsten Pierson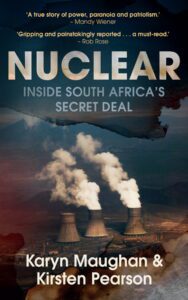 The South African energy crisis has been going on for some time. And, as a result of global events, it shows no sign of coming to an end. But this certainly does seem an appropriate moment to submit our dealings with Russia to closer scrutiny.
The Zuma administration's nuclear deal is a well known, if secretive, chapter in the former president's career. Less known, however, are the extraordinary and often dangerous actions taken by that government in order to secure it.
Investigative journalist Karyn Maugham and former National Treasury insider Kirsten Pierson here reveal the full, alarming story of the deal, piecing it together with the help of confidential records and first person accounts. Nuclear is a riveting account of power and politics in precarious times.
Beyond Order: 12 More Rules for Life by Jordan B. Peterson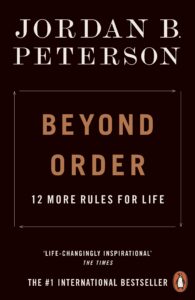 Peterson's 12 Rules for Life has now sold more than five million copies worldwide… and this bestselling continuation is now available in paperback.
Whatever your feelings about him – for he has proved a divisive and often impassioning figure –  much of what Peterson espouses concerns self-empowerment and sensible solutions to modern problems. There are not many of us who haven't felt the chaos of which he warns sneaking into aspects of life that just don't feel normal anymore. Whatever our feelings about any of this, here is a philosophy that urges growing up, taking responsibility and living honourably, an outlook that champions order and well-being… and there is much to be gained from it.
Peterson's previous book struck an interesting balance between authoritarian and affectionate flavours of advice. His first 12 rules offered wisdom on everything from raising kids, personal growth and telling the truth, to skateboarders and cats in the street. Just like this new book, the point was to balance order and chaos.
The primary principle behind Beyond Order is this: even in times of great strife, we are all able to live a resilient, meaningful and truth-filled life… thanks, largely, to the wealth of insight and wisdom, continually built on throughout history, from which we are all able to draw.
Beyond Order does strike a slightly more expansive tone than its predecessor. This one relates many of Peterson's own experiences – with his health and challenges, as well as with his clinical patients – while also illustrating perfectly sensible and humane suggestions (don't put important things off, be on the lookout for opportunity, stay away from idiots in charge) with snippets and anecdotes gleaned from ancient mythology and long-established philosophy.
Happy Reading!