4 More New Nonfiction Releases In May
To round off our selection of nonfiction releases for this month, we're bringing you the following four local titles.
We have one on planning for retirement and longer life, one on succeeding in the corporate world, one on a complex and influential life and one on baking – because things are usually better when there's cake waiting for you at the end, right?
Take a look:
To 100 & Beyond by Wynand Gouws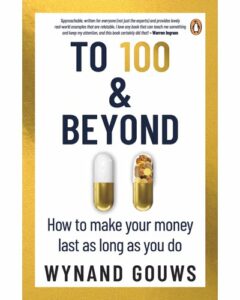 The question of what we will do when we get older is becoming more and more relevant. And that's not because the future feels ever more uncertain; it's because, on the whole, people are living longer and longer.
To live into your nineties and even into the early one hundreds is not the rarity it once was and retirement age isn't as set in stone as it used to be. As a result, more thought needs to be put into providing for ourselves as we get older. With this book, investment specialist Wynand Gouws provides all the workable advice you'll need to properly plan for a longer, financially secure life. To 100 & Beyond explores and explains how to generate additional income streams, how to make wise and flexible investments, how to get all your tax affairs in order and how to properly plan your estate.
Wherever you are in life: whether you're already approaching retirement or you still have a lot of working years ahead of you, the practical, tried-and-tested advice offered in this book will quickly set you on a path to a life of financial freedom. And what could be a greater relief than to not have to worry about the future?
Take Charge by Nyimpini Mabunda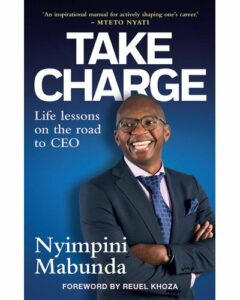 Nyimpini Mabunda – currently CEO of General Electric for Southern Africa – has racked up quite the wealth of expertise and leadership achievements across his varied career.
He has led major telecoms businesses (Vodacom), food franchises (Nando's) and consumer outlets (Procter & Gamble) both here and in the UK. And he is confident that achieving these things is simply a matter of having the necessary self-belief, the right toolkit and the will to strive for the continued development of skills and experiences.
So with this book – by exploring his life's journey from an Apartheid-era Homeland to some of the world's most recognizable industry titans – he looks to inspire that mindset in anyone looking to thrive in their career. Filled with personal examples and solid professional advice, Take Charge focuses in particular on the situations that crop up in most working lives, including:
● How to spot new opportunities.
● How to learn from setbacks.
● How to mentor talented people and grow an organization.
● Make the most of every situation.
● Handle stress and maintain wellbeing.
The Sting in the Tail by Bulelani Ngcuka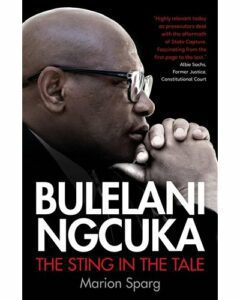 How is one to define the recent political history of SA? It's been a couple of decades of, among other things, legal battles, anti-corruption efforts, dubious maneuverings and complex campaigns. Ngcuka – former Director of Public Prosecutions – has faced some of the toughest situations to have recently emerged from this country's ongoing tribulations.
And perhaps toughest of all was his infamous decision not to prosecute Jacob Zuma, then Deputy President, back in 2003 – a decision he still stands by. Ngcuka's is a career defined by opposition to the wrongs of government. He has been central to establishing many of the mechanisms devoted to curbing the country's problems with crime and corruption – such as the National Prosecuting Authority and the elite Scorpions unit – and much of this was achieved while being forced to face the fact that many of his former comrades had themselves become entangled in criminal enterprises.
Built from extensive interviews with the man himself, and tracing the feats of activism, periods of exile and humble beginnings that have come to define his life and career, The Sting in the Tale provides Ngcuka's fascinating side of an incredibly complex and ongoing story. It's a compelling recent history of "political maneuverings, bombings and hijackings, urban-terror and 'whispering' campaigns, lies, murder, alleged spies, and intrigue", a revealing glimpse into the State Capture struggles and aftermath, and it's also a fine work of journalism that reflects on a life made of many facets
Baking for Profit & Pleasure by Christine Capendale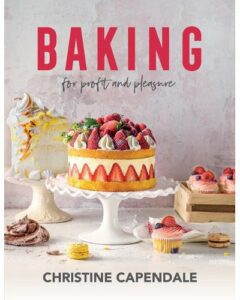 And now we'll finish with something a little more on the soothing side. Baking! Your average baking book leaves quite a lot out. This must
have happened to you: you see a recipe you really fancy and get all excited about making it… until you get to the shops and see how much the ingredients are going to cost you. That's the sort of grief that
Baking For Profit and Pleasure removes from the process. By documenting every part of the baking process – from equipment and ingredients all the way to baking and packaging – it provides a guide for beginners and experts that's complete, enjoyable and easy to follow. Featuring over 80 recipes and exploring plenty of healthy, vegan and low-sugar options,
Baking For Profit and Pleasure is a real kitchen necessity. From sensational cakes and savoury platters, to traybakes and traditional fare – there's something here for every oven keeper.
Happy Reading!