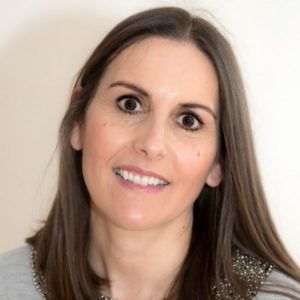 Local author Eva Mazza came to the writing game relatively late… but when she did arrive, it was with quite the bang. After studying drama at Wits and going on to raise four children, Mazza was in her late forties before she really got down to it. When she did break onto the scene, she did so with Sex Lies and Stellenbosch – a novel that lifts the lid on the salacious secrets of one of SA's most renowned and up-standing communities. Since then, Mazza has gone on to explore sex, scandal and liberation in two more novels, the newest of which, Christine, is out now.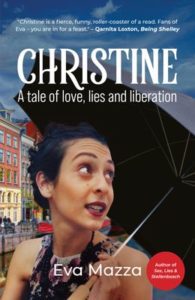 Christine, like Mazza's previous novels, is an entertaining page-turner spiced with sex and sprinkled with life experience. The tale follows our titular heroine who realises she needs to make a substantial change. At twenty-four, Christine comes to understand that she must escape her abusive husband, Louis. If she doesn't do it now, she might just be stuck suffering him for the rest of her life.
Bagging herself a job as a hair stylist at an exclusive Amsterdam salon, Christine plunges herself into a new life and sets about rediscovering herself amongst Amsterdam's glamorous distractions and heady freedoms. Her emancipation gains full momentum when she meets Giovanni – an irresistible bad boy who brings with him the kind of sex and freedom Christine never even knew she needed.
Sexy, funny and big on exploration, Christine is the ideal read for fans of Emily in Paris and the novels of Qarnita Loxton.
Previous Books
Sex, Lies & Stellenbosch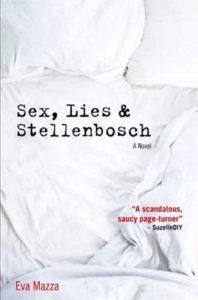 The famed small town of Stellenbosch is home to 2,400 dollar millionaires. With that much money in such a small place, you just know that all sorts of salacious shenanigans are going on behind ornate doors.
Here, the dark, juicy truths of this elite community are revealed by Jen, a stay at home mum on the verge of her fifties. Jen's husband, John, who is a successful vintner and businessman, affords her a pretty charmed life. A life replete with similarly privileged friends, plenty of money and luxurious comforts. All she has to do in return is behave with the proper "wifely gratitude".
When Jen discovers John in a compromising position with a hot young wine rep, she has a choice to make. She either ignores the infidelity or faces the prospect of having her entire life dismantled.
"The book follows Jen's passage to self-discovery and self-fulfillment, while other characters' perspectives move the story forward as each is privy to (and eventually reveals) at least one 'truth' or 'lie' which Jen must face. Jen's exposition of her husband's infidelity inadvertently mirrors the underbelly of the patriarchal and often duplicitous community of the seemingly perfect Stellenbosch. Led by prominent wine farmers, international businessmen and renowned academics, business and private interests, even if ethically compromised, are staunchly guarded. The unfolding chapters irreverently explore both the emotional growth of the protagonist, Jen, as well as the moral ambiguities of the other players in the book."
Based very much upon the real libidinous goings on in Stellenbosch, but written as fiction in order to protect actual identities, Sex, Lies and Stellenbosch reveals all in thrilling detail.
Sex, Lies Declassified
This direct sequel follows the next chapter in the lives of Jen and those in her orbit. Her husband John has embarked on a path of self-destruction while Frankie, once Jen's best friend, piles one more betrayal on the heap that has already suffocated their friendship.
As it further tracks the saucy lives of the winelands aristocracy, Sex, Lies Declassified more than satiates any appetite for scurrilous thrills. However, it also focuses on the family relationship that is threatened by Stellenbosch's more lurid activities, taking a look at Jen and John and their ever more tempestuous relationship with their kids.
For this one, the quickest way to get a good taste is through this interview with the Sunday Times.
Happy Reading