Some supernatural fantasy, some spell slinging, some evils met head on, some tales of how hopelessness can be turned around and a whole bunch of diverse love stories… here are five new books by some of the most major authors of the genre. Take a look.
We Are Inevitable by Gayle Forman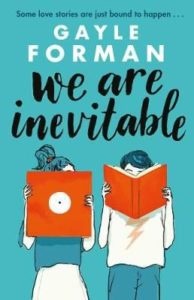 In the realm of young adult literature, nobody writes about love quite as convincingly as Gayle Forman. If I Stay, probably her best known novel, became a sensation and is still part of the discourse around teen reading.
We Are Inevitable combines Forman's sensitive and wise takes on love and loss with the single most coveted element of all touching stories: an indie bookshop!
We're taught that there is something inevitable about the path to adulthood. Aaron Stein used to think so. Now he's not sure at all. His friends have gone off to college and his mother and brother have left him too. He's stuck with his dad, Ira, running a dying bookstore. He used to think that books were enough. Now he knows they aren't. Somehow he's stuck reading and rereading a book about the demise of the dinosaurs – which seems appropriate. He understands their hopelessness.
When an opportunity to sell the bookshop arises, Aaron jumps at it. It's going down the tubes anyway. Best just to sell up and get out. But Aaron has not accounted for the optimistic members of the community who want to keep the shop alive… and he hasn't accounted for Hannah either – a zesty musician who might just be the one to convince him that the inevitable can be a good thing.
Blackout by Dhonielle Clayton and Others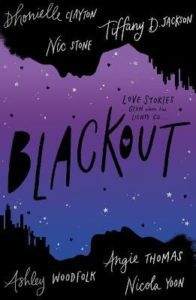 Blackout is a book of several stories, about several things. Bringing together some of YA's biggest voices, this charming, occasionally queer and always relatable anthology contains six interconnected tales of love among black teens in a New York without lights.
New York City has been smothered in darkness and heat. In the absence of power, thirteen teenagers are left to make their own electricity… romantically speaking. Best friends stuck together in a library; two guys trapped on the subway and forced to confront their feelings; exes who pause their rivalry in order to walk from Manhattan to Brooklyn together… these teens are all about to discover that some things are best illuminated by the darkness.
Heartbreaking, hilarious, thoughtful and electric, Blackout harnesses some of the industry's brightest voices for one night in the dark.
Authors include:  Dhonielle Clayton, Tiffany D. Jackson, Nic Stone, Angie Thomas, Ashley Woodfolk and Nicola Yoon.
Chosen Ones by Veronica Roth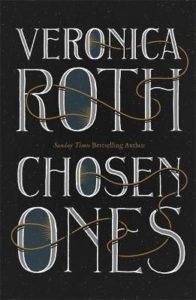 Striking a more adult note than previously, one of YA's most influential authors delivers a dark new fantasy that examines the cost of heroism and celebrity, and the pains of growing up, as it weaves a tale of malicious overlords and an immortal prophecy.
Back in her teens, Sloane and her friends united in order to battle a foe called The Dark One. They vanquished the threat, saved the world and became heroes. Now all the five Chosen Ones want is to move on with their lives. The world has moved on… but they can't seem to escape the past.
Sloane struggles most of all. They say it's all down to her PTSD and personality issues. But really it's her secrets that bind her to the past and keep anyone from truly knowing her. Now, as the world prepares for the tenth anniversary of The Dark One's defeat, the five suffer a terrible tragedy – the death of one of their own.
The funeral changes everything. There, amid their grief, the remaining Chosen Ones discover that The Dark One had a bigger plan all along, that the evil is still among them and that it is bigger than any government or prophecy, bigger than the world itself… and certainly more than the remaining four.
Full of weightier issues like trauma, responsibility and media, and more circumspect than most in its approach to the idea of heroism, Chosen Ones is a bold supernatural thriller and a welcome antidote to all the single-perspective good versus evil stories that have so watered down the genre.
Instructions for Dancing by Nicola Yoon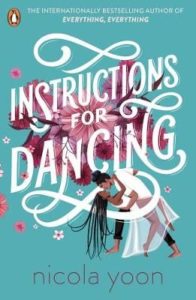 What if you had a gift that caused you to fall out of love with love?
Nicola Yoon, author of The Sun is Also a Star and Everything Everything, is pretty familiar with portraying love. But here's something new and original.
Thanks to the breakup of her family, Evie has pretty much given up on love. But on one otherwise ordinary afternoon, her faith in love dies completely. She witnesses a kiss between strangers. And somehow, all at once, she sees the entire path of that couple's love play out in tragic detail right up to their bitter breakup. In that moment, Evie realises for certain that love does not, can not, last.
She doesn't know where this strange ability has come from, but her relationship with it begins to change when she meets a mysterious and fascinating dancer at her dance studio. As they learn the steps together, Evie finds her mind and her heart changing. But can this enthralling dancer convince her that love is ever worth the risk?
Lyrical and heartfelt, Instructions for Dancing is an irresistible musing on the problems, perspectives and unpredictabilities of love.
The Lost Book of the White by Cassandra Clare and Wesley Chu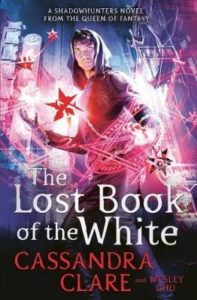 The second book in the Eldest Curses series returns us to the Shadowhunters world in order to further explore Magnus Bane's life and his ongoing romance with Alec Lightwood.
Publisher's blurb:
"Magnus Bane and Alec Lightwood are settling into domestic life with their son Max when the warlocks Ragnor Fell and Shinyun Jung break into their loft and steal a powerful spell book. Realizing that Ragnor and Shinyun are being controlled by a more sinister force, Magnus and Alec set out to stop them and recover the book before they can cause any more harm. With the help of Clary Fairchild, Jace Herondale, Isabelle Lightwood, and Simon Lovelace (who is fresh from the Shadowhunter Academy), they track the warlocks to Shanghai.
But nothing is as it seems. Ragnor and Shinyun are working at the behest of a Greater Demon. Their goal is to open a Portal from the demon realms to Earth, flooding the city of Shanghai with dangerous demons. When a violent encounter causes Magnus's magic to grow increasingly unstable, Alec and Magnus rally their friends to strike at the heart of the demon's power. But what they find there is far stranger and more nefarious than they ever could have expected…"
Happy Reading!