John Grisham, David Baldacci, Lynda La Plante, Jeffrey Deaver and Kathy Reichs… these paragons of the dark and twisty bestseller all have new books out. Find out more about each of them below.
Sooley by John Grisham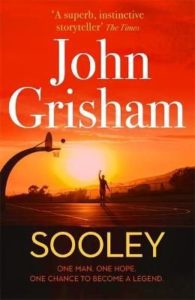 With Sooley, Grisham takes his nigh-infallible storytelling instincts in a new direction, weaving one of his most emotionally engaging tales yet and introducing us to an irresistible new protagonist.
In Sooley, a conflicted teen must choose between his greatest passion and the world that he fought so hard to leave behind.
Seventeen year old Samuel Sooleyman has set his sights on the US, where he dreams of following his great love of basketball to fame and fortune. He's an exceptional player with raw talent – and he's already been spotted by an influential coach. Pursuing his passion will mean leaving behind his home in South Sudan – a country torn apart by war.
As Sooley takes his first steps toward stardom, pitting his unhoned talent against hundreds of others, he receives some devastating news. His village has been decimated by rebel troops. His father is dead, his sister is missing and his mother and two brothers are in a refugee camp. His only chance to rescue his family from a country that will eventually kill them is to become a sporting legend in record time.
Sooley is Grisham at the top of his game, pitch-perfect and court-compelling.
A Gambling Man (Aloysius Archer #2)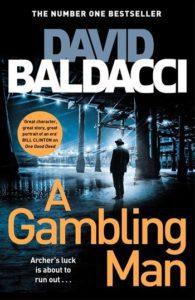 The Aloysius Archer novels take place in 1940's America and are palpably inspired by the hard-nosed noir-inflected detective classics of Raymond Chandler and Dashiel Hammet.
With the Archer novels, Baldacci does a beautiful job of evoking small-town post WWII America in all its boundless ambition, political intrigue, shifting norms and shattered lives… all of which create the perfect hotbed for murders, mysteries and scandals.
It's 1949 and, after a near fatal misadventure, war veteran Aloysius Archer is after a new start in California. The far-west is a place of limitless opportunity, a land of riches and reinvention. A place to flourish… either through good honest work or criminal ingenuity.
Archer is making his way to Bay Town, where he'll be taking a job with a famous Private Investigator and getting things back on track. Feeling an oncoming change of fortune, Archer stops off in Reno to hit a casino – and wins a flashy new convertible in which to finish his journey west. And that's not all his new lucky streak brings him. He also meets aspiring actress Liberty Callahan, who joins him for the ride, on her way to Hollywood.
But the reality of things soon kicks in when Archer arrives in California's fraudulent Mecca and is greeted by rampant corruption, desperate profiteering and the unfortunate truth that he is not the only one looking to escape a shady past.
Archer's first case with PI Willie Dash flings him headfirst into a messy and destructive political scandal. It begins as a case of blackmail, but soon spirals into more sinister territory. As the body count starts to pile up, Archer is compelled to dig deep into Bay Town's sordid underbelly, infiltrating a dark world of sexual exploitation, drugs, illegal gambling and rotten foundations. This is not the fresh paradise of which he had dreamed: this case seems intent on dragging him closer to hell than ever before.
Judas Horse by Lynda La Plante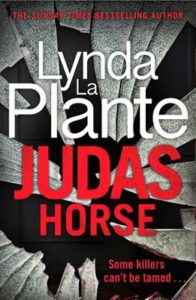 'Do you know what a Judas Horse is? When the wild mustangs are running free, you corral one and train it. When he's ready, you release him and he'll bring his team back into the corral – like Judas betraying them…'
 The Cotswolds are one of England's most picturesque locales. Steeped in history and sleepily beautiful, it's the ideal place to unwind. Only, lately, violent burglaries have put an end to all peace in the area. The residents are traumatise. And when a mutilated body turns up, everybody is forced to reconsider their "opportunistic thieves" theory.
Almost as soon as Detective Jack Warr begins to investigate, he is inundated with the community's bizarre secrets, hidden crimes and red herrings. As the violence escalates, Warr is dragged deeper into the morass… until he meets Charlotte Miles. Miles is connected somehow to the group of perpetrators, and Warr becomes convinced that using her as the bait in his trap might be the only way to stop the terror.
La Plante is one of the genre's foremost veterans and, with Judas Horse, she once again showcases her singular knack for clever plotting and riveting characters.
The Final Twist by Jeffrey Deaver (Colton Shaw #3)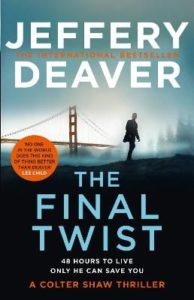 Deaver's breakneck pacing and relentless tension are once again on full display as inimitable investigator Colton Shaw must work as hard to stay alive as he must to find out why his father died.
Shaw's conflicting desires for truth, justice and perhaps even revenge collide as he takes his quest to the streets of San Francisco where he follows the clues left behind by his unknowable father. Whatever his late father was up to, it involved some incredibly dangerous people. The hunt leads Shaw into the clutches of espionage collective BlackBridge – a powerful group that no single man could stand up to… with perhaps one exception.
Shaw believes that BlackBridge is responsible for the death of his father and the disappearance of his brother. But there's no limit to the group's deadly influence and before long it becomes clear that the series of events that took his family from him is about to envelop him too.
Action packed, deftly cinematic and gleefully unpredictable, The Final Twist really lives up to its name.
The Bone Code by Kathy Reichs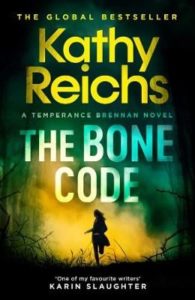 At this point, just about everyone knows of Temperance Brennan and her unique forensic expertise. This is the twentieth novel to feature the world's favourite forensic anthropologist. Fortunately, there is no real limit to what Brennan's science can unearth.
A deadly disease outbreak, a storm that exposes the past and a grizzly double murder descend upon South Carolina and Brennan is the only one who can decipher the connection between these three tragedies.
When a medical waste container washes up on the South Carolina shore, the first call that the Charleston coroner makes is to Brennan. Inside the container are two corpses bound with wire and wrapped in plastic sheeting. Her examination reveals that the details are almost identical to an unsolved case she handled in Quebec fifteen years earlier.
While this new discovery leads Brennan to Montreal, the citizens of Charleston are gripped by panic. A new flesh-eating bacterium has struck out of nowhere – though many suspect that it has something to do with the bodies from the beach – and authorities scramble desperately to quell the hysteria. Could Brennan's investigation in Canada somehow save the population of South Carolina?
Happy Reading!