Just a couple of nice, juicy murders, a poignant Christmas wish, an incredible tale of survival and sisterly love, an old fella doing his best and … what's that? Some more murders.
Take a look at these six recently released novels:
Over My Dead Body (William Warwick) by Jeffrey Archer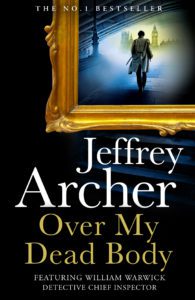 In Archer's newest offering, detective William Warwick, who is now Detective Chief Inspector, employs his inimitable brand of deductive reasoning, along with a splash of bold recklessness, to solve a confounding tangle of high-stakes cases.
Miles Faulkner, millionaire art collector, convicted forger and thief, and Warwick's persistent nemesis, is dead. His widow is already planning to remarry. And yet, Faulkner's shady lawyer still seems to be representing him.
Meanwhile, the Metropolitan Police of London have set up a new cold case unit to focus on four unidentified killers – all of whom may be prepared to kill again.
Elsewhere, on  a luxury cruise liner somewhere in the Atlantic Ocean, the wealthy elite have gathered in order to decide the fate of a powerful dynasty, and the negotiations seem poised to descend into deadly violence.
Warwick is going to need some outside help in order to tie these three cases together.
Over My Dead Body is another masterful page-turner from one of the most entertaining storytellers out there.
Three Sisters by Heather Morris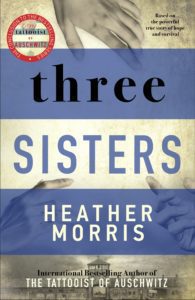 With The Tattooist of Auschwitz, Heather Morris told the tale of Lale Sokolov and his staggering experiences in the concentration camps of WWII. With Cilka's Journey, she expanded the already heartbreaking tale to include the story of a woman who, incredibly, found love and purpose in Auschwitz-Birkenau. The Auschwitz Trilogy now concludes with Three Sisters.
Sisters Cibi, Magda and Livia made a promise to their father when they were young:
"I want you to make a promise to me that you will always take care of your sisters. That you will always be there for one another. That you will not allow anyone to take you away from each other, ever. Do you understand?"
And this is a promise that they strove to keep. Livia was just fifteen when she was taken by the Nazis. Honouring her promise, Cibi, then nineteen, follows her younger sister to Auschwitz, determined to protect her from the horrors they unknowingly approached. If they must die together, so be it. Magda, however, seventeen, remains with her mother and manages, for a while, to evade capture by hiding in attics and forests. But she could not escape the Nazis forever. When the three sisters are finally reunited in the most notorious concentration camp of their century, their promise takes on a new urgency. They must survive, whatever it takes.
Astonishing, heartbreaking and upliftingly hopeful, Three Sisters is a testament to fierce sisterhood and unbreakable spirits.
The Heron's Cry by Ann Cleeves
Easily one of Britain's best crime fiction authors, Ann Cleeves' novels regularly show a knack for conjuring places and steeping their readers in palpable atmosphere. This, her newest, sees murder visit a rural community of artists during an otherwise rare and beautiful summer.
Devon has always attracted its share of tourists, but this season sees more of them streaming in than usual. Among those flocking to the county is detective Matthew Venn. But he's not here to soak up the sun. The murder he is called in to investigate is an unusual one: painstakingly staged, theatrical almost, and baffling on many fronts. Dr. Nigel Yeo, a good man, a man unlikely to ever inspire violent wrath has been fatally stabbed with the shard of a broken vase – a vase crafted by his own daughter, a skilled glassblower. And before Venn can get to the bottom of this, another victim is found and soon the community is stewing in a morass of fear, suspicion and secrecy.
Clever, deftly constructed and riveting throughout, The Heron's Cry is a top notch read featuring a memorable protagonist – and equally memorable antagonists.
The Wish by Nicholas Sparks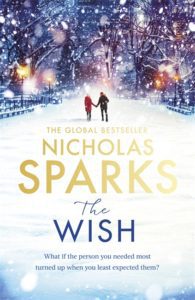 Sparks' ability to tug at the heartstrings is hardly a secret. And with The Wish, he layers memories and romance, loss and striving to ensure that no reader's eye will be left without tears. And it's set at Christmas too, just for an extra dose of the feels.
Maggie was sixteen when she first fell in love… but she doesn't much tell this story anymore. She was far from home, and preparing to give her baby up for adoption, when she met Bryce. He didn't judge her. He taught her how to take photographs. How to kiss, how to forget herself.
Now a famous photographer, she fills her gallery with celebrated pictures. One day, with Christmas nearby, Maggie's new assistant asks her an innocent question: If you had one wish, what would you wish for this Christmas. She thinks the answer is an obvious one. She would revisit those precious days and nights with Bryce… but this is not the answer that comes first to mind. What she actually wants, more than anything, not that she had even truly realised it, is to find her baby.
Heart-breaking, irresistibly romantic and sure to leave a lump in the throat, The Wish is a testament to all that is truly precious.
Hans Bars die Bioborrel by Rudie Van Rensburg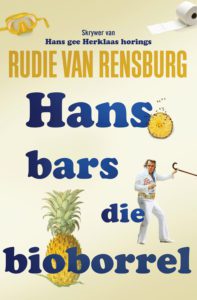 Hans is up to his ingenious old tricks yet again. But this time, he has a pandemic to contend with, a Machevellian council to combat – a council of which he should have been elected head, by the way… but wasn't – and a grouchy, disorganised care-home population to rouse into action.
From the Publisher:
"Huis Madeliefie word deur die staat se vlak 5-inperking in die gesig gestaar. Hans besef teen dié virus groei geen kruid nie, maar die drakoniese reëls van die tehuis se interne bevelsraad kry nie vatplek by Hans en kie nie. Voorts is Hans oor die hoof gesien as leier van dié raad. Altoon Ahlers, befaamde akteur van weleer, neem die leisels. Hans se plan om die inwoners met die verbode vrug se sap aan sy kant te kry, boemerang sleg. Hy sal Ahlers op 'n ander manier moet onttroon . . ."
Minder as Niks by Irma Venter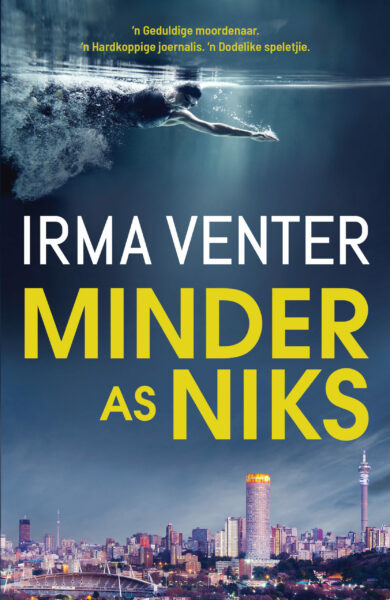 Irma Venter continues to deliver the high stakes drama and psychological tension. She's long been one of SA's favourite novelists, and her newest keeps the goodness coming via an innocent man desperate to clear his name and a journalist determined to uncover the truth of a decades old triple murder.
From the Publisher:
Dertig jaar gelede is Johan Botha lewenslank tronk toe gestuur vir die moord op drie tienermeisies. Terminaal siek en pas vrygelaat, vra hy misdaadjoernalis Ami Prinsloo om hom te help om sy onskuld te bewys.
Hoe kan sy nee sê? Dis 'n uitstekende storie. En as 'n voormalige swemkampioen met geraamtes in haar eie kas, weet sy hoe dit voel om als te verloor. Om te sukkel om mense in die oë te kyk. Hoe dit voel as iemand na aan jou vermoor word en te weet dat die skuldige nog op vrye voet is…
Happy Reading!