There is nothing quite as exciting as discovering an impressive new voice in fiction. It's like being the only friend in your group who knows that a new hit song is actually a cover version. It's like being the only one in your family who has read the book upon which a new film is based. It's like loving something before it was trending, just because you loved it.
While bestseller charts across the world are typically dominated by established heavy-hitters, it is an incredible treat to find a debut author and seize upon the chance to read prose that has never been publicly read before. The pleasures are aptly manifold: there's the thrill of a new style, characters you've never met before, new themes and perspectives, and the chance to witness the advent of a rising literary star's career.
And that's why, from this month on, we will be featuring and promoting an excellent debut novel by an emerging new author, giving you the confidence and the opportunity to add something really special to your to-read shelf.
How This All Works
Every month each of our most significant publishers will submit an upcoming debut novel for our consideration. A panel of judges, made up of our most passionate booksellers, then receives an advanced copy of each of these debuts before reading them and voting on which author to showcase. It's a process driven by our avid love of books and our ceaseless desire to share the best out there with our customers. When you pick up our debut of the month, you can rest assured that it deserves your attention… not because advertising execs have decided it, but because the very booksellers you meet on your visits to our stores think that the book is so good it needs sharing.
This is your chance to share with us in the awesome new stuff that is happening in fiction.
Why Debut's Matter
Think of an author. Now think of that author's output. If you've chosen one of today's best known writers, chances are that their bibliography reaches double digits. Well, that list began with a single book. A single book that convinced readers and industry players around the world that their voice was worth hearing, that proved people would read what they write. In many ways, a debut is a kind of mission statement – it's a chance to experience what a writer really cares about, the thing that drove them to write in the first place. It is a book in its purest form: a work of thought and feeling that existed before demographics and sales strategies had a part to play. A book that was written while nobody was watching.
A debut novel has the potential to shape popular culture and to subtly orientate the landscape of all fiction.
Check out this list of The Ten Best Debut Novels of the Decade and take note of how each of them has had a hand in helping to broaden the experiences with which we empathise, and therefore the way we see our world.
Our Debut of the Month this Month
The Dictionary of Lost Words by Pip Williams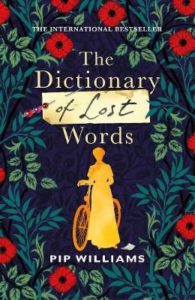 For our inaugural new author of the month, we have selected Pip Williams and her extraordinary new novel The Dictionary of Lost Words – a charming, thought-provoking work that combines a deep love of words with a unique historical perspective on feminism and gender imbalance.
It begins with a tantalising premise: in 1901 a word is discovered missing from the Oxford English Dictionary. That word is bondmaid. And this is the story of the girl who stole it.
Esme is a young girl of unbridled curiosity. With the absence of her mother, she spends her days with her lexicographer father and his colleagues, in a shed dubbed The Scriptorium. They are working on the very first OED, and Esme is stationed beneath the sorting table, among the discarded words. Nobody pays her much attention. When one day the word "bondmaid" drifts her way, Esme begins to realise something deeply important: some words are not considered as important as others, and many of these unimportant, often rejected, words have to do with women and their experiences. Mostly unnoticed, she begins to gather words for her own dictionary, a dictionary that will correct this injustice.
The Dictionary of Lost Words has caused a sensation in the publishing world. It has already garnered some pretty hefty awards, and it sold so well during its first week that its publisher was prompted to hastily print several thousand more copies. And the reason for this will become clear to anybody that reads it: somehow, this century old tale has managed to capture something crucial about today's zeitgeist… something about the subtle ways in which power is skewed and certain experiences are disregarded. It is tender, remarkably nuanced and vital. As a historical novel about the influence of language and those who seek to control it, it is timeless and also distinctly relevant.
For more on Pip Williams and the real omission that inspired this novel, have a read of this:
https://www.theguardian.com/books/2020/apr/16/all-words-are-not-equal-the-debut-novelist-whos-become-a-lockdown-sensation
Be sure to get hold of The Dictionary of Lost Words before we announce our pick for June!
Happy Reading!
Daniel Foyster
04/2021