Peppa Pig. Is there a more beloved piglet? The television show has been running for about 18 years, there's a couple of films, there's a couple of video games, there's even a handful of theme parks. It has even been observed that the show has influenced the way that American children speak. Her name and likeness are recognized all over the world and her popularity does not look to be slowing down either. The series is routinely praised for its terrific knack for teaching important lessons in a simple, fun way while memorably exploring family and friendship. As far as British exports are concerned, it ranks right up there with Harry Potter Sherlock Holmes – despite having a fairly different audience, one has to assume. Oh, and books, of course, which is why we are here. There have been an enormous amount of books. So, we thought we'd highlight some of the great Peppa Pig books that you get for great prices at Bargain Books.
Peppa's Treasury of Tales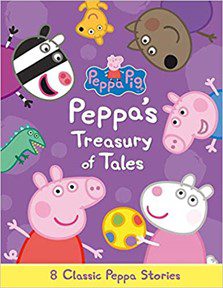 A beautiful treasury featuring eight of the best Peppa Pig stories, this book features Peppa's experiences with skiing and basketball, explores Daddy Pig's work life, a dinosaur, a baby and a particularly memorable bathtime.
The tales included are: Daddy Pig's Office, George and the Noisy Baby, Peppa Goes Bathing, Peppa Goes Skiing, Peppa Plays Basketball, George's New Dinosaur, Miss Rabbit's Day Off and Mr Bull in a China Shop.
My Busy Books: Peppa Pig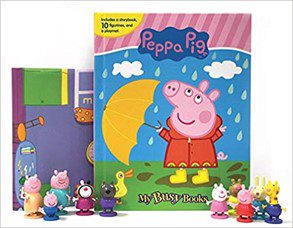 In case you aren't familiar with the My Busy Books series, they are just the ticket for encouraging kids to be creative and independent with playtime. This one includes ten figurines of your favourite characters, a brilliant waterproof play mat and a story book.
It makes for a superb gift and works equally well as an educational aid. Also, somebody has suggested that the figurines make great cake toppers… which is a marvelous idea.
Peppa Pig Bedtime Little Library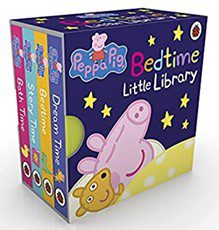 Join Peppa and George as they get themselves ready for bed.
This lovely slipcase set contains four little books that explain and illustrate the end of your kid's day, taking them from bathtime all the way to their peaceful dreams. The books are: Bath Time, Story Time, Bedtime, and Dream Time.
Goodnight Peppa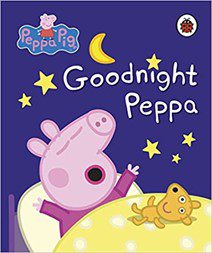 And if your little ones are still having a hard time settling down for sleep, Peppa's family can seriously relate!
In this wonderful night time tale, Peppa gets a bedtime story from Granny Pig. And then one from Grandpa Pig. And then another from Mummy Pig. And finally one from Daddy Pig too. That should do the trick right? This is something you'll want to add to your children's bedtime routine as soon as you can.
Happy Reading!