It's amazing to think that not long ago there was something controversial about a book having LGBTQ+ themes. Books with queer content – sometimes even just perceived queer content – were being banned all over the place, being blamed for some kind of vague moral decay and just generally subjected to every flavour of hatefulness. Thanks to the tireless efforts of so many pioneering authors, and every author today that fights for truth and love, we live in a far more colourful, representative age of publishing. Today, there are more queer books on the shelves of libraries and bookshops than you can shake a (suitably accessorized) stick at. We live in an age of truly blossoming proud content, and these, thankfully, are times in which it is not unusual to see every part of the spectrum, every identity, expressed, celebrated and represented in popular media. But make no mistake, there are many places in the world that remain in that place of loathsome darkness. And still too numerous are those who would take this all away from us. And this is why we need all the gay books we can get.
Pride Month is a time for celebration. But a time for introspection, too: for looking back, and looking forward, for giving extra thought to everyone who constitutes this world and for being extra aware of how we got here. And,oh, it's also a time when we have to put up with a whole bunch of disingenuous corporate marketing and false, greedy, gestures of allyship. And that, please be assured, is not what this is. This little blog is just a list of great queer titles that you might like to consider adding to your polychrome library.
So, without further exhortation, let's make a start with Alice Oseman's Heartstopper series – which some of you may have noticed (wry chuckle) has become quite the thing recently.
Heartstopper 3 by Alice Oseman Out Now!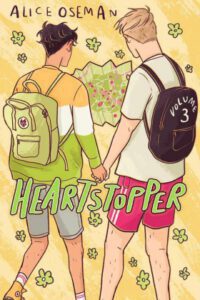 Alice Oseman – writer, illustrator, contemplator of big and important things and now queer hero par excellence – has done something exceptional with Heartstopper. The series of graphic novels, which focuses on a touching and adorable high school same sex romance, but also on friendship and mental health and all the other messes of young life, has changed, we think it fair to say, the current face of YA literature.
And it's now an acclaimed Netflix series, of course.
The premise (and I promised myself I wouldn't use the phrase "boy meets boy"… whoops) is a simple one. Charlie and Nick go to the same school, but they don't know each other, they've never even spoken, until one day they are seated next to each other. They quickly become friends. And, almost as quickly, Charlie is falling in love with Nick… even though he's pretty sure he hasn't a hope in heck.
The series is sweet, intimate, and wonderfully paced – a portrait of life and love built from the sorts of small moments to which we can all relate. It's a treat, and it's the kind of series that would have made high school so much more bearable back in the day. There is much comfort to be gained herein.
In Volume 1:
Charlie and Nick meet. Charlie falls in love with Nick and promptly decides to hide it because he knows there's no way that Nick could ever feel the same. But he could be wrong. In fact, Nick is far more interested than Charlie knows, but love is impossible and friendship is precious and in high school it takes just a single wrong step to turn everything to crud.
In Volume 2:
Nick and Charlie have become best friends. Nothing can tear them apart… well, almost nothing. Nick knows that Charlie is gay now. And Charlie is pretty sure that Nick isn't. But nobody can be expected to know everything about themselves all at once, right? And Nick is doing a lot of discovering… about friendship, about his family, about the surprising way that things can sometimes work out and, of course, about himself and what he might want.
In Volume 3:
At last! Charlie was sure that Nick could ever like him back, not in the same way. But now they are officially boyfriends. Nick has even managed to have a discussion with his mum about it – it's never easy coming out, but he made it. Well, he thought he had made it. The thing is, as much as it might seem otherwise, coming out is actually something that you have to do over and over again… and not every time goes quite so well.
Here's a Bunch of Recent Awesome LGBTQ+ Titles that Should not be Missed:
Red White & Royal Blue by Casey McQuiston (YA+)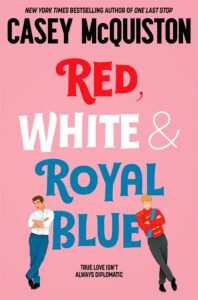 Outrageously enjoyable: sexy, romantic, and oh-so-proper… or perhaps not.
Alex Clarmont-Diaz has a lot going for him. He's smart and handsome and he's a bit of a genius… and his mum's the president of the USA. However, thanks to a leaked photograph showing him causing trouble with Prince Henry, heir to the British throne, things are about to get complicated. It begins as a forced friendship… and then it's quickly hurtling toward the kind of romance that could upset the state of the Western world. You know, just your average love affair.
One Last Stop by Casey McQuiston (YA+)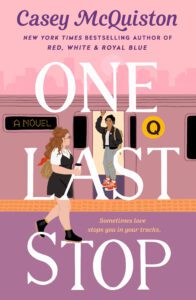 McQuiston's follow-up is smart and thoughtful and filled with all sorts of notions of time and place, what they mean and don't mean, and romance, naturally.
Do you know why there is such a thing as a 24-hour pancake diner? Neither does August. She also doesn't know why people believe in things like love stories and magic. She's been alive for 23 years… and that's more than long enough to prove that it's all nonsense. And her recent move to New York, with all its weird roommates and subway commutes and electrical failures, has only made that clearer to her. But then Jane comes along. Jane is mysterious. Unknowable. Almost like she comes from another age. She certainly dresses like she does. Dreamgirl Jane, Jane on the subway, quickly becomes the best part of August's day… until it becomes clear: Jane doesn't just seem like she comes from a bygone decade… she's literally lost in time. That's when things get really complicated.
Untamed by Glennon Doyle (Nonfiction)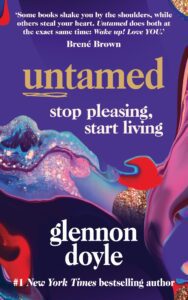 Stop pleasing, start living – essential advice for LGBTQ+ people everywhere. Tender and forceful.
Glennon Doyle fell in love at a conference, with a single look. The woman she had locked eyes with, she was sure at once, was the one. But decades of addiction, social conditioning and unreasonable expectations made claiming her true self difficult. This is the spirited, galvanising story of how she learned to make peace with herself, accept her body, claim her anger and heartbreak, set the right boundaries, liberate the right instincts and show her daughters how to live for themselves.
Brave, righteous and empowering: it's an essential memoir of awakening.
Young Mungo by Douglas Stuart (Fiction)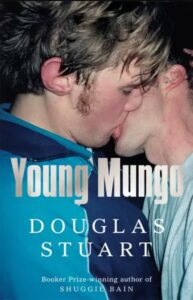 Deeply moving, hard-hitting and unexpectedly gorgeous.
With his award-winning debut, Shuggie Bain, Douglas Stuart explored the cruel hardship of being different in a world ruled by hyper-masculinity and painful ignorance. With Young Mungo, which is set in a similar socioscape – urban Glasgow, that is – he pits violent hatred against a gorgeous teenage love story.
Mungo and James grow up in a community torn apart by poverty, territorial feuding, religious animosity, wanton crime and gross bigotry. Mungo works hard to keep his true self hidden while James takes refuge in dove-keeping and secret chat lines. Mungo's mother, an alcoholic and a menace to her children, sends him on a fishing trip with two criminal strangers in the hope of teaching him what it is to be a man and, because all he wants to do is get back to James and escape with him, Mungo is forced to endure hideous abuse. James, too, having become the target of a brutal local gang leader – who happens to be Mungo's brother – must also survive the ghastly violence visited upon him all the while never trusting that he and Mungo will ever be able to have a life together. At times bleak, and at other times impossible beautiful, Young Mungo is certainly not a queer love story in the YA vein. Instead, it is a heartbreaking examination of unspeakable homophobia and merciless deprivation that somehow manages to find hope and intimacy in a collapsing and hateful world.
They Both Die at the End by Adam Silvera (YA)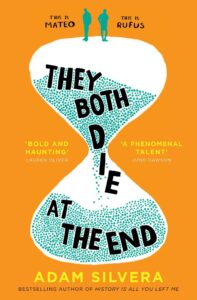 Bold, ingenious – a superb portrait of the complicated and doomed teenaged heart.
Do you think it would be easier to fit an entire lifetime into a single day if you knew you didn't have a choice?
Mateo is a quiet guy. He prefers to remain within his comfort zone whenever possible. Rufus by contrast,  is fierce, alone, and on the run from the police. Just after midnight on September 5th, Mateo and Rufus receive separate calls from Death-Cast informing them that they have just begun their final day on Earth. With their families not really being an option as far as their last 24 hours go, they both turn to the app Last Friend which, in its algorithmic wisdom, pairs them up for one final adventure. The two of them are about to find out just how much can be learned and experienced in the space of a single day.
Sensitive topics, wild new feelings, a sense of impending doom… this is about as close as you can get to seeing the soul of a young adult on a page.
A Little Life by Hanya Yanagihara (Fiction)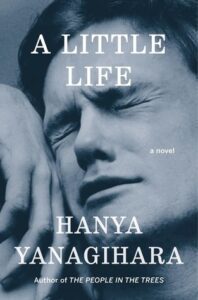 With a reputation as one of the most heartbreaking novels in recent memory, this is an unforgettable, sometimes brutal, always powerful meditation on the limits of human endurance.
A Little Life places the irreparable damage of a lone individual in the perpetual present without recourse to contemporary disaster or public catastrophe. It is the story of one man – one life – and the suffering that has defined him. At first an almost glamorous bildungsroman based around the lives of four friends apparently destined for grand success, this novel grows quickly into a series of tender moments wherein a friend is all that can possibly heal insurmountable trauma, and passages where no such healing could possibly exist.
Date Me, Bryson Keller by Kevin van Whye (YA)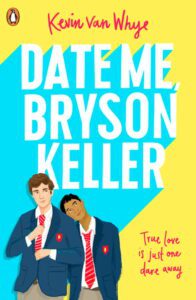 Super-charming, guaranteed to lift the spirit and swell the heart, this is an adorable romance from a local author.
Bryson Keller is definitely that guy. He's Fairvale Academy's most envied, and desired, hunk-on-campus. Soccer team captain, subject of many a wistful daydream, resident genius… and all the rest. However, he most certainly does not believe in high school relationships. He's not unadventurous though, which is why he accepted Fairvale's most famous dare: each week he must agree to a date with the first person to ask him out. Each hopeful gets a week and that's all. The thing is, Bryson never said that it could only be girls. And that's where our narrator comes in.
A guaranteed hit with anyone who enjoyed Simon Vs The Homo Sapiens Agenda and an especially good companion to Red, White and Royal Blue (mentioned above).
My Brother's Name is Jessica by John Boyne (9-12 Years +)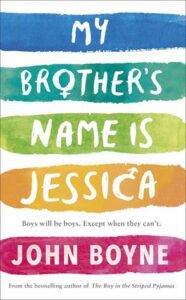 A sincere, sensitive and wonderful depiction of the trans experience for readers of all ages from a superb and agile author.
"Sam has known his sister Jessica all his life. Tonight is the first time they're going to meet."
Sam Waver hasn't had an easy time of it. He spends a lot of time alone. His parents don't seem particularly interested in him, but, unfortunately there are many bullies who are. But his older sibling has always been there for him. Which is why he thinks it's the end of the world when Jessica announces that they are transitioning. What he's about to learn, though, is that proper love never changes.
What If It's Us by Becky Albertalli and Adam Silvera (YA)
Two of the most celebrated YA authors team up to bring us a charming and irresistible tale of clashing realism and romance.
This is about Arthur and Ben.
Arthur has a certain faith in the universe… and also in the wisdom of the Broadway musical – which has taught him that an enormous romance is always right around the corner. But his stay in New York is almost over and not that much has happened.
Ben has no such faith. Why should he trust whatever forces have led him to this point – lugging his ex-boyfriends stuff around? When the two of them meet by chance at the Post Office, however, they are both prompted to rethink their standpoints:
"What if – in a city of eight million people – they can't find each other again?
What if they do … and then can't nail a first date even after three do-overs?
What if Arthur tries too hard to make it work and Ben doesn't try hard enough?
What if life really isn't like a Broadway play?
But what if it is? What if it's us?"
I Kissed Shara Wheeler by Casey McQuiston (YA+)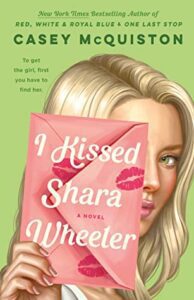 One more by Casey McQuiston! Yes, they're all electrifying.
Shara Wheeler – perfect prom queen, principal's daughter, all-round mystery – was about a month from graduating from Willowgrove Christian Academy when she simply vanished. Okay, actually there wasn't all that much that was simple about the way she vanished. Because, before she did, she kissed Chloe Green.
Chloe is determined to find out what it was all about and where Shara has gone. But her hunt only really leads her to two more people hunting the exact same thing. As it turns out, Chloe was not the only one to receive an ersatz farewell kiss: so did Rory, and so did Smith. Thrown awkwardly together by Shara's trail of inscrutable clues, our trio is about to find out that there's more to Shara, and more to their seemingly ordinary town, than can be easily grasped.
Frank and funny, with a certain subversive streak, this one is another romantic hit from McQuiston.
That's all from us for now. But before we go, here are some other excellent Pride reading lists. Don't forget to show the classics some love!
40 Best LGBTQ Books You Shuld Read For Pride Month (And Beyond) – Goodhousekeeping
15 New (and New-Ish) LGBTQ+ Books to Read This Pride Month – Purewow
40 LGBTQIA+ books to read this Pride Month and every month – LoveReading
Happy Reading and Happy Pride!
Be wonderful to yourselves and each other.