Roald Dahl Month
At Bargain Books, this September is Roald Dahl month! And, yes, there are Golden Tickets up for grabs.
The children's books of Roald Dahl, not that you needed telling, are among the most charming, memorable, and evergreen stories ever put to page. Barely is there a person out there who couldn't tell you something about his books.
So, what are we up to?
 Well, firstly we're making six of Dahl's most popular books available at a special R60 discount, meaning that they'll be just R159 each. If there are gaps in your collection or you and the youngsters in your life haven't yet had the pleasure, now's the best time to go grab them.
Here are the books on sale: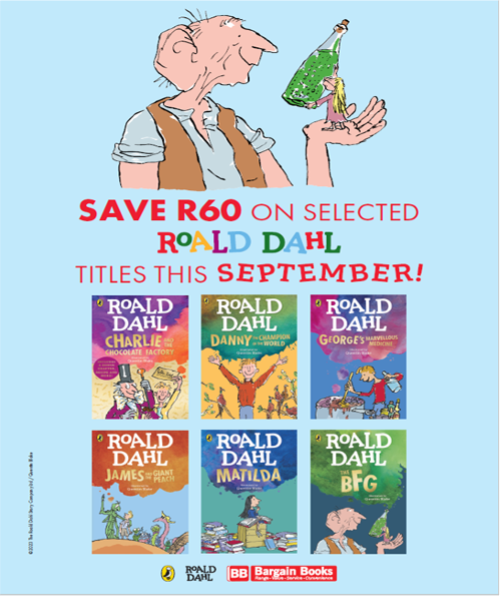 And What About Those Golden Tickets?
Much like Mr. Wonka himself, we've hidden 5 golden tickets in 5 different (tightly wrapped, of course) copies of Charlie and the Chocolate Factory across our 86 stores. All you must do is buy a copy from your local BB store and unwrap it at the counter so a bookseller can tell you what to do next in case you do catch a glimpse of gold. If you find one – and this is mostly because we sadly do not have any chocolate factories to give away – you win a most marvellous hamper valued at R990!
Hamper in Question: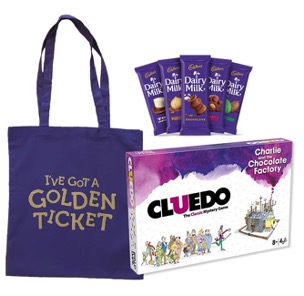 Books like Matilda, Charlie and The Chocolate Factory, The BFG, The Twits, James and the Giant Peach and The Fantastic Mr Fox, to name just a handful, are essential childhood reading and despite the fact that many of them are over fifty years old, they continue to find scores of new readers and regularly receive enchanting new adaptations (who's excited to see Chalamet's turn as the pre-chocolate-factory Wonka? That's a trick question… everyone is, obviously).
Let's leave off with one of our favourite Dahl quotes:
"A person who has good thoughts cannot ever be ugly. You can have a wonky nose and a crooked mouth and a double chin and stick-out teeth, but if you have good thoughts they will shine out of your face like sunbeams, and you will always look lovely." – The Twits