One of the biggest fantasy writers in the world, Maas has now brought us three distinct series, all of which are sexy, compelling and filled with passion. The most recent of her series to receive a new instalment is A Court of Thorns and Roses in which, over the course of five books, mortal huntress Feyre Acheron navigates the faerie lands into which she was kidnapped as a young woman – braving intrigues and wars, romances and losses.
Her most numerous series thus far is A Throne of Glass, which contains ten episodes and explores the adventures of a teenage assassin in a deeply corrupt kingdom. Anyone with a taste for comprehensive world-building, non-stop fantastical action and irresistible allure would do well to take a dive into Maas' worlds.
Maas herself began work on her first fantasy series when she was just sixteen, meaning that she's been crafting, augmenting and exploring her realms for longer than most of us have been… doing anything at all, really.
A (Very Brief) Summary of How Things Began with A Court of Thorns and Roses

The now four (and a half) novels that make up this series follow the tribulations of mortal huntress Feyre and she navigates the conflict-drenched faerie world of Prythian.
Events open with nineteen-year-old Feyre killing a magical wolf in the forest. As punishment for her crime, she is captured by immortal faerie, Tamlin, High Lord of Prythian and forced to live with him in his estate. As her attitude toward her captivity begins to shift, Feyre comes to understand that everything she thought she knew about the world of the Fae is untrue.
Feyre comes to ally herself with Tamlin and rises through the ranks of his beleaguered people, becoming embroiled in deceit and treachery as Prythian faces destruction at the hands of a rival kingdom and various evil forces begin to stir.
A Court of Silver Flames (Book 4)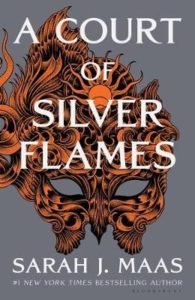 The saga of A Court of Thorns and Roses continues through the eyes of Feyre's combustible sister, Nesta.
Nesta is not a woman to be trifled with. Quick of wit and temper, impossibly strong-willed and stingy with forgiveness, Nesta forgets nothing… least of all the horrors that she has endured. Since the war, since being forced into a position of influence against her will, the wounds that inflame her rage have scarcely healed.
And now she is compelled to battle alongside the winged and strife-scarred warrior who enrages her more than any other. Cassian. But, though she is reluctant to admit it, ire is not the only thing he prickles in her.
With a new war growing around them, Nesta and Cassian will have to tame their mountings passions long enough to combat enemies from within and without… and, ultimately, they will need to find acceptance and vulnerability in the fires of their bond if they are to survive – a prospect more daunting than any standing army.
A classic rivals-to-lovers tale drenched in badassery and hot with steam A Court of Silver Flames has all the romance, intrigue, action and sex that you could want from dark fantasy.
A Couple of Previous Titles
Crescent City (A House of Earth and Blood #1) 2020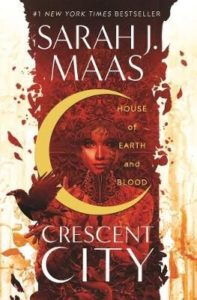 Though there is nothing adult-exclusionary about her other extant series, this is usually referred to as Maas' adult debut – an epic series dripping with romantic intrigue and grand adventure. Drawing from her extensive fantasy world-building skills Maas here presents a dark mystery (definitely a little noir-inspired) that will appeal to fans of alternate worlds and fans of a good love-inflected thriller too.
Half-Fae, half-human Bryce lives a lavish party lifestyle in Crescent City, taking whatever pleasure she can get without hesitation. But her world of carefree frivolity crumbles around her in the wake of a horrendous murder. In the years that follow Bryce clings to her nightclubs and bars, but now she takes no pleasure in them. Now she just wants to forget. The murderer, however, does not stay inactive for long and soon Bryce finds herself bound to a fallen angel named Hunt. Together they descend into Crescent City's seething underbelly and traverse a world on fire in search of the murderer, and their shady motives, stirring up long-dormant threats along the way.
The whole thing is a richly-constructed, consistently exciting, sexy and atmospheric page-turner that promises to be the memorable first chapter in an enthralling new series.
Kingdom of Ash 2018 (Throne of Glass Series Finale)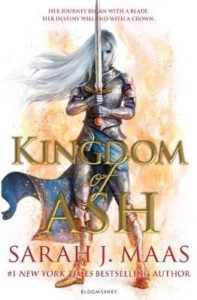 This breath-taking and unforgettable conclusion to the epic Throne of Glass series brings us the devastating climax of Aelin's momentous journey from slave to assassin to queen.
Packed with broody darkness, romantic tension, intense suspense and relentless twists, Kingdom of Ash is the crowning moment in this thrilling series.
She has risked everything to save her people – but at a tremendous cost. Locked in an iron coffin by the Queen of the Fae, Aelin must draw upon her fiery will to endure the months of torture inflicted upon her. The knowledge that yielding to Maeve will doom those she loves keeps her from breaking, but her resolve is unravelling with each passing day.
With Aelin imprisoned, Aedion and Lysandra are the last line of defence keeping Terrasen from utter destruction. But even the many allies they've gathered to battle Erawan's hordes might not be enough to save the kingdom. Scattered throughout the continent and racing against time, Chaol, Manon, and Dorian must forge their own paths to meet their destinies. And across the sea Rowan hunts to find his captured wife and queen – before she is lost to him.Some bonds will deepen and others be severed forever, but as the threads of fate weave together at last, all must fight if they are to find salvation – and a better world.
Visit this Fandom Wiki for a bigger look at the immersive worlds of Sarah J. Maas and the works that comprise them.  
Daniel Foyster
02/2021