In this mini-roundup of new releases we have five works from local authors and two by enormous international novelists. We'll begin with the two biggies and go on to the local ones. Have a look.
Complications by Danielle Steel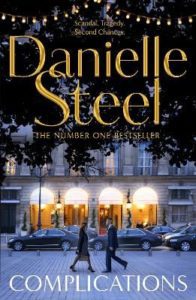 To introduce Danielle Steel at this point would be beyond redundant. Just about every reader out there knows of her and her massive catalogue of bestsellers.
Her newest takes place in a famed hotel. It may not be maliciously haunted, and it may not have housed serial killers, but the Hotel Louis XVI has seen everything that life has to offer and for decades has provided refuge for the rich and famous via its legendary discretion and impeccable service.
Following a period of intensive renovation, the Hotel Louis XVI is reopening its doors. Esteemed regulars and fortunate newcomers flock to redeem their reservations. The new manager, Olivier Bateau, and his assistant, Yvonne Philippe, know they have their work cut out for them. But the events of that first night prove more than they could have ever anticipated. With guests finding new love, attempting and preventing suicide, enduring political scandals and surviving medical crises, the new staff brace for the aftermath and focus on meeting needs. But that one night changes everything.
Complications is just that: a series of small complications that escalate into life and death situations wrapped in a package of luxury and wealth. And it is pure escapist delight.
Jailhouse Lawyer by James Patterson & Nancy Allen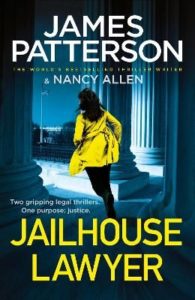 Readers who appreciate Patterson's knack for snappy, fast-moving tales and zipping-along narrative style will find a lot to love in Jailhouse Lawyer… which is as brisk as they come and is actually two legal thrillers in one.
The town of Erva, Alabama, is not exactly a hotbed of serious crime. Erva's crimes are pretty much all smaller ones. Speeding tickets, contempt of court, the occasional shoplifter, that sort of thing. And yet the town's jail is practically overflowing. More and more people go in and very few ever seem to be released.
When a young lawyer challenges the corrupt judge whose grasp on her hometown has become deadly, she finds herself behind those selfsame bars… and suddenly in the perfect place to understand just what is going on.
It's got the thrills, it's got the pace and it's got the intrigue. Classic Patterson.
Being Dianne by Qarnita Loxton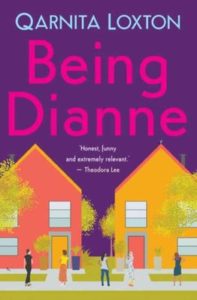 Qarnita Loxton's Cape Town-based Being series of romance novels has consistently delved into important South African topics like marriage, abortion, infidelity, patriarchy and religion (among others) while also managing to be light of touch and reliably delightful.
Being Dianne is the fourth entry in the series, but all of them are standalones. In this one, Loxton takes a look at homophobia and female sexuality through the character of Dianne and her complicated family.
In order to make life easier for her two daughters, Dianne lives next to her ex-husband. They share a garden. The situation works, more or less, but it is stopping Dianne from truly moving on. When Faye, a Tinder date who has become Di's sometime lover, decides that she wants more from the relationship Dianne is torn. How will her daughters take the idea that their mom has a girlfriend? When her eldest daughter is confronted with terrible homophobia at school, Dianne is compelled to be more open and vocal about who she truly is. But there's a lot this could destabilise.
They Got To You Too by Futhi Ntshingila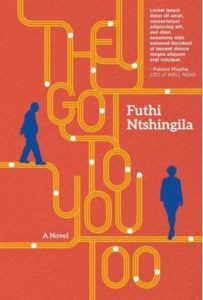 A novel that takes on two significant episodes in SA history – the un-democratic past, and the Covid-19 pandemic – They Got To You Too centres on an unlikely bond that grows in isolation, making for a read that is both tense and uplifting.
Former police general Hans Van Rooyen finds himself spending his final years in an old-age care home. Raised by two women who survived the South African War of 1899, and having endured his own time in the Border Wars, he knows plenty about surviving. He also knows plenty about keeping secrets. He even made it through the investigations of the TRC. Now he is little more than a reminder of old pains and lingering anger.
The woman who cares for him, Zoe Zondi, is from a different world. But her patience and gentleness inspire Hans to wonder whether he really should take his secrets to the grave. As the two grow closer and more confident of each other's discretion, an unusual bond blooms between them. In the isolation of the Covid lockdown, they may have just found the chance to be mutually honest about their lives.
Nine Hours by Lukhanyo Sikwebu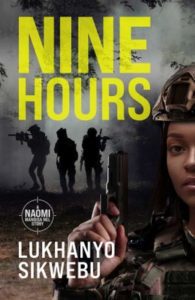 There aren't an enormous amount of South African thriller novels out and about. There tends to be a few authors in charge of that particular area. Think of this as an opportunity to get to know a new one, and to grab yourself some pure, cinematic entertainment.
The system so often fails to bring criminals to justice. That's hardly a secret. And this is where vigilante assassin and self-styled harbinger of comeuppance Naomi Mandisa Nel comes in. These villains maybe able to evade the law, but they can't escape her.
When a group of school girls is kidnapped by terrorists in northern Mozambique, she is enlisted to hunt them down, retrieve the girls and put the terrorists down. The girls are headed for a life of slavery. Naomi and her team have just nine hours to extract them from an enemy camp deep in the Doente Forest. Failure is not an option.
Bantu Knots by Lebo Mazibuko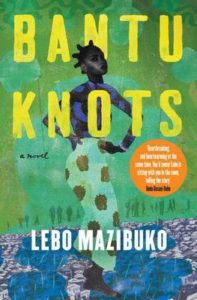 The importance of hair is utterly undeniable. Arguably, no other single aspect of our appearance is as linked to wider perceptions and traditions, to as many life concepts. Bantu Knots uses hair as a starting point for a coming-of-age tale that beautifully explores a young woman's journey to finding her voice and memorably examines notions of beauty, and the complexities of mother/daughter bonds and womanhood.
Naledi would gladly swap her bantu knots for the luscious, chic locks of Dark and Lovely model Nonhle Thema. But her life in Pimville is strict. Governed by her fearsome grandmother, Naledi spends her days reciting bible verses and her nights getting as lost as she can in soapies. Her own mother is off doing her own thing getting ahead any way that she can. But when Naledi at last begins university, a whole world of men, feminism, politics, sex and art opens itself to her – not that any of it is easy to navigate. Finally free of the watchful gaze that has ruled her entire life, Naledi moves to confront the pains that have long lain dormant and to seize whatever her new circumstance has to offer.
One Fine Day by Irna Van Zyl
Afrikaans Title: Op 'n Mooi Dag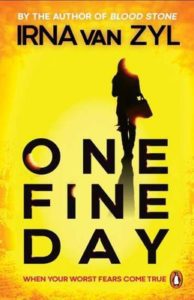 Van Zyl is a local thriller author whose work always packs a punch. This new one concerns a vanished lover, a murder victim with unsettling connections and a crime that took place over twenty years ago.
Publisher's blurb:
"When Louw Roodt vanishes after a work function, Kristien Liebenberg's worst fear comes true: her lover isn't coming home.
Has Louw been in an accident? Is she having an affair? Has she been hijacked, assaulted, or worse, left for dead in the bushes and sand dunes of the Cape Flats? Or has it got something to do with their argument that morning?
Then news breaks of a murdered man found in a Cape hotel – the same hotel Louw was last seen in, on the same night. And it's the very man who was the speaker at her work function.
Was Louw involved in the murder? Is she on the run? That's what the police say. Or is there a connection to her mother's hijacking 21 years ago, an event which left Louw psychologically scarred?
Amid all these questions and a rising sense of dread, Kristien knows Louw is in trouble, and she needs her help."
Happy Reading!