The first of our non-fiction blogs for September threw a whole lot of fantastic food around. There's nothing to eat here (please hold all jokes 'til the end), but there is plenty to sink your teeth into.
From sporting legends to political ones, from the talks that ushered in SA democracy to the talks that shocked your relatives, and from a timeless lesson of life and meaning to a personal meditation on depths and redemption, these six non-fiction releases offer a broad range of important experiences and reading treats.
Have a look:
The Master: The Brilliant Career of Roger Federer By Christopher Clarey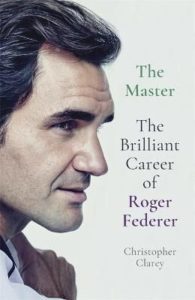 Tennis pundits, tennis fans and even those who are not fond of the sport agree: Roger Federer is one of the greatest sportspeople of our age. His combination of elegance, intensity and sheer mastery have made him a beloved competitor… and his record has made him a legend. But his rise to prominence was not a matter of fate so much as a long-running act of incredible will.
With this career overview, sports reporter Christopher Clarey draws on over twenty years of interviews with Federer, his inner circle and even his most enduring rivals to bring us a thrilling and insightful retrospective. The Master simultaneously offers an intimate portrait of the man himself and a grand-scale account of the phenomenon that he has become.
Joining the Dots: An Unauthorised Biography of Pravin Gordhan By Jonathan Ancer and Chris Whitfield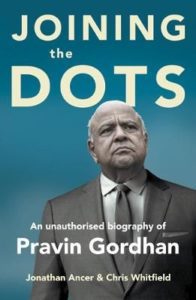 Pravin Gordhan's political career has been a complex one. He has made powerful enemies, he has been drawn into major scandals, has purportedly been the target of many a vicious smear campaign, and has been heralded as one of the few remaining moral authorities in SA government. His firing as finance minister in 2017 prompted many to declare that the state capturists had well and truly won.
Following this dismissal, Gordhan urged a group of his supporters not to give up hope and to fully understand what was happening by "joining the dots". And that is what this new book does. Ancer and Whitfield – both veteran journalists – retrace Gordhan's life. From his early life and student activism in Durban to his early association with Zuma and his detention and torture during the struggle for freedom, from the Rogue Unit controversy to the intelligence report that got him fired, Joining the Dots crafts a deep and revealing portrait of a man who has long been at the very centre of South African life.
Yes to Life: In Spite of Everything By Viktor E. Frankl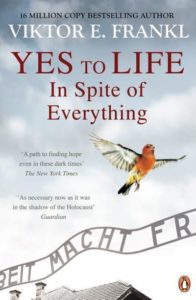 Renowned psychiatrist and holocaust survivor Viktor Frankl has become beloved for his awe-inspiring philosophy of positivity and meaning.
Frankl lost his entire family to the Holocaust. He endured unspeakable horror throughout the three years he spent in concentration camps – one of them Auschwitz. He endured an event that we still don't have the words to fully describe. And yet, just eleven months after he regained freedom, Frankl delivered three public lectures in Vienna. These lectures explored his thoughts on resilience and finding meaning, and eloquently explained the vital importance of embracing life… especially in the face of incomprehensible adversity. Yes to Life is the first time that these three lectures have been published in English, and rest assured that they are just as meaningful and resonant as they were all those years ago. With our world struggling beneath an ever-growing mass of crises, Frankl's immortal words deliver an essential and uplifting dose of wise conviction.
Breakthrough By Mac Maharaj and Z. Pallo Jordan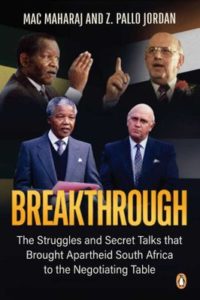 Each of us has some concept of how Apartheid came to an end: of what was achieved when and by whom. And, as with all things, there are still many conflicting views and reports. For those of us who were not a part of the events and negotiations that paved the way for democracy, a complete picture is difficult to attain.
ANC veterans Mac Maharaj and Z. Pallo Jordan were close to these era-defining developments as they took place, and Breakthrough is the informed account of how the democratic future of South Africa was finally brought to the negotiating table.
"Breakthrough sheds new light on the process that led to the formal negotiations. The book focuses in particular on the years 1984–1990 and on the skirmishes that took place in the shadows, away from the public glare, as the principal adversaries engaged in a battle of positions that carved a pathway to the negotiating table. Drawing from material in the prison files of Nelson Mandela, minutes of the meetings of the ANC Constitutional Committee, the NWC and the NEC, notes about the Mells Park talks led by Professor Willie Esterhuyse and Thabo Mbeki, communications between Oliver Tambo and Operation Vula, the Kobie Coetsee Papers, the Broederbond archives and numerous other sources, the authors piece together a compelling narrative of events."
White Trash: My Year as a High-Class Call Girl By Terry Angelos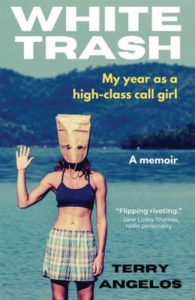 It's easy for us to think that we know something about sex work and lost youth – but many of us (though admittedly too few) have been fortunate enough not to have had to navigate this world. Terry Angelos has. And what she has to say about how she strayed into danger and depravity before finding redemption is well worth a read. White Trash is about this, but it's also about race, Africa and the fleeting hope of normality.
Raised during the Rhodesian Bush War, Angelos immigrated to SA at the age of eleven. Her childhood was defined by a racist white culture and a society struggling to find stability. The adults around her insisted that everything was normal. But to her, it clearly was not. At the age of nineteen, she abandoned her degree in SA and fled to London in search of something real. By the time she was twenty, she was involved in a frightening underworld defined by organised crime, paid debasement and peril.
This memoir rivetingly describes that world, but most importantly it documents that miraculous moment that led her to emerge from the depths to which she had sunk and reinvent herself. Bitingly honest, richly evoked and even blackly humorous, White Trash is a memoir you'll not soon forget.
Skeef: Wat jy van LGBTQI-wees wil Weet By Renaldo Schwarp
Skeef is a strange word. Actually, most pejorative words for queer people are. In this book, which explores many many aspects of being gay and offers warmth and advice in spades, media personality and documentary maker Renaldo Schwarp wittily reclaims this odd word and, with the help of numerous celebrities, offers a message of hope and fabulousness… a proper portrait of contemporary gayness that will speak especially powerfully to the Afrikaans community.
From the Publisher:
"Is jy aangetrokke tot mense wat jou geslag deel? Of voel jy nie tuis met die geslag waarmee jy gebore is nie? Wil jy jouself, jou kind of vriend van skaamte, stigma en onsekerheid bevry? Uitkom, boelies, verhoudings, ouerskap, verteenwoordiging, baanbrekers, bondgenote, sigbaarheid, geloof en seks – in hierdie boek is geen onderwerp taboe nie. Die mediapersoonlikheid Renaldo Schwarp deel raad en vertel van sy reis, sonder om doekies om te draai. Bekendes soos Marc Lottering, Rian van Heerden, Marco Spaumer, Joe Foster en die raakvatters van die Mannetjiesvrou-podcast praat ook oor hul kleurvolle ervarings. Verenia, Renaldo se ma, skryf openhartig oor die uitdagings en vreugdes van 'n gay-kind grootmaak. Skeef dra 'n boodskap oor van hoop vir LGBTIQ+-mense en almal na aan hulle. Dit vertel van die vreugde van selfaanvaarding, hoe om die kasdeure wyd oop te skop en van die veerkragtige gemeenskap wat aan die ander kant wag."
Happy Reading!