Every year, the Women's Prize for Fiction celebrates the best, most thought provoking and often genre-bending and stylistically ambitious writing produced by women authors across the world. This year, celebrated author Bernadine Evaristo heads up the panel of judges, and each of the picks for the shortlist is more fascinating than the last. Honestly, you'll have such a tough time choosing which of these six to read, that you might just be better off taking the whole lot. Have a look:
How the One Armed Sister Sweeps her House by Cherie Jones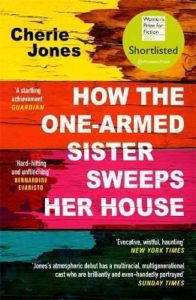 Part cautionary folk tale, part searing look beyond the veil of paradise, all parts elegant, intense and truth-filled, How the One Armed Sister Sweeps Her House is a multi-racial, multignerational tale of sacrifice, violence and poverty.
In Barbados, a grandmother tells the tale of the one armed sister. The tale tells of the fate that awaits girls who disobey their mothers. For this grandmother, Wilma, it's a story about ignoring warnings and giving in to a harmful adventurous streak. But for her granddaughter, Lala, it's a story about how one might go on after suffering a terrible loss. Even the loss of a child. And for Mira, it's a tale that offers some hope after the murder of her husband.
As these three women navigate crime, loss and poverty with the help of this fable, we are afforded a clear-eyed look at the Barbados that lies largely unseen behind its facade of immaculate beaches, tourists and postcard perfection – a Barbados in which it is hard to be a woman… in which survival is no mean feat.
Cherie Jones' debut novel is haunting and remarkably assured, a strong contender for the prize and a revelatory work that aches to be read.
Transcendent Kingdom by Yaa Gyasi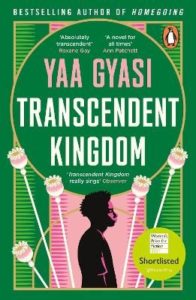 One of the most impressive qualities of Yaa Gyasi's second novel is its incredible concision. Each one of its complex ideas and complicated experiences is expressed in precise and economic language. A novel that weaves together the experiences of Ghanaian immigrants in the deep south, the American opioid epidemic, the intersection of faith and mental health and even the efforts of neuroscience to understand addiction, Transcendent Kingdom is a brief but undeniably substantial novel packing one hell of a punch.
As a child, Gifty was enthralled by her father's tales of Ghana and terrified of her mother's god-fearing inflexibility. She idolises her kind and talented brother. She thinks they will have a good life, that they will be a good family in Alabama. But when opiates claim her brother's young life, her father abandons them for reasons she does not understand and her mother falls apart, Gifty throws herself into science, becoming a respected researcher. But even her intricate delvings into the working of the mind cannot provide her with all the answers she seeks.
Enlightened, agile and utterly blazing, this is the work of one of the best novelists around today.
The Vanishing Half by Brit Bennett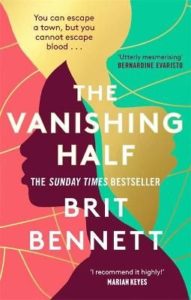 Bennett's second novel emotionally, and with stark realism, examines the many layers of race and identity by placing identical twins into different socio-economic worlds. It's an elegant concept, and one that brings the nature/nurture dichotomy into necessary and revealing territory.
The identical Vignes twins grow up in a small, Southern black community. They will always be the same, and yet from the age of sixteen, when they are forced to drop out of school, they will never be the same. As adults, they are more different  than they ever could have imagined. They have different families and communities, different concerns and even different racial identities. While one of the sisters raises her daughter in the same town she once dreamed of escaping, the other passes for white, has a white family and lives a white life.
The Vanishing Half follows the twins across forty years, exploring the tragedies, sacrifices and loves that their vastly different identities bring into their lives. As an intimate history of race in the US, and as a complex portrayal of aspiration, decision and the circumstances that mould them, it's an ambitious and powerful work – one that reminds us that origins are not immutable and no social reality is as clear cut as it appears.
Piranesi by Susanna Clarke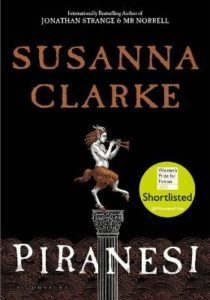 While the entries above turn a dazzling light on the real world, Susanna Clarke's newest novel crafts a mythic world rich in mystery and symbolism, infusing a tale of solitude and transcendence with far-reaching insights. Unique in style and content, Piranesi is one of those books that embraces all that fiction can be and subverts the idea of genre.
Piranesi spends every day cataloguing the manifold wonders of the House. He has always been in the House. He has always kept his notebooks and made his notes:  "the labyrinth of halls, the thousands upon thousands of statues, the tides which thunder up staircases, the clouds which move in slow procession through the upper halls." Twice a week, Piranesi sees his friend, The Other. But usually, he is alone. However, it seems that there is now someone new in the House. Messages have  begun to appear, scrawlings in chalk, cryptic text. Is this a new friend? The Other thinks not, thinks this arrival heralds only destruction, but Piranesi is curious – he must discover the source of these strange and dangerous new happenings.
Piranesi is dark, strange and peculiarly infinite, a mystery to get lost in, a book that defies all categorisation and offers myriad lenses through which to read it.
Unsettled Ground by Claire Fuller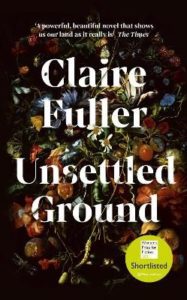 Fuller evokes an extraordinary kind of vulnerability via the story of two twins and their impossible fight against time, poverty and bereavement. Unsettled Ground is a love letter to nature, a portrait of a family on the fringes of society and a tale of touching helplessness: melancholy and beautiful, isolated and connected.
Twins Jeanie and Julius have never quite joined in with the rest of the world. At 51, they live in a rented rural cottage, which they share with their mother, spending their days insulated from society at large, making music and growing and killing their own food. They have everything they need. This is the life they know. But the sudden death of their mother threatens to bring it all down. The outside world comes knocking on the walls of their little haven and, as the truth of their mother's life starts to come to light, the existence they thought they knew begins to come apart at the seams.
Unsettled Ground is a work of stunning emotional power, dazzling in its portrayals of love and survival, and lyrically plaintive. A book that reminds us that the things closest to us are often the hardest things to see clearly.
No One is Talking About This by Patricia Lockwood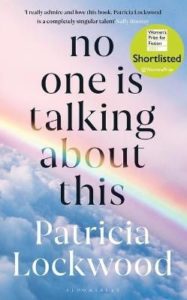 Here is a tightly composed and ingenious novel that seeks to explore the realities, both spurious and genuine, that online communication and social media zealotry have birthed. And before you think this is a topic already plumbed to the nth, know that no one is talking about this is a unique blend of absurdity, hysteria, cutting satire and even legitimate grief.
Though her online comments, a woman has recently become a huge globe-trotting celebrity. She travels the world, talking about "the portal" and meeting rabid fans. She barely has a chance to navigate this strange new life before the irony-poisoned, "post-sense, post-everything" world of the portal gives way to a suffocating slew of bleakery, loneliness, and real-life tyranny. When two desperate messages from her mother break through the teeming tide, the woman is forced to reckon with the unavoidable fact that both of her lives offer extensive proof of decency and goodness and empathy while simultaneously snatching these things away.
No one is talking about this is as modern as it gets. Sincere and ridiculous, messy and profoundly incisive all at once… it's probably as much sense (and as little sense) as doomscrolling and sub Reddits and crippling ringxiety are ever going to make.