Books to Help You Deal with People You're Sick of Having to Deal With
Have you ever felt that you were surrounded by idiots? That's a rhetorical question. Of course you have. Who hasn't? There's also a fair chance that you have felt this way because, well, it's probably true. And how about psychopaths? Ever felt surrounded by those? Bad bosses and hopeless employees? Setbacks of every shape and colour. Yep. These are things by which we are confronted on a frightfully regular basis. The good news is: there's a series of books for just such occasions.
This month, we're bringing you four books by behavioural expert Thomas Erikson – whose considerable knowhow has been invaluable to massive companies and high-pressure executives all over Europe, and whose best selling advice will remind you of two things:
No matter how surrounded you might be by morons, lunatics and obstacles, there's always a way to overcome. And
The best things to be surrounded by are… books. Obviously.
Surrounded by Idiots: The Four Types of Human Behaviour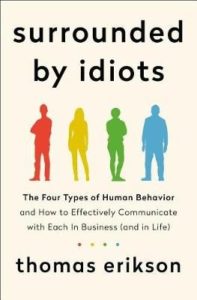 It began here. Following an awful meeting with a successful entrepreneur who honestly seemed to consider himself the only capable person in the world, Erikson found himself wondering why and how people function the way we do, and why we have such a hard time connecting with certain kinds of people and certain situations.
Surrounded by Idiots presents a new system of identifying and assessing four main personality types (red, yellow, green and blue) and, through extensive and original research, explains how best to communicate and share information regardless of how differently we may be wired.
Think of this as a toolkit with almost infinite uses. It will help you to understand yourself and others better, will improve your communication skills, will teach you to navigate conflict like a pro, identify subtle quirks of behaviour and psychology, and even understand those you suspect are utterly incomprehensible. Above all, it's a book that will shift your perspectives and free you from the either I'm an idiot or you are binary. Try it out on whoever you like.
Surrounded by Bad Bosses and Lazy Employees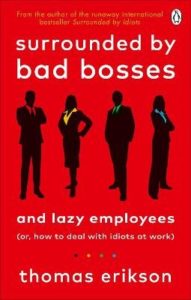 The newest addition to Erikson's series of invaluable guides, Surrounded by Bad Bosses points his simple and proven system toward the workplace. If you've ever wanted to know what really makes your boss tick, what really constitutes great leadership and/or how to endure insufferable supervisors, infuriating coworkers and unbearable bosses, this one is just the ticket.
Packed with insights on everything from the perils of micro-managing to the pitfalls of underachieving, Surrounded by Bad Bosses brandishes a mix of humour, warmth and wisdom that you'll be glad to have on your side.
Surrounded by Psychopaths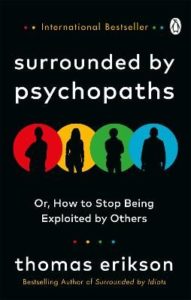 Here, Erikson's focus is very much on beating those manipulative, disingenuous, exploitative monsters trampling all over your life at their own game. That's the thing about psychopaths: there's not much you can do with them but be better than they are… since escape is so rarely an option.
Surrounded by Psychopaths will help you to identify the personality traits that are making you an attractive target, teach you how to maximise the impact of the powerful traits you already possess and put a quick stop to those who seek to exploit you.
Worklife, homelife… even lovelife – there's no aspect of your life that this book will not deftly improve.
Surrounded by Setbacks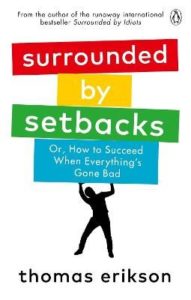 And finally, for all the other situations that life throws at you – which includes everything from impossible neighbours and punishing business rivals to the recent pandemic and global seachange – there is this one. Laser-focused on our tendency to flail and complain and protest when things don't go our way, our crippling habit of blaming circumstance, Surrounded by Setbacks offers the key to turning adversity into success.
Brilliantly employing Erikson's behavioural models yet again, Surrounded by Setbacks is all about discarding the useless and the unproductive in favour of insight and growth. It will help you zero-in on an approach that works for you and, as with the others, will keep you entertained while it does so.
Happy Reading!
And happy crushing it.