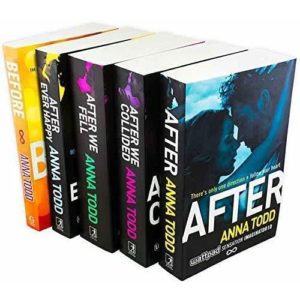 In case you are not familiar with the bestselling five-book YA After series, or the movie series it also spawned, here's a little background: it began as One Direction fan-fiction (let's not pretend that we don't all occasionally wonder what Harry Styles gets up to romantically) and quite quickly became a sensation. By combining a passionate and often torturous romance with characters as easy to loathe as they are to love, After became a tale of flawed devotion and almost toxic obsession that held many readers in its addictive thrall.
Now, the movie based on the third book in the series, After We Fell, is set to hit SA cinemas on September 3rd.
At Bargain Books, sales of the series have reached into the thousands… but we still have plenty in stock. So, if you're after some steamy, uncomplicated reading pleasure – and also if you have kept up with the films but just can't wait to find out what the heck is going on with Tessa and Hardin – we have you covered.
And for the super fans among you, we have put together a quiz! If you can prove that you're the biggest After fan out there, you can win tickets to see the movie as well as some awesome merchandise. Click here to complete the quiz and stand a chance to win!
After We Fell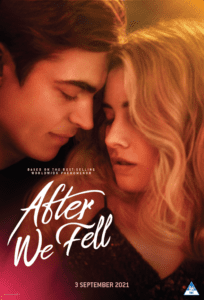 The third installment in the film series stars Hero Feinnes-Tiffin (you may remember him as baby Voldemort) as Hardin Scott – hot and cold English bad boy and utterly irresistible commitment-phobe – and Josephine Langford as bright, dutiful and hopelessly devoted Tessa Young.
Tessa and Hardin's strained and intoxicating relationship survived their tentative and dangerous early phase only to become even more confusing and intense. As they try to navigate the cyclical outbursts of anger, jealousy and forgiveness that makes their romance so exhausting and exhilarating, both find themselves contending with surfacing family secrets from which they may never recover. They know it's dysfunctional, they know it isn't healthy… but they also know there's no escaping it. Throw in a homeless father, some career sabotage, addiction issues and more deceit than you can cast a smoldering glance at and you have YA's hottest disaster.
Here's the Official Synopsis of the Book:
Tessa and Hardin have endured so much during their relationship, but now they face some of the biggest changes and challenges of their lives. Tessa graduates from college and prepares to move to Seattle for her dream job at Vance Publishing. Though she begs Hardin to come with her, he resists and offers an alternative: to move to London, where they can build a future together.
Meanwhile, Tessa's father returns after a nine-year absence. Though he longs to reestablish a connection with his daughter, he winds up bonding more with Hardin, who shares a love for Tessa, and a strong drink. Tessa and Hardin each turn to their friend Landon for advice before he sets off for New York. Kimberly and Christian welcome Tessa into their home, and some surprising news sends Hardin back to England for a visit, with Tessa close behind.
Despite their disagreements and the unexpected twists thrown their way, the passion between Tessa and Hardin burns hotter than ever. Tessa has never felt so intensely about another person, but she's exhausted by the never-ending cycle of jealousy, anger, and forgiveness. Tessa and Hardin desire a life together, but they must decide what they're willing to sacrifice and what it means to truly love someone. Whatever path they choose, it's clear that things will never be the same.
Directed by Castille Landon and based on the best-selling book by Anna Todd, After We Fell marks the third film in the series starring Josephine Langford and Hero Fiennes Tiffin. The first film in the franchise, After, debuted at No. 1 at the box office in 17 international territories and grossed more than $70 million worldwide.