The Favour by Nora Murphy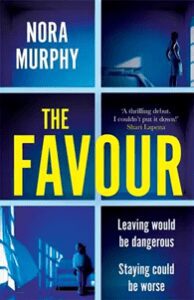 Our Debut of the Month this month delivers a powerful slice of domestic suspense handled with an unusual amount of compassion and insight. Themes of abuse are regularly the basis for thrillers, but it is not every day that the premise morphs in the way it unexpectedly does in The Favour.
There are a lot of really terrifying things going on out there in the world. But too often, as far too many of us know, the true terror resides in one's own home. Sometimes, however, these things catch the attention – and the empathy, crucially, of just the right person.
Leah and McKenna, as far as the rest of the world is concerned, have never met. Certainly they have quite a lot in common: their lives are adorned with all the markers of success and wealth, they live in good neighbourhoods, they have loving, charming husbands. But they've never met. Not to share their problems, not to discuss the issues of the day, not at the gym, not while getting coffee. But they do know each other.
When Leah sees McKenna one day in a liquor store, she sees something she recognises too well. She sees someone in a place that she too has been driven into. She sees someone trapped in a terrible hell. And she feels compelled to follow her. To begin with, she doesn't know how far she will go to help McKenna but soon, by following her home and watching through the windows, by seeing what McKenna has to endure, she starts to believe that she may be able to help her escape. Then, one night, Leah chooses to intervene.
And now the women are forever linked.
The Favour stands out thanks in large part to its sympathetic and compelling main characters, both of whom are very truthful narrators, its dark, obsessive tone and its smart manipulation of the detective archetype.
Its plot captivates from the very beginning and ultimately it's a top-notch thriller that also manages to handle an important and painful topic with admirable sensitivity. Readers are encouraged also to read the author's note – which addresses the issue of domestic violence directly.
ENTER HERE TO WIN A COPY:https://www.bargainbooks.co.za/competition/
About Nora Murphy

Following law school in Washington D.C., Murphy first worked as a judicial law clerk before moving into private practice. Crucially, while at law school, she attended some clinics that focused on the issues faced by survivors of intimate partner violence – an experience that continues to shape her work. She is a practicing attorney.